Print This Post
Hotline On Call says she's the first female solo anchor for a Sunday morning program in 19 years, but doesn't say who the last one was and I'm not remembering – anyone know without googling?
Video of announcement:
I got to introduce myself to Crowley at the 2008 Democratic debate in Cleveland and also watch her in the spin room. I'm a big admirer of her and wish her great luck. I hope she can make a difference.  I'm not thrilled to read that the show is being cut from John King's four-hour block to a one-hour version:
Crowley will inherit a markedly smaller "State of the Union," which will go from a four-hour block (including an hour for "Reliable Sources") to a one-hour show. Crowley will anchor "State of the Union" at 9AM with "Fareed Zakaria GPS" following at 10AM. Howard Kurtz's "Reliable Sources" will air at 11AM, and an updated edition of "State of the Union" will air at noon.
Guess we'll have to see how it shakes out.
By Jill Miller Zimon at 3:33 pm January 31st, 2010 in Announcements, Gender, Media, Politics, Women | 1 Comment
Print This Post
I certainly can't complain about no female options for Ohio Secretary of State:
About Maryellen O'Shaughnessy here and here
And for good measure, a view from the Right
Honestly, I believe this race is going to boil down to how to keep Jon Husted out of that office.  He has been so political and so disingenuous regarding the entire "where does he live" thing, again, it's like with Bill Mason (seriously, how many times are you really okay with accepting an elected official who is a law enforcement professional to say he wasn't aware of some ethically debatable behavior or outright illegal condition and still feel it's okay for him or her to go on in that law enforcement job?): Do they really fail to see how so many Ohioans see them and their circumstances? Read more
By Jill Miller Zimon at 6:16 pm January 30th, 2010 in Campaigning, democracy, Democrats, Elections, Ethics, Government, Jennifer Brunner, Ohio, Politics, Statehouse, Women | 2 Comments
Print This Post
This article does a nice job outlining who is lining up and who is lining up behind whom to replace Ohio House Rep. Matt Dolan (R-98th) who was living in Geauga County and has moved to Chagrin Falls to be in Cuyahoga County in order to run for Cuyahoga County Executive. Specifically:
In the Democrat-majority of the Ohio House of Representatives, Hollington is the choice of the House Republican Caucus, state Rep. Bill Batchelder, R-Medina, who is the Caucus chairman and House minority leader, said Friday.

"Dick Hollington obviously will hit the ground running. The reason we're picking  him we is we know his background as one who has served three terms in the House. He's only one of two former state representatives in the district, including Ed Ryder (who's now the Geauga County Republican Party chair)," Batchelder said.
So far, former Claridon Township Trustee Mary Briggs is the only female and the only Democrat in the mix. Hunting Valley is partially in Dolan's district and partially in the Ohio 17th.
By Jill Miller Zimon at 4:38 pm January 29th, 2010 in Campaigning, Elections, Government, leadership, Ohio, Politics, Statehouse, Women | Comments Off
Print This Post
The jury, who had listened to 5 days of testimony, took less than an hour of deliberation once closing remarks were made.

Yesterday, the jury was informed that they would not be ruling on a charge of voluntary manslaughter, a fear many pro-choice advocates expressed, as the sentencing could be as little as 5 years. Because of Roeder's premeditated action and the fact that there was no immediate threat against him, Judge Warren Wilbert instead ruled that Roeder must be found either guilty or innocent on the charge of first degree murder in the death of Dr. George Tiller…

…In Roeder's own testimony yesterday he repeated the fact that he did commit the murder of Dr. Tiller, as well as recite the steps that he took prior to the act, with plans that went all of the way back to 1993. He also stated that he did not regret his actions.

The prosecuting team has announced its intention to go for a "hard 50″ during the sentencing process…[which requires] that the convicted murderer be required to serve a minimum of 50 years in prison before even a possibility of parole.
Sentencing will be March 9th.
More from the Kansas City Star and read the Twitter stream of Ron Sylvester, a reporter of the Wichita Eagle and Kansas.com, who tweeted the trial.
Statement of the Tiller Family
Video of the verdict (there are multiple other videos there from the trial)
Thoughts?
By Jill Miller Zimon at 2:41 pm January 29th, 2010 in Abortion, Crime, Law, Media, Religion, Social Issues | Comments Off
Print This Post
From Greenville Online.com today:
South Carolina first lady Jenny Sanford, in perhaps one of her last official duties as first lady, says not enough women are involved in politics in the state.

Sanford told a state GOP luncheon featuring three former first ladies on Thursday that during her two decades in the state she has seen great strides for women in business and the political world.

But she told an audience of about 200 there is still a long way to go. She said very few women are elected to office in South Carolina and not enough are involved in the system.
By Jill Miller Zimon at 6:04 pm January 28th, 2010 in Campaigning, conservatives, Debates, Elections, Gender, Government, leadership, Politics, senate, Sexism, Statehouse, Women | Comments Off
Print This Post
http://www.whitehouse.gov/the-press-office/remarks-president-state-union-address
THE WHITE HOUSE
Office of the Press Secretary
_________________________________________________________________________________________________
For Immediate Release                                                         January 27, 2010
REMARKS BY THE PRESIDENT
IN STATE OF THE UNION ADDRESS
U.S. Capitol
9:11 P.M. EST
THE PRESIDENT:  Madam Speaker, Vice President Biden, members of Congress, distinguished guests, and fellow Americans:
Our Constitution declares that from time to time, the President shall give to Congress information about the state of our union.  For 220 years, our leaders have fulfilled this duty. They've done so during periods of prosperity and tranquility.  And they've done so in the midst of war and depression; at moments of great strife and great struggle. Read more
By Jill Miller Zimon at 10:08 pm January 27th, 2010 in Barack Obama, Politics | 1 Comment
Print This Post
You do not want to miss this. Chatter will feed to Twitter and Facebook (for me anyway for sure – still working on the Twitter side).  At 9pm – bring your beverage of choice and chime in.
By Jill Miller Zimon at 7:27 pm January 27th, 2010 in Barack Obama, Blogging, BlogHer, Politics | Comments Off
Print This Post
And it will be right in my front yard. Yes, really.
I'm trying to learn how to best optimize this news which most people who know about these things tell me is really very good news, or could be.  You can read more here at my In The Arena post, but if someone was putting hundreds of miles of fiber optics through your town, connecting two data centers hundreds of miles apart, what would you want to be sure you got out of it?
By Jill Miller Zimon at 11:59 am January 27th, 2010 in Cleveland+, Pepper Pike, Tech | Comments Off
Print This Post
You can read it here.  Hattip to Marc Kovac of Dix.
By Jill Miller Zimon at 1:50 pm January 26th, 2010 in Ohio, Ted Strickland | Comments Off
Print This Post
Anyone who has ever said something nasty about community organizers has never met nor benefited from the life work of Bil Callahan.
And this blog post about the neglect behind the Cleveland home that blew up yesterday and has created homeless people is just the tip of the iceberg for how he continues to contribute:
Waaaay down at the bottom of the Plain Dealer's online  article about the tragedy [of a home that blew up in Cleveland yesterday, spreading a fire in the neighborhood leaving 15 families homeless] we find this:

James and Irene Garman sold the home in December 2008 for $13,500 to EZ Access Funding LLC,  according to Cuyahoga County Auditor records.

That's EZ Access Funding LLC of Newport Beach, California.  3920 Birch Street, Suite 105, Newport Beach 92660, to be precise.  The same address as the Marc R. Tow Law Offices. And the Preferred Equity Group, LLC.  And Preferred Default Management, Inc.  And Orpheus Capital, LLC.  And the Diamond Housing Group, LLC.   And (get ready for this) the USA Wealth Institute, LLC. Read more
By Jill Miller Zimon at 9:18 am January 26th, 2010 in Cleveland+, Crime, Economy, Ethics, Housing, Marketing, Media, Midwest, Ohio, Scandal, Social Issues, Transparency | Comments Off
Print This Post
The Ohio House schedule indicates that the Agriculture and Natural Resources Committee (see members here) will be taking opponent and interested party testimony regarding the issue of oil and gas drilling regulation, and specifically SB 165, on this Wednesday, January 26, starting at 9:30am in Room 018 in the basement of the Statehouse.  For those interested, the suggested way to prepare testimony is to describe your story, keep it to a very few minutes and review the testimony given last week by the Ohio Department of Natural Resources (which you can see in the Scribd document below) in addition to SB 165 itself.
If you don't feel familiar enough with the issue, listen to this WCPN Sound of Ideas show with pro and con representatives here.  I also suggest watching this short trailer video about the pervasive expansion of drilling throughout the country as covered in the documentary, Split Estate, which will be screened this Friday, January 29, 6:30 p.m., at Lakeland Community College, 7700 Clocktower Dr., Room T129, Kirtland. Hattip Cleveland Scene.
Do you have an experience related to this issue to share? Please do. It can make a difference. Read more
By Jill Miller Zimon at 11:58 am January 25th, 2010 in Cleveland+, Debates, democracy, Energy, Environment, Government, leadership, Ohio, Politics, Science, Statehouse, Utilities, WCPN/SOI | 1 Comment
Print This Post
I'll watch tomorrow.  See them all here.  An interview with Jennifer Brunner: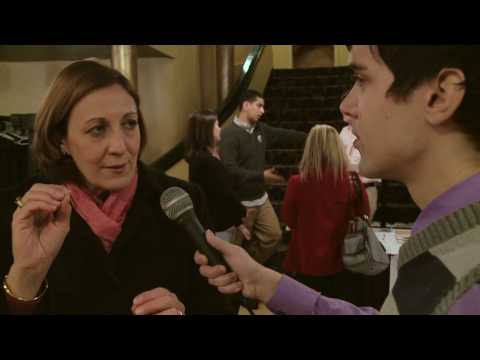 By Jill Miller Zimon at 11:52 pm January 24th, 2010 in Jennifer Brunner, lee fisher, Ohio, Politics, senate | Comments Off
Print This Post
New Hampshire. Gotta love it. Dump the men in Congress and let the female legislators get health care done.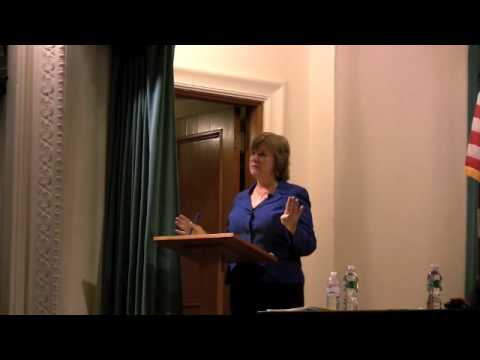 By Jill Miller Zimon at 10:55 pm January 24th, 2010 in Gender, Health Care, leadership, Politics, Social Issues, Women | Comments Off
Print This Post
Fiction. As in, not real. Which is pretty much what the United States Supreme Court has just done with our fundamental right to freedom of speech where political speech is involved.  As in, made it not real.
From SCOTUSblog on this point of being a legal fiction:
Justice Stevens, writing for the dissenters, turned Chief Justice John Marshall's celebrated comment in the Dartmouth College case — in a ruling that actually favored the corporate form — into a belittling comment: "A corporation is an artificial being, invisible, intangible, and existing only in contemplation of law.  Being the mere creature of law, it possesses only those properties which the charter of its creation confers upon it." [emphasis added]

I'll tell you who can make a lot of money off of Citizens United: the first law school textbook publisher who comes out with the text needed for law schools, since they will have to change their corporate law curriculums to explain the Sybil-like personalities of the previously all-fiction personhood of corporations.
Ugh. Don't get me started. Too late. Some reading to do for more on this SCOTUS decision: Read more
By Jill Miller Zimon at 4:24 pm January 24th, 2010 in Business, Campaigning, Courts, democracy, Ethics, Government, Law, Politics, Tech, Voting | 4 Comments
Print This Post
Brent Larkin says the 2010 governor's race is John Kasich and Mary Taylor's to lose. This editorial in the Youngstown Vindicator says Kasich's income tax elimination gimmick will be bought as an idea worth embracing by voters (to his credit, Larkin slams it, thank goodness).
I don't get it. At all. I think Kasich presents horribly, says very little of substance and doesn't talk about anything other than the tax elimination program (and leaves out all the details of how he'll accomplish balancing the budget as the state loses up to $12 billion in revenue by the end of the phase out).
Do you even want to know that when I typed in "Kasich Taylor" in order to get to their campaign website, nothing comes up even remotely related to such a thing until a fourth entry on the second page of results and then it goes to their blog? Read more
By Jill Miller Zimon at 11:50 am January 24th, 2010 in Campaigning, Elections, Mary Taylor, Media, Ohio, Politics, Republicans, Taxes, Tech, Ted Strickland, Voting | 3 Comments
Print This Post
From this week's Cleveland Jewish News:
To further its grass-roots efforts, J Street [the Washington, D.C.-based organization that calls itself the political arm of the pro-Israel, pro-peace movement] has merged nationally with Brit Tzedek v'Shalom, the Jewish Alliance for Justice and Peace, which has a chapter in Cleveland. Brit Tzedek's mission, posted on its website, is "to educate and mobilize American Jews in support of a negotiated two-state resolution of the Israeli-Palestinian conflict."

Coincidentally, at the same time that J Street is seeking to establish a local presence, AIPAC, the American Israel Public Affairs Committee, no longer has a permanent area director based in Cleveland. However, three full-time staffers in its Chicago office will continue to oversee efforts here, says Josh Block, AIPAC spokesman. Read more
By Jill Miller Zimon at 10:24 am January 23rd, 2010 in Cleveland+, Israel, Jewish, Judaism, leadership, Midwest, Ohio, Politics, Religion, Social Issues, Youth | 1 Comment
Print This Post
I'm kind of into the Jewish guilt shaming thing that says that just by writing about how absurd and erroneous Ohio GOP Kevin DeWine's statements about Ohio Lt. Governor pick Yvette McGee Brown are, he'll realize the error of his ways and correct himself.
But doing it this way, courtesy of Jennifer Brunner, has its advantages too, especially the part wherein the Ohio chapter of the National Association of Social Workers (a group I belonged to for several years) chastises the insulting nature of DeWine's attempting critique of Brown:
In a statement, the Ohio Chapter of the National Association of Social Workers recently said: " … Mr. DeWine used the title 'social worker' in an attempt to discredit Judge Brown's competence for the position of Lieutenant Governor. In doing so, Mr. DeWine demeaned the profession by declaring social workers unfit for public service."

"For over 100 years, social workers have been active in shaping public policy at the local, state, and federal government levels. Social workers are qualified to hold public positions through their training and experience," the Ohio NASW said.
But yeah – look how lowly social workers are – can you believe they ascribe to these things? Read more
By Jill Miller Zimon at 11:59 pm January 21st, 2010 in Campaigning, Elections, Government, intolerance, Jennifer Brunner, leadership, Mental health, Ohio, Politics, Social Issues | 1 Comment
Print This Post
No, seriously – I totally do not get this. The Daily Briefing reports on a court tussle between Ohio Department of Natural Resources and owners of property on Lake Erie regarding where property lines should be drawn.  Water touching land is one aspect, but property owners adding soil/sand to their property, most likely to combat erosion, is another aspect.  So then the article has this:
Sen. Bill Seitz, R-Cincinnati, called the Department of Natural Resources a "rogue agency that continues to be the force of oppression on lakefront property owners."

"It is appropriate we have this press conference here today in the George Washington Williams room, because as one of Ohio's first African American legislators, he typified the struggle of citizens against oppression," Seitz said. "And the lakefront property owners have been for at least six years the victim of bureaucratic oppression claiming they have to pay for that which is already specified in their deeds.

"They have had to take this struggle, as the African American community took this struggle, to the courts and found vindication in the courts."
Really? "Six years…of bureaucratic oppression" equals the "the struggle of [African-American] citizens against oppression"?  I'm sure it is an absolute nightmare for the property owners to have to wage a legal battle over this.  And it's a fascinating legal and governmental issue to me.
But comparable to the African-American struggle against oppression? Emmm…no.  Don't even have to think about that one.
By Jill Miller Zimon at 9:30 am January 21st, 2010 in Civil Rights, Cleveland+, Courts, Government, Law, Ohio, Politics, Race, Statehouse, war | 12 Comments
Print This Post
Ari Herzog is a newly seated city councillor in Newburyport, MA. I visited his council blog today to see if he'd commented on the Scott Brown and Martha Coakley race, won by Republican Scott Brown yesterday.  Brown's ability to raise $12 million online has been cited all day as a new benchmark for what can be achieved (I just think it's incredible that a state smaller in size and population than Ohio has one candidate raising and spending that much for a U.S. Senate seat!)
You can read Ari's thoughts in their entirety, but in one snippet he uses his campaign experience to backup points about the importance of online tools that were made by Micah Sifry at a site called techPresident (it follows e-government and e-politics): Read more
By Jill Miller Zimon at 6:30 am January 21st, 2010 in activism, Campaigning, Elections, Politics, senate, Tech, Voting | 3 Comments
Print This Post
In 1982 Scott Brown posed completely nude and was featured in the Cosmopolitan centerfold spread….

…When asked about his nude spread in Cosmo, Brown remarked "I'm not ashamed of my body."

Newsweek's Katie Connolley had this to say about Brown's escapades, "Although a nude centerfold might not kill a female politician's career, it would most certainly prompt questions about her character. Was she unacceptably promiscuous? Did she have a wild, compromising youth? While we scoff at the exploits of young men─they're allowed to be "footloose and carefree"─women are rarely afforded that luxury. For Brown, who just turned 50, it's a case of "boys will be boys."
There's a poll on ElectWomen's front page right-hand sidebar that asks, "Would a woman candidate have a chance of winning if she posed completely nude in a national magazine?" And the answer is…
By Jill Miller Zimon at 12:17 pm January 20th, 2010 in Gender, Media, Politics, Sexism, Social Issues, Women | 5 Comments