Print This Post
Lyrics: Read more
By Jill Miller Zimon at 8:33 am January 31st, 2011 in Humor, Ohio, Politics | Comments Off
Print This Post
Didn't say embargoed so here goes:
THE WHITE HOUSE
Office of the Press Secretary
_______________________________________________________________________________________
FOR IMMEDIATE RELEASE
January 25, 2011
Remarks of President Barack Obama – As Prepared for Delivery
State of the Union Address
Tuesday, January 25, 2011
Washington, DC
As Prepared for Delivery—
Mr. Speaker, Mr. Vice President, Members of Congress, distinguished guests, and fellow Americans:
Tonight I want to begin by congratulating the men and women of the 112th Congress, as well as your new Speaker, John Boehner. And as we mark this occasion, we are also mindful of the empty chair in this Chamber, and pray for the health of our colleague – and our friend – Gabby Giffords.
It's no secret that those of us here tonight have had our differences over the last two years. The debates have been contentious; we have fought fiercely for our beliefs. And that's a good thing. That's what a robust democracy demands. That's what helps set us apart as a nation.
But there's a reason the tragedy in Tucson gave us pause. Amid all the noise and passions and rancor of our public debate, Tucson reminded us that no matter who we are or where we come from, each of us is a part of something greater – something more consequential than party or political preference.
We are part of the American family. We believe that in a country where every race and faith and point of view can be found, we are still bound together as one people; that we share common hopes and a common creed; that the dreams of a little girl in Tucson are not so different than those of our own children, and that they all deserve the chance to be fulfilled.
That, too, is what sets us apart as a nation. Read more
By Jill Miller Zimon at 8:58 pm January 25th, 2011 in Politics | Comments Off
Print This Post
Give it a try or go here instead.
By Jill Miller Zimon at 5:21 pm January 25th, 2011 in Politics | Comments Off
Print This Post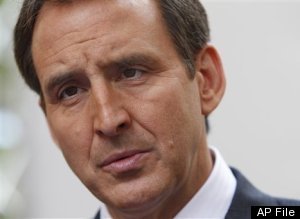 Was browsing news stories, saw the photo on the left of Minnesota Governor Tim Pawlenty and immediately thought of Nicolas Cage.
By Jill Miller Zimon at 5:03 pm January 16th, 2011 in Humor, Politics | Comments Off
Print This Post
I've written very little about the incidents last Saturday in Tuscon, AZ that occurred at a public event hosted by U.S. Rep. Gabrielle Giffords. I did however share my thoughts with the Cleveland Jewish News, and you can read them here.
My focus is on how we flood the media with stories that will encourage people to not only not hate public servants for any variety of reasons, but will in fact do the opposite and make people want to be one themselves.
Two years ago, when I met with someone who was well into her second decade of being a city council member, the first thing she told me was that some people will hate you just because you are in the government.  Those were her exact words.  People will hate you just because you are in the government. They won't know you, they won't care what you've done or not done.  If you are in the government, they will hate you.
It doesn't help that our media is shameless when it comes to its nonstop highlighting of all things corrupt and salacious related to people in public service.  Of course the publication of those stories doesn't make the people corrupt – its their actions, their responsibility, their behavior. Read more
By Jill Miller Zimon at 10:50 am January 14th, 2011 in democracy, Ethics, Government, Media, Ohio, Politics, Social Issues, Youth | Comments Off
Print This Post
Despite the very major differences I have with Ohio Treasurer Josh Mandel over a number of issues, his accomplishments related to his election – in terms of money raised, votes received and the age at which he's accomplished this, deserves to be noted as an achievement for him.
For those interested in hearing his comments as treasurer, go to about the 33 minutes mark at this Ohio Channel video.
By Jill Miller Zimon at 3:15 pm January 11th, 2011 in Government, Josh Mandel, Ohio, Politics, treasurer | Comments Off
Print This Post
From the Columbus Dispatch's coverage of Lyndhurst native and now Ohio Treasurer Josh Mandel's swearing in:
Mandel, 33, of Lyndhurst in Cuyahoga County, who defeated incumbent Democrat Kevin L. Boyce in the November election, told a packed House chamber that a big part of his focus will be pumping up Ohio's economy and helping to create jobs.

"A lot of my friends growing up, they're in Georgia, they're in Florida, they're in Arizona. They're in many other states. … And I want to bring them home."
If that's your focus, Josh, then start and lead a nonprofit geared to do that and leave the problems of the state's treasury – including the pension fund problems and local municipalities' poor options for decent investments of taxpayer dollars – to someone who actually wants to do that – from day one through the entire four years.  How about focusing on the people who live in Ohio now for a little while first?
Sigh. Maybe the Dispatch did a lousy job in its coverage and another "big part of his focus" will be something more germane to his actual job.  Looking forward to being shown that – by achievement especially.
By Jill Miller Zimon at 9:17 am January 11th, 2011 in Government, Josh Mandel, Ohio, Politics, treasurer | 1 Comment
Print This Post
I've been completely immobilized by the Gabrielle Giffords shooting incident. I don't want to write unless I can make a real contribution. So here's the start:
Who is your favorite public servant? Why? If you can, please let them know that you do not think they're corrupt, below average intelligence or wasting your money and you are glad that they receive your tax dollars.
Leave a comment below or check out the great examples in this Facebook post.  Friend me if you can't read them.  There are more ideas here.
By Jill Miller Zimon at 10:27 pm January 9th, 2011 in democracy | 1 Comment
Print This Post
First, a reminder from Emily Latella about the Eagle Rights Amendment:
Hattip to AureliaCotta of No Matter How Small for reminding me of it.
In the January 2011 edition of California Lawyer, United States Supreme Court Justice Antonin Scalia explains how the 14th Amendment to the United States Constitution does not protect against sex discrimination. Here is what was published, in full:
In 1868, when the 39th Congress was debating and ultimately proposing the 14th Amendment, I don't think anybody would have thought that equal protection applied to sex discrimination, or certainly not to sexual orientation. So does that mean that we've gone off in error by applying the 14th Amendment to both?

Yes, yes. Sorry, to tell you that … But, you know, if indeed the current society has come to different views, that's fine. You do not need the Constitution to reflect the wishes of the current society. Certainly the Constitution does not require discrimination on the basis of sex. The only issue is whether it prohibits it. It doesn't. Nobody ever thought that that's what it meant. Nobody ever voted for that. If the current society wants to outlaw discrimination by sex, hey we have things called legislatures, and they enact things called laws. You don't need a constitution to keep things up-to-date. All you need is a legislature and a ballot box. You don't like the death penalty anymore, that's fine. You want a right to abortion? There's nothing in the Constitution about that. But that doesn't mean you cannot prohibit it. Persuade your fellow citizens it's a good idea and pass a law. That's what democracy is all about. It's not about nine superannuated judges who have been there too long, imposing these demands on society.
Here's the text of the 14th Amendment and below is the portion in question:
Section 1. All persons born or naturalized in the United States, and subject to the jurisdiction thereof, are citizens of the United States and of the State wherein they reside. No State shall make or enforce any law which shall abridge the privileges or immunities of citizens of the United States; nor shall any State deprive any person of life, liberty, or property, without due process of law; nor deny to any person within its jurisdiction the equal protection of the laws.
In the 1971 case, Reed v. Reed, the Court held that the 14th Amendment's equal protections applied to women.
Despite the 30 years of case law now in existence that unwaveringly supports that decision, and for those who know anything about Scalia, his position should not come as a surprise. He's even voiced this very particular opinion before, ironically also in California.
Reax so far has been as we might expect – swift and plenty – except from conservative women*. Read more
By Jill Miller Zimon at 6:10 pm January 6th, 2011 in Courts, Gender, Humor, Law, Politics, Sexism, Social Issues, Women | Comments Off
Print This Post
You can read about it here.
Reads like a press release, has one name already identified by the press and two others who are:
Jennifer Day as Chief Operating Officer
J. Seth Metcalf as General Counsel and Director of Legal and Financial Affairs (Cornell University, J.D., 2004; The Ohio State University, B.A., cum laude, 2001 (Mandel graduated OSU in 2000); his bio from his prior law firm position is after the jump) Read more
By Jill Miller Zimon at 5:45 pm January 6th, 2011 in Government, Josh Mandel, Ohio, Transparency, treasurer | Comments Off
Print This Post
It's almost mean to do this because it demonstrates just how lazy many people are with language, people who've been placed at high levels of authority at one time or another.  But after reading this Rick Santorum (he's the former Republican US Senator from Pennsylvania who may run for something again) quote at Political Wire this morning, I can't take it anymore – this obfuscation of the word "qualified":
"What does it mean to be qualified to be president? She is born in this country and she's the right age. Those are the qualifications."

– Former Sen. Rick Santorum (R-PA), in an interview with National Journal, on whether Sarah Palin is qualified to be president.
Rick.  Age and place of birth are criteria for eligibility to run for that office. They are not criteria – unless a voter believes they are – as to whether someone is qualified to serve as president.  Yes, there are meanings to the word "qualified" that may define the word with eligibility, and eligibility itself has to do with qualifications.  However, most importantly, the definition of "qualified" involves the notion of subjective critique, not a laundry list of Census Bureau-style questions that would make everyone over the age of 35 who was born in the US "qualified" to be the US President.
It would make them eligible, just like Sarah Palin.  It would not make them qualified, just like Sarah Palin.
There are a lot of scary ways in which some people interpret public service, but this devotion to the concrete reading of everything, except when it doesn't serve an agenda, is one of the most irritating habits of some politicians.
By Jill Miller Zimon at 8:09 am January 5th, 2011 in Quotes, Sarah Palin | Comments Off
Print This Post
Plunderbund extrapolates from Governor-elect John Kasich's appointment of Gary Mohr, whom PB says:
…has been a managing director of Corrections Corporation of America (CCA), the first, for-profit private prison company in American and has his own prison consulting business operated out of Chillicothe.
But when I google "for-profit private prisons," here's one of the first returns I found in the Google News, from the very excellent Idaho-based The Spokesman-Review, just over a month ago:
Violence behind bars and misconduct by guards is common, regardless of whether prisons are run by the government or private companies. CCA, which oversees some 75,000 inmates in more than 60 facilities under contracts with the federal government, 19 states and the District of Columbia, is no exception.

A year ago, CCA and another company, Dominion Correctional Services LLC, agreed to pay $1.3 million to settle a lawsuit in which the Equal Opportunity Employment Commission claimed male officers at a prison in Colorado forced female workers to perform sex acts to keep their jobs.

In January, Kentucky Gov. Steve Beshear ordered some 400 female inmates transferred to a state-run prison after more than a dozen reports of sexual misconduct by male guards employed by CCA. Similar accusations were made in March at a CCA-run prison in Hawaii, and in May, agents with Immigration and Customs Enforcement placed CCA on probation and launched an investigation of whether a guard at a central Texas detention facility sexually assaulted women on their way to being deported.
Not to mention:
State officials have long been aware of allegations of mistreatment and poor management at the Idaho Correctional Center, the state's largest prison. A review of hundreds of public records found in 2008 that ICC had a violence rate three times as high as other Idaho prisons.

State auditors have also found widespread problems keeping medical charts updated, excessive wait times for medical care and other problems with treatment.

Even though Idaho Department of Correction officials have increased oversight and top department leaders have spoken out about their concern over the medical issues, state lawmakers have renewed the company's multimillion-dollar contract with Nashville, Tenn.-based CCA and added 600 beds to the prison.
When you make profitability and shareholders your top priorities, over and above the work you're supposed to be doing and for which you're receiving taxpayer dollars, no one should be surprised that this happens (think White Hat and all its legal problems in for-profit charter schools).
Bad bad juju.
By Jill Miller Zimon at 5:57 pm January 4th, 2011 in John Kasich, Law, Ohio | Comments Off
Print This Post
Since many of the state and local government-related news items these days relate directly to my role as a member of Pepper Pike's City Council, I'm posting many if not most of them at In The Arena. Only the overtly political blog post (like being angry about the new governor or something along those lines) about the same subject will show up here because I am keeping all that kind of opinion off of the council-related blog.  Here are the latest posts (and you can subscribe to the feed over at that blog, or check in on what I'm writing over there through the right-hand sidebar widget with links to In The Arena posts):
Ohio Chambers of Commerce Release Redesigning Ohio Report on State Government (WCPN broadcasts on it tomorrow)
TOMORROW (1/5), 10-11AM, WCPN: State Budgets and Public Employees
PD: "GOP in Ohio House Wants To Kill Estate Tax"
By Jill Miller Zimon at 5:27 pm January 4th, 2011 in Government, Jill Miller Zimon, Ohio, Pepper Pike, Transparency | Comments Off
Print This Post
You can read it here.
The text of a press release regarding the report is after the jump.  I haven't read it yet, but I have to believe that in such a report, there will be ideas that that every municipality should consider and possibly heed.
ONECUYAHOGA.COM
Office of Cuyahoga County Executive Ed FitzGerald

FOR IMMEDIATE RELEASE: JAN. 4, 2011
Media Contact: Keary McCarthy, (614) 425-9163

Integrity Audit Provides Starting Point for Incoming Inspector General
Findings recommend 23 ways to protect taxpayers, improve county operations
CLEVELAND – Findings from the first phase of an Integrity Audit were released today as a starting point for identifying potential weaknesses in county government and improving operations.  The audit outlines 23 recommendations that span a broad range of operational and personnel issues, many of which will be closely reviewed by the incoming inspector general.
"The Integrity Audit provides a good starting point to better protect taxpayers, improve operations and root out bad behavior in county government," said Cuyahoga County Executive Ed FitzGerald.  "I look forward to working through these findings and sharing this report with the incoming inspector general to address any potential wrongdoing." Read more
By Jill Miller Zimon at 2:23 pm January 4th, 2011 in Council, CuyahogaCounty, democracy, Ethics, Executive, Government, Ohio, Politics, Transparency | Comments Off
Print This Post
Two sisters are released from prison but only if one will give a kidney to the other, even though neither one has been considered dangerous for how long?
A U.S. Supreme Court Justice argues against the 14th Amendment giving equal protection to women and supports the notion that discrimination can in fact be permissibly legislated against women without violating the U.S. Constitution.
The never-ending issue about the failure of women to be adequately represented in so many industries is at least positively and roundly addressed here.
Governor-elect John Kasich's women appointees? So far – just one, and I'm not talking Mary Taylor (can you name who it is without looking it up? or at least which position she'll take?).
Even Republican women on Capitol Hill are fearing that John Boehner will shutdown the very frequented and used lactation suites set up by Nancy Pelosi, after being told that the rumored shutdown won't happen.
Oh – and let's not forget that all five of the RNC's candidates for Chair did not hesitate one nanosecond in saying that they would defund Planned Parenthood.
2011, huh?  Not so much, yet.
By Jill Miller Zimon at 10:47 pm January 3rd, 2011 in democracy, Ethics, Gender, John Kasich, Law, leadership, Ohio, Politics | Comments Off
Print This Post
I don't know why I didn't think of this earlier, especially because I kind of do this already.
As I have noted before, I believe that the Plain Dealer, which has run more than enough articles, columns and LTEs that evince a sense of hopelessness about the quality of candidates for elected office and public service we may ever get in NE Ohio, has, itself, got to step up and do more than just report on crappy elected officials and corrupt cronies.  It should enter the realm of encouraging, not discouraging, our NE Ohio population from engaging in and being employed in public service.
I saw the teeny tiniest ray of hope in this PD editorial in today's paper:
• Expand the talent pool. Many county boards and commissions are filled with familiar faces. FitzGerald wants to use them to groom a new corps of diverse leaders, but again, he's getting few applications. This might be a great way to involve many of the citizens who took part in the transition teams. Interested? Step up.
I almost fell over when I read those last three words. Read more
By Jill Miller Zimon at 10:12 pm January 1st, 2011 in Campaigning, Council, CuyahogaCounty, democracy, Elections, Executive, leadership, Ohio, Politics | 3 Comments