Print This Post
From Cleveland's own Mike Polk. Hattip the Plain Dealer.
By Jill Miller Zimon at 10:44 pm July 10th, 2013 in Abortion, democracy, Gender, Health Care, Women | Comments Off
Print This Post
Photo by Karen Kasler of the Statehouse News Bureau for Ohio Public Radio and Television. Hattip to 100% Men tumblr.
For more about the unconscionable agenda forwarded by these elected officials sworn to represent all Ohioans, read here.
UPDATE: Cincinnati.com's Carl Weiser names names re: which boys got into the seemingly boys-only event.
By Jill Miller Zimon at 8:49 am July 1st, 2013 in Abortion, democracy, Gender, Ohio, Politics, Women | Comments Off
Print This Post
The latest NBC poll offers a nice recognition for today's milestone reached by Roe:
According to the poll, 54 percent of adults say that abortion should be legal either always or most of the time, while a combined 44 percent said it should be illegal – either with or without exceptions.

That's the first time since this poll question was first asked in 2003 that a majority maintained that abortion should be legal. Previously (with just one exception in 2008), majorities said abortion should be illegal.

In addition, a whopping 70 percent of Americans oppose the Roe v. Wade decision being overturned, including 57 percent who feel strongly about this.
There are many excellent pieces of writing reflecting on Roe to be found around the interwebz but here are a few I came across today:
Roe v. Wade at 40: Then and Now (Joanne Bamberger, The Broad Side)
5 Things You Don't Know About Roe (Irin Carmon, Salon.com)
The People's Choice (Jeffrey Toobin, The New Yorker)
Interactive: The Geography of Abortion Access (The Daily Beast)
Crow After Roe: How Women's Health is the New "Separate But Equal" & How to Change That (Book excerpt, Robin Marty and Jessica Pieklo)
Roe at 40: Judging a Mother's Choice (NYT's The MotherLode) but then be sure to read
Reproductive Justice for All Daughters (Veronica Arreola at Fly Over Feminism)
Roe v. Wade. Forty Years. (Echidne of the Snakes)
Posts from young feminists (h/t to Sam Meier):
"What Was Life Like Before Roe v. Wade?"
"Whatever Happened to Jane Roe?"
"What is Roe v. Wade? Many Millennials Have No Clue"
And
The Women's Media Center's Media Guide to Covering Reproductive Issues
By Jill Miller Zimon at 12:02 am January 23rd, 2013 in Abortion, Civil Rights, Gender, Health Care, Women | Comments Off
Print This Post
In the Senate:
Lisa Murkowski (Alaska), Olympia Snowe and Susan Collins (both Maine) do not want to defund Planned Parenthood.
Newly elected Kelly Ayotte (New Hampshire) waffles when not emitting talking points so I construe that to be in favor of letting Planned Parenthood get defunded.
Kay Bailey Hutchison (Texas)  – I can't find anything from her on this but her voting record seems to indicate that she might allow it to be defunded.
Update on Hutchison: She's a motivator behind a military troop funding through a governtment shutdown bill in the US Senate that appears to have at least 60 supporters, including other women and other Democrats.  It does not appear that there is anything connected to Planned Parenthood in it.
In the House (all the women newby Republicans):

Kristi Noem (SD): will allow defunding of Planned Parenthood ("Noem said she believes the riders and the budget cuts are "intertwined" and that she supports them.")
Nan Hayworth (NY): supports defunding Planned Parenthood
Vicky Hartzler, (MO): supports defunding Planned Parenthood
Martha Roby, (Alabama) and Sandy Adams (FL) appear to support defunding Planned Parenthood, reportedly agreeing that $61 billion in cuts for 2011 is reasonable (the reports right now are that there's consensus on $38 billion between Sen. Harry Reid and Rep. John Boehner)
Renee Ellmers (NC): leading the way to defund Planned Parenthood
Jaime Herrera Beutler (WA): supports defunding Planned Parenthood
Update: Left out two women (thanks to the commenter who drew my attention to that!):
Ann Marie Buerkle (NY): supports defunding Planned Parenthood
Diane Black (TN): supports defunding Planned Parenthood
By Jill Miller Zimon at 11:54 am April 8th, 2011 in Abortion, activism, Congress, conservatives, Gender, Health Care, leadership, Parenting, Politics, Republicans, Social Issues, Women | 4 Comments
Print This Post
Yesterday, Kentucky's US Senator-elect, Rand Paul, refused to identify how he would cut federal spending. He refused to identify a single specific cut.  He also joined the Stepford conservative leaders, Sen. Mitch McConnell, Rep. Eric Cantor and Rep. Paul Ryan, as they stayed on the coordinated but incorrect message that the country doesn't have a revenue problem, it has a spending problem.
Talk about getting it wrong from the get-go. This New York Times article lends a little help to demonstrate how wrong they are, outlining case after case of states' falling revenue levels.  Falling revenue levels.  Of course you're going to have spending problems if your revenues are falling.  This is an alignment problem though.  Not a spending-only problem.
Nice rhetoric but easily deflated. The revenues they are a-shrinking.  The obligations are still a-coming.  You can try to raise one and cut the other, but that doesn't make the problem a spending-only problem. Read more
By Jill Miller Zimon at 9:20 am November 8th, 2010 in Abortion, conservatives, Economy, employment, Politics, Republicans, Social Issues, Taxes, Women | 2 Comments
Print This Post
As you can see from the comments this post has generated at The Moderate Voice, there's a lot of whining about how business would suffer if they cared about pregnant women, about how pregnant women shouldn't be treated differently from anyone else with a need to take leave and how pregnant women don't deserve to be in any special class that would get privileges no one else would get.
I can't make the forest for the trees view of this any clearer than I do below:
1. The United States is a developed country that uses and abuses its female workforce based on the fact that they're female and are the only ones who can get pregnant. I think that's abhorrent and developed countries can and should do better, even within the context of business. Successful corporations do it all the time and here's one list to get you started. Furthermore, from that article, emphasis mine:
The bottom line is that your direct supervisor, specific job and work group will have a tremendous impact on whether you truly are able to benefit from the work-life balance policies in your employee manual. But at the least, having those policies on the books is a first step. I'm glad Working Mother is doing the hard work of evaluating these companies and calling attention to the need for family-friendly benefits.

Look at the stark contrast between companies on the list and national averages. Only 16 percent of U.S. companies offer job sharing, versus 98 percent of the Best Companies. One quarter nationally provide health insurance to part-time workers, versus 99 percent of the 100 Best, according to Working Mother.
2. There is no place in our lexicon for saying that a person is pro-woman but that being pro-women excludes fighting for workplace policies that allow all women, not just the married or wealthy ones, to make the same choices without penalties – such as losing your job because you're pregnant, a penalty men will never face.  If there is information that supports that that is in fact a penalty men face, I would support crafting workplace policies that eliminate that penalty.
3. Political candidates who classify themselves or allow others to classify them as conservative feminists (aka "Mama Grizzlies") need to demonstrate what that means.  Few people would argue that there is great confusion as to how that is operationalized in real life.  Being labeled something is one thing – showing what you do and what policies you support then fills out the definition of who fulfills that label.
4. I want to know how the conservative feminists (a term for which it's nearly impossible to find a definition) and Mama Grizzlies respond to workplace policies that clearly do not support families, do not support women, do not support children.
That's it.  Really not complicated at all.  Looking forward to the responses.
By Jill Miller Zimon at 10:18 am June 24th, 2010 in Abortion, activism, Business, Campaigning, Civil Rights, conservatives, Courts, Culture, democracy, Economy, Elections, employment, Ethics, Gender, Government, Health Care, intolerance, Law, leadership, marriage, Parenting, Politics, Republicans, Sarah Palin, Sexism, Social Issues, Women, Youth | 1 Comment
Print This Post
The Ohio Supreme Court handed down a decision today in McFee v. Nursing Care Management of America, Inc. that holds that, "…it's not gender discrimination for employers to require a minimum tenure for employees to take an extended leave for any purpose, pregnancy included." (See this Columbus Dispatch blog post.)
What's the problem?
Kellie Copeland, executive director of NARAL Pro-Choice Ohio, said [that the ruling punishes] working women for having children.

"This is appalling," Copeland said. "We should be having policies in place that allow people to have children and not lose their jobs because they choose to have a child. This illustrates a major hole in Ohio law – there is no protection for women in this type of situation."
As for employers' ability to not support working women:
R.C. Chapter 4112 does not require employers to provide pregnancy/maternity leave when it provides no other leave or to waive or ignore minimum-length-of-service eligibility requirements for obtaining a leave of absence when an employee requests pregnancy/maternity leave.
So this is where I see the separation of women who support women wheat from women who say they support women but don't really support women chaff: Read more
By Jill Miller Zimon at 8:45 pm June 23rd, 2010 in Abortion, Business, conservatives, democracy, Economy, Education, employment, Gender, Government, Health Care, intolerance, Law, leadership, Media, Mental health, Ohio, Parenting, Politics, Religion, Sexism, Social Issues, Women, Youth | 2 Comments
Print This Post
As if we needed any further evidence of why the old boys network, if it ever functioned to help anyone is the least functional model of networking now, Maureen Dowd says it all in her column, "Eraser Duty for Bart?"
An excerpt but please, read the whole thing:
We might have to bang Bart's head into a blackboard a few times before he realizes that in a moral tug-of-war [regarding right-to-life language] between the sisters and the bishops, you have to go with the gals.

…

For decades, the nuns did the bidding of the priests, cleaned up their messes, and watched as their male superiors let a perverted stain spread over the entire church, a stain that has now even reached the Holy See. It seemed that the nuns were strangely silent, either because they suspected but had no proof — the "Doubt" syndrome — or because they had no one to tell but male bosses protecting one another in that repugnant and hypocritical old-boys' network.

Their goodness was rewarded with a stunning slap from the über-conservative Pope Benedict XVI. The Vatican is conducting two inquisitions into the "quality of life" of American nuns, trying to knock any independence or modernity out of them. Read more
By Jill Miller Zimon at 11:38 am March 21st, 2010 in Abortion, Congress, Democrats, Ethics, Gender, Health Care, intolerance, leadership, Politics, Religion, Scandal, Sexism, Women, Writing, Youth | 6 Comments
Print This Post
Attendees at a conservative conference in town [D.C.] this week will have the opportunity to whack a pinata of Speaker Nancy Pelosi (D-Calif.).

Conservative Political Action Conference "CPAC" begins Thursday here in D.C. and will feature a party Friday evening where guests will have the opportunity to whack a Speaker Nancy Pelosi (D-Calif.) piñata.
On the other hand, Harry Reid will be there in punching bag form. Is there some gender discrimination going on there? Why aren't they both piñatas – or punching bags?
My state rep and Republican candidate for Ohio Treasurer, Josh Mandel, will be a panelist, along with Stephen Baldwin and others at CPAC:
Saving Freedom for Future Generations
Marriott Ballroom
Kevin McCullough and Stephen Baldwin, XPAC
Jason Mattera, Young America's Foundation and author of Obama Zombies: How the Liberal Machine Brainwashed My Generation
Rep. Joshua Mandel (OH)

Moderator: Jeff Frazee, Young Americans for Liberty
I sure hope we don't get reports or photos back that he participated or otherwise condoned the event. I also wonder what Republican Mayor of Walton Hills, Marlene Anielski, thinks about the CPAC party plans – seeing that she's running to replace Mandel.
Other Republicans it's been suggested to check in with and why
Maine's US SenatorSusan Collins and Idaho Republican Mike Crapo who co-sponsored Amy Klobuchar's S. Res. 327, an Oct. 2009 resolution supporting the goals and ideals of National Domestic Violence Awareness Month 2009. did as well. It passed by unanimous consent.
The House version, H. Res. 817, authored by Al Green (D-TX9), was co-sponsored by Judy Biggert (R-IL13), Dan Burton (R-IN5), Shelly Capito (R-WV2), Michael Conaway (R-TX11), Erik Paulson (R-MN3), Ted Poe (R-TX2), Bill Posey (R-FL15) and Ileana Ros-Lehtinen (R-FL18). It passed by unanimous consent. Burton and Poe also co-sponsored H.R. 840 Military Domestic and Sexual Violence Response Act that was introduced on Feb. 3, 2009.
Crapo sponsored, and Louisiana's U.S. Senator who is up for re-election, David Vitter co-sponsored, S. Res. 391 A resolution recognizing the 25th anniversary of the enactment of the Victims of Crime Act of 1984. It passed by unanimous consent on Jan. 21.
An Oklahoma County judge has extended a temporary restraining order that blocks enforcement of a strict abortion law. The law would require doctors to report personal information about women who seek abortions and for the information to be posted on a public Web site.

The law was to have taken effect Nov. 1. District Judge Daniel Owens said Friday the restraining order would remain in force until a lawsuit seeking to throw out the law is resolved. A hearing is set for Feb. 19. Read more
By Jill Miller Zimon at 1:41 pm February 17th, 2010 in Abortion, conservatives, Gender, intolerance, Law, leadership, OH17, Ohio, Politics, Republicans, Sexism, Social Issues, Statehouse, treasurer, Women | 3 Comments
Print This Post
The jury, who had listened to 5 days of testimony, took less than an hour of deliberation once closing remarks were made.

Yesterday, the jury was informed that they would not be ruling on a charge of voluntary manslaughter, a fear many pro-choice advocates expressed, as the sentencing could be as little as 5 years. Because of Roeder's premeditated action and the fact that there was no immediate threat against him, Judge Warren Wilbert instead ruled that Roeder must be found either guilty or innocent on the charge of first degree murder in the death of Dr. George Tiller…

…In Roeder's own testimony yesterday he repeated the fact that he did commit the murder of Dr. Tiller, as well as recite the steps that he took prior to the act, with plans that went all of the way back to 1993. He also stated that he did not regret his actions.

The prosecuting team has announced its intention to go for a "hard 50″ during the sentencing process…[which requires] that the convicted murderer be required to serve a minimum of 50 years in prison before even a possibility of parole.
Sentencing will be March 9th.
More from the Kansas City Star and read the Twitter stream of Ron Sylvester, a reporter of the Wichita Eagle and Kansas.com, who tweeted the trial.
Statement of the Tiller Family
Video of the verdict (there are multiple other videos there from the trial)
Thoughts?
By Jill Miller Zimon at 2:41 pm January 29th, 2010 in Abortion, Crime, Law, Media, Religion, Social Issues | Comments Off
Print This Post
I can't explain the urgency of awareness about women's health care needs any better than Gloria Feldt, former president of the national Planned Parenthood organization:
So we are where we are with health reform and coverage of abortion.

The time to be purists and hold politicians' feet to the fire is at the beginning of any battle. 

Here is what I wrote about abortion coverage back in September that summarizes how I think the issue should have been framed and fought for, hard, so that we would been able to mount a stronger campaign for fair health reform and then on to rescind the Hyde Amendment going forward.

Accepting (and even defending!) the Capps amendment in the first place was a huge mistake. The opening salvos of the health reform debate should have been the time to challenge the entire notion of separating out one aspect of basic women's health care from any other. No, let me back up a bit and say I would have slammed Obama when he allowed family planning to be labeled controversial in the first stimulus package.

After acquiescing on those first two moments of decision, we were pretty well sunk. But the silver lining is that women began to realize–and got angry–that we'd been thrown under the bus by Congress, the president, and even some of our own advocacy organizations who had been complicit. Read more
By Jill Miller Zimon at 5:42 pm January 13th, 2010 in Abortion, activism, Gender, Health Care, Politics, Sexism, Women | 4 Comments
Print This Post
Eek. This political candidate's website came up in my Google alerts today because of someone else mentioned on his site, but I browsed around anyway, because I'd never heard of him.  On his "On the issues" page, he writes,
Under the socialist / communist healthcare plan in the Soviet Union during the early part of the 20th Century, the average number of abortions grew to 12 per female regardless of age. Some women had as many as 20, thus causing a sharp rise in uterine damage and related injuries and cancers.
As you might suspect, there's no attribution for that information.
Why am I not surprised?
By Jill Miller Zimon at 9:37 am December 29th, 2009 in Abortion, Congress, conservatives, democracy, Dennis Kucinich, Ohio, Politics | 4 Comments
Print This Post
From a source inside the Senate, I understand that the Senate's vote on health care reform will now be at 7am tomorrow morning. (See more here.)
A lot of attention, appropriately, has focused on how women fare under the House and Senate versions. But just in case you thought women weren't organized, didn't care or couldn't be bothered with politics and the economy and the finances behind health care, fahgeddaboutit.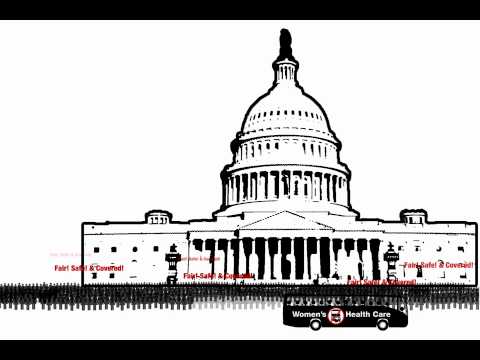 The facts page along at Not Under The Bus makes the site worthwhile and worth your time. There are links and stats to satisfy every level of interest and support your email, letter or call to your house representative or senator.
In their own words, Not Under The Bus is:
a platform for a unified media message that supports and defends women's rights in the national health care reform debate;
a media resource center on women's health and reproductive rights;
a framework to end discrimination against women in healthcare;
a call to action to keep women safe and treat them with respect and dignity.
a reminder that women's health care is central to the health of America;
an aggregator for the many campaigns that women's groups have started to stop the Stupak-Pitts Amendment — the most draconian restriction on women's reproductive rights  since the 1977 Hyde Amendment that stopped federal funding of abortion by Medicaid.
Take a look at this new video by the Women's Media Center that shows how women can take control of the health care reform bill and make sure they are not thrown under the bus by politicians in Washington.

Make sure you are taking your concerns to Congress and telling them that you want pro-choice, comprehensive and affordable health care!

We hope you will watch this video below and share it with friends – don't let women get run over in the battle to pass health care reform.
The conference committee process that will begin after the winter break will be contentious and require every constituent's involvement.  And in that speaking up, do not ever forget that you have a vote – you had it when you used it and you will be able to use it again, and again and again.
And in between? Call, write, email – take action.
By Jill Miller Zimon at 6:58 pm December 23rd, 2009 in Abortion, Congress, Economy, Gender, Government, Health Care, Illness, leadership, Media, Politics, Sexism, Social Issues, Voting, Women | 1 Comment
Print This Post
UPDATE 1: Democratic Sens. Barbara Boxer (CA) and Patty Murray (WA) issue statement in support of compromise.
I don't know what fumes the folks on the Hill are living off of but Senator Harry Reid has introduced the Manager's Amendment (#3276) and word is that Senator Ben Nelson, a Democratic holdout, will support the overall health care reform bill.
How they got Nelson:
Mr. Reid's amendment includes major restrictions on abortion that were intended to win support for the bill from Mr. Nelson. Under Mr. Reid's proposal, health insurance plans are not required or forbidden to cover abortion services, but there is a major exemption that would give states power to prohibit abortion coverage in the insurance markets, or exchanges, where most health plans would be sold.

Mr. Reid's amendment also includes a substantial increase in federal contributions to Nebraska's costs of providing Medicaid coverage to the poor.
The Wonk Room has more on the abortion-related language.
Here's a link to the full 300plus pages and here's the summary of it:
Manager's Amendment to the Patient Protection and Affordable Care Act
Providing More Competition & Affordable Choices for Americans
The Manager's Amendment to the Patient Protection and Affordable Care Act builds upon the strong bill we already have. It demands greater accountability from health insurance companies while creating more choice and competition for consumers. It implements new programs to further rein in health costs and makes health insurance policies more affordable; and it improves access to quality, affordable health care for children and vulnerable populations.
Tougher Accountability Policies for Health Insurance Companies
Stronger medical loss ratios.  Health insurers will be required to spend more of their premium revenues on clinical services and quality activities, with less going to administrative costs and profits – or else pay rebates to policyholders.  These stricter limits will continue even after the Exchanges begin in 2011, and apply to all plans, including grandfathered plans.
Accountability for excessive rate increases.  A health insurer's participation in the Exchanges will depend on its performance.  Insurers that jack up their premiums before the Exchanges begin will be excluded – a powerful incentive to keep premiums affordable. 
Immediate ban on pre-existing condition exclusions for children.  Health insurers will be immediately prohibited from excluding coverage of pre-existing conditions for children. 
Patient protections.  Health insurers will have to abide by a set of patient protections that, for example, protect choice of doctors and ensure access to emergency care. 
Ensuring access to needed care.  The use of annual limits on benefits will be tightly restricted to ensure access to needed care immediately, and will be prohibited completely beginning in 2014.
Guaranteed opportunity to appeal coverage denials.  All health insurers will be required to implement an internal appeals process for coverage denials, and states will ensure the availability of an external appeals process that is independent and holds insurance companies accountable.
Stronger Policies to Make Health Care Affordable
Innovation.  Medicare will be able to test new models and, if successful, implement them via a stronger Innovation Center, Independent Payment Advisory Board, and other authorities. 
Transparency.  New requirements will ensure that insurers and health care providers report on their performance, empowering patients to make the best possible decisions. 
Small businesses.  A package of improvements include starting the health insurance tax credit in 2010, expanding eligibility for the credit, and improving the purchasing power of small businesses.
More Health Insurance Choices 
Multi-state option.  Health insurance carriers will offer plans under the supervision of the Office of Personnel Management, the same entity that oversees health plans for Members of Congress.  At least one plan must be non-profit, and the plans will be available nationwide.  This will promote competition and choice.
Free choice vouchers.  Workers who qualify for an affordability exemption to the individual responsibility policy but do not qualify for tax credits can take their employer contribution and join an exchange plan. 
Improved Access to Quality Health Care for Seniors, Children, and Vulnerable Populations
Quality of care in Medicare.  Seniors will benefit when additional health care providers are reimbursed by Medicare for the quality of care they deliver, not the quantity of services they provide.
Children's health.  Support will be extended for the Children's Health Insurance Program and the adoption tax credit.  Foster care children aging out of Medicaid will be able to retain its comprehensive coverage.
Community Health Centers.  A substantial investment in Community Health Centers will provide funding to expand access to health care in communities where it is most needed
Rural and underserved communities.  Access will be expanded through funding for rural health care providers and training programs for physician and other types of health care providers. 
Vulnerable populations.  A range of new programs will tackle diseases such as cancer, diabetes, and children's congenital heart disease, will improve the Indian Health System, and will provide support for pregnant teens and victims of domestic violence.
Identifying Alternatives to Litigation
Testing new models.  States will be eligible for grants to test alternatives to civil tort litigation that emphasize patient safety, disclosure of health care errors, and early resolution of disputes, with a provision for patients to opt-out of these alternatives at any time.  Alternatives will be evaluated to determine their effectiveness.
By Jill Miller Zimon at 11:17 am December 19th, 2009 in Abortion, Congress, Government, Health Care, Politics, Women | Comments Off
Print This Post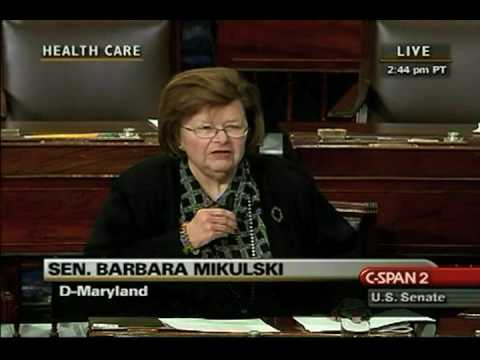 And here's another great idea: health care plans allowed to coerce women to get sterilized in order to get health care coverage: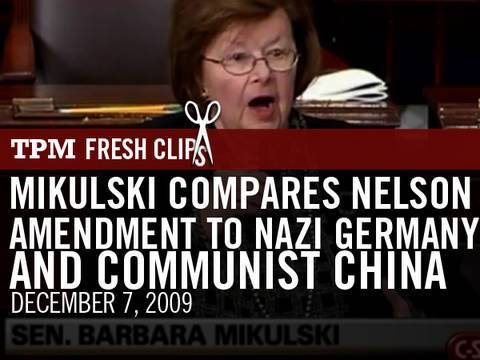 Floor transcript of floor speech today by U.S. Senator Barbara Mikulski (D-MD) during Senate debate of the health care reform bill and the Nelson amendment in particular: (bolded portions are in the video clips above) Read more
By Jill Miller Zimon at 11:03 pm December 7th, 2009 in Abortion, Culture, democracy, Ethics, Gender, Health Care, leadership, Politics, senate, Sexism, Social Issues, Women | Comments Off
Print This Post
Who knew!?
You know, I've been pregnant three times, gave birth to live, healthy babies three times and nursed each of my three babies.  If breastfeeding my babies was not related to pregnancy, someone tell me what was going on with my body, k?
Kate Harding at Salon.com has an excellent take-down and analysis of this gobsmackingly narrow decision regarding Totes/Isotoner's pregnancy discrimination that defies common sense.
In the strictest legal sense, the ruling is logical: Allen admitted she took unauthorized breaks, and that's a firing offense. If she can't prove that someone said, "Ha! Now's our chance to get rid of her for being a woman!" then apparently, she can't prove discrimination. But it's manifestly weaselly to suggest that her "insubordination" can somehow be separated from the fact that she was lactating, especially since they were responding to a decision that included this colossal eye-roller:

"Allen gave birth over five months prior to her termination from [Isotoner]. Pregnant [women] who give birth and choose not to breastfeed or pump their breasts do not continue to lactate for five months. Thus, Allen's condition of lactating was not a condition relating to pregnancy but rather a condition related to breastfeeding. Breastfeeding discrimination does not constitute gender discrimination."

Of course not.
ZOMG.
Hey, you know – Totes obviously has no idea just how many women wear Totes-like socks during labor and delivery.  Do they really want every hospital to stop purchasing those items from them?  How about hotels, spas – also places lactating and pregnant women like to go – often for non-pregnancy related occasions.
Let me tell you something, Totes – you don't think breastfeeding is connected to pregnancy?  Well – I don't think wearing your brand of socks is connected to keeping my tootsies warm anymore.
Game on.
NB:  Anyone ask the thousands of doctors across the country, who tell women to breastfeed as long as possible because of the health benefits of breastfeeding to the babies, how they feel about this decision and whether breastfeeding is connected to pregnancy? And how about how our country ranks embarrassingly high on infant mortality, with countries like Germany, South Korea, Britain – oh, and Cuba doing better? Nah – guess Totes could care less about that.
By Jill Miller Zimon at 2:09 pm August 31st, 2009 in Abortion, Civil Rights, Courts, Culture, democracy, Democrats, Elections, Gender, Health Care, Law, leadership, marriage, Ohio, Parenting, Republicans, Sexism, Social Issues, Women | 32 Comments
Print This Post
All of us – as progressive activists, bloggers, organizers, hell-raisers, trouble makers – whatever we self-identify as – have the opportunity to take action and turn the increasing violence and hate into a teachable moment.  

I don't think this will be a persuasive action; in other words, I don't think that we're going to change people's limited and bigoted mind-set.  But I think it's a a chance to come together in a new way and connect with one another.  So that when the threats, deaths, allegations become even more escalated, we will have enhanced our network of allies.  I think of it as "laying pipe."  

I hope you consider using the Do Better tag on this platform and elsewhere.  I feel that the hate that's being spewed could be an opportunity that helps coalesce the new Civil Rights movement.

Please post your links if you participate in the comments section of this post or to the event page on Facebook.  You can also use the #dobetter hashtag if you post to twitter.  On Monday, I will do a roundup of what people wrote about, and I'm also hoping this action will help generate traffic.  
We Can Do Better As Parents
My contribution to doing better comes from the life I live as a mother of three kids, all still minors, in K-12 grades because I believe our choices demonstrate for our kids what choices they should make.  My choices aren't for everyone but I've seen them pay dividends when it comes to the rejection of physical aggression by my kids.
We can do better with discipline
This is very controversial. I have close friends, very close friends, who use spanking as a threat and have on very rare occasions spanked their children.  But short of it being the child going to the electrical outlet or in an extreme case of self-defense on a playground or other social situation, we teach that there is always an alternative and that spanking is just another form of bullying along the spectrum of violence.  I know – there are many supporters of spanking, and there are many like me as well. But if we want to see the use of violence diminish, I don't see how we do that without leaving that supposed tool of parenting in the tool chest permanently.
We can do better in toy and amusement selections: my kids don't have toy weapons – not even squirt guns
This is another controversial path I've chosen but even when one of my kids got a set of toy tanks, I took the unopened package and donated it.  We have no light sabers, no swords, no darts.  Yes, kids take sticks.  Yes, kids go to other kids' homes where these things can be found. Yes, they view the use of these things in cartoons, in movies and in video games.  But eliminating them as a toy choice means they have to choose other methods to be in charge when they're role-playing – like maybe their brain and their words – and not a weapon. (And by the way, when someone tried to give my daughter a Bratz lunchbox filled to brim with Sweeties kind of candy, that went to the donation bin too.)  And don't think for a minute that I don't control how much time they spend with the screens either.
We can do better in encouraging our kids to stand up and speak out
My kids have been teased and/or bullied and they've also each stood up for kids who were being bullied.  But when my oldest was still in grade school, there was an incident that involved one or two kids bullying him and three or so others egging on those two.  All five got written up.  The mother of one of the eggers-on called me and was upset.  She wanted to know why I'd have her kid written up when in her mind there was no direct bullying.  I said, because he encouraged and laughed as the bullying went on and in my mind, that was enabling the bullies.  The school of course had the final say for who got written up anyway and clearly the school felt the eggers-on should be disciplined.  But the mother said to me, and I'll never forget this, "But now he'll always have that in his record."  Well – yeah.  And maybe it will make him think twice.  We should always think twice – before being silent, enabling or speaking out.  And choose the right action.
As parents, we play an enormous role in setting the stage for how acceptable our kids will view violence as an option.  I believe it's our obligation to equip them with every single tool possible so that they may never need to use violence to resolve or solve a single thing.
On the eve of the Tony awards, what better song than this to inspire us all to be competitive when it comes to doing better, making better choices than violence?
By Jill Miller Zimon at 7:27 pm June 7th, 2009 in Abortion, activism, Blogging, Ethics, Parenting, peace, Social Issues, Writing, Youth | 1 Comment
Print This Post
1. George Tiller – doctor practicing lawful medicine who was killed, via unlawful means for an end that does not justify any means. Kudos to the Plain Dealer today which included two articles and an editorial on Dr. Tiller.
2. Given the scarcity and preciousness of my time these days, I'm letting the stuff that everyone else can write about get written about by everyone else. Ohio House District 17 State Rep. Josh Mandel (R, Lyndhurst) making everything formal for his state treasurer run falls into that category (as do many things, political and non-).  You all know how to Google his name if you want to learn more about what's going on with his campaign, but I will point you to this post by Ralph King from the right blogosphere and this one by Anthony Fossaceca from the left, as two items that stand out to me.
Ralph and I have had our differences and we write differently and have very different tones.  However, he is a dedicated conservative voice in the blogs and active in his community and for that reason, I find his post, including a comment he wrote to further clarify his opinion about Josh's run, to be notable and influential.  It's these kinds of posts that, anyone seeking insight, should read.  If you want the standard same old same old, you can visit the campaign website, Facebook fan page or twitter streams.
I've been asked by several people about my thoughts on Josh's entrance to this race.  I'm glad to be asked, but I have to say, they're probably exactly what you would imagine and anyone who searches on "josh mandel" in my sidebar can read what I've written in the past.
In short, I do not find any of what Josh has done thus far in his career to be of such stature that I would think he's qualified to do the job as state treasurer.  While it's true that I had no choice over current state treasurer, Kevin Boyce, at least he is now racking up experience in that very job.  The power of incumbency is obvious, but in a race between two neophytes, it makes all the difference.
On top of that, I am 100% opposed to the idea of eliminating the Ohio income tax at this point in time and I've written about Josh's support for doing just that.
In different locations, there's information that Josh had or has a consulting business.  Let's hear more about the success of that.  Let's hear more of anything that relates to the duties of the state treasurer.  If you're not sure what they are, start with the departments the treasurer oversees:
Accounting
Administration
Center for Public Investment Management
Community Education
Compliance and Risk Management Assessment
Human Resources and Fiscal Services
Information Technology Services
Internal Audit
Investments
Legislative
Public Affairs
Revenue Management
Trust Department
I'll take Investments for $200, Alex.
A: This elected official refused to sell stock in a company with connections to business in Iran, until two months after introducing a bill that would require Ohio's pension plans to do so.
Are the "everyone trains on the job," argument, and the "he'll hire good people" argument, satisfactory for a state in dire economic conditions?  Remember Western Reserve Academy graduate, Neel Kashkari, bailout overseer?  How do you feel about President Obama's 31 year old who's overseeing the GM bankruptcy? Don't be hating on that Yale law school grad for a financial-related job if you're going to build up Ohio's own 31 year old Case Western law school grad for a financial-related job.
There's no need to hit up any of the far from moderate positions Josh has taken on wedge and other issues because as treasurer, our main concerns should be related to the duties of the job, as you can browse to via the links above at each of the 13 departments' descriptions.
When I learned of his formalizing the entrance, I emailed him a mazel tov, and I wish him the best of luck, on a personal level.  However, as a constituent in his district and a resident of the state of Ohio, I cannot believe that the Ohio Republican Party has no one more qualified for the job.  I've picked on the ORP as being incredibly one-dimensional and constantly going back to the same faces, which even look like one another, to run for office.  But you would think, when they do work to offer up someone with a slightly newer and different profile, given all the caché Republicans and conservatives have as the party that is allegedly pro-business, they would be able to recruit and prime someone with far more relevant skills and achievements for the treasurer's job.
If you want to read a more surgical review (definitely worth your time) of why Josh Mandel is the ORP's candidate, check out Kyle Sisk's posts on Josh.
3. Gum grafts. I'm getting them today.  I anticipate being miserable.  Nothing new there.
*This post originally included information about a zoning proposal before the city of Pepper Pike that involves a health care-related facility that is represented by my husband's law firm.  Although I'm not an elected official of the city, nor a fiduciary with said law firm, I am recusing myself from writing about this particular zoning proposal at this time in order to avoid any potential conflict of interest or appearance of a potential or actual conflict of interest.
By Jill Miller Zimon at 8:56 am June 2nd, 2009 in Abortion, activism, Business, Campaigning, conservatives, Economy, Elections, Gender, Government, Health Care, intolerance, Kevin Boyce, leadership, OH17, Ohio, Pepper Pike, Politics, Social Issues, treasurer, Women | 4 Comments
Print This Post
There's Bristol Palin's situation.
And then there's Brynn Cameron, profiled in today's New York Times. In part:
Cameron, 22, met Leinart as a freshman when he introduced himself during study hall. They shared a laugh about how they wore the same uniform number, 11. Cameron said she had been uneasy with Leinart's celebrity but was won over by his charm and by the goofy sense of humor they shared.

They dated for more than a year but broke up near the end of Leinart's senior season. Soon after, Cameron learned she was pregnant.

She said her once-strained relationship with Leinart has become amicable. During football season, Leinart flies to Los Angeles on Monday, his off day, to be with Cole, and he sees his son regularly in the off-season at his home in Manhattan Beach. Leinart did not return telephone calls seeking comment for this article.

"We still fight and disagree on things," Cameron said. "We're both on the same page now for what we want with our son. We'll be in each other's lives forever, so we may as well get along and make the most of it."

News of Cameron's pregnancy was too good for late-night comedy writers to pass up. For Cameron, there were the barbs calling her a gold digger, eager to tap the guaranteed $14 million that Leinart would receive from the Cardinals, not to mention his endorsements.

"I was already devastated that I was pregnant," Cameron said. "Then being pregnant and having it so public, emotionally, I can't deal with this. There were times when I would break down — why is this so public, why do people care? After a while, you learn to not listen, to not care."

Cameron turned to her safest haven, her family. Her parents, Stan and Cathy Cameron, met as students at Brigham Young, where Stan played basketball. They married and had four children in five years. Because they moved en masse in those early years, the Cameron children became as close socially as they were in age.

But within that environment, the children were encouraged to think for themselves. When Brynn, a Mormon like the rest of her family, was turned off by a religiously tinged recruiting pitch from B.Y.U., her parents backed her decision to attend U.S.C.

So when Cameron told her parents that she was pregnant and intended to keep the baby, she knew which question would come next: Did she want to marry Leinart?

"I was young and a lot of people said, 'Oh, it makes it easier to get married,' " Cameron said. "But I was 19, Matt was off doing his thing. We had completely different lifestyles, and I don't think either of us were willing to change."

She added: "I had so much support. I knew I could do it. I didn't need a husband to make it O.K."

Cameron gave birth to Cole in October 2006 and took the year off from U.S.C., moving back home with her parents in Newbury Park, a suburb 50 miles northwest of downtown Los Angeles. When Cameron returned to campus, her parents followed, renting a nearby apartment. They cook and baby-sit, and Cathy travels to all of U.S.C.'s away games so Brynn can bring Cole along.
I recommend reading the whole article.
One thing I do want to note: just as in Bristol Palin's FOX interview, there's not discussion of how it happened. How these teens who were dating did or didn't take precautions, did or didn't assess the consequences.
Why is this so verboten? That is exactly what other teens need to hear in order to recognize the real consequences.  Instead, while it is indeed a story of a family supporting one another, both the Palin and the Cameron stories show us the best case scenarios for white privileged intact families.
We know that these two portraits are not the only two images of teen pregnancy that need to be reflected.  How can we help reduce unwanted pregnancies if we never talk about or ask about or write about how they happen, how they can be avoided and all the possible permutations that result in the first place?
By Jill Miller Zimon at 11:59 am March 13th, 2009 in Abortion, Gender, Health Care, Media, Parenting, Sexism, Sports, Women, Writing, Youth | 1 Comment
Print This Post
Alaska Governor Sarah Palin has selected Judge Morgan Christen to become an Alaska Supreme Court justive, the second woman ever named to that bench.
From the Alaska Daily News (read the entire article, there's a lot of detail in it):
Gov. Sarah Palin on Wednesday picked an Anchorage judge to fill the latest vacancy on the Alaska Supreme Court despite efforts by a conservative Christian group to convince her to do otherwise.

…

"Alaska's Supreme Court bears the awesome responsibility of ensuring that our court system administers justice in firm accordance with the principles laid down in our state Constitution," Palin said in a written statement. "I have every confidence that Judge Christen has the experience, intellect, wisdom and character to be an outstanding Supreme Court justice."
Some of the methodology behind the pick:
Last week, the governor's office asked the Judicial Council for everything it knew about the nominees, including the "application for this or any other judicial appointment, for retention election, or for any other purpose."

While governors sometimes have questions about nominees, none had ever made such a sweeping request, Larry Cohn, Judicial Council executive director, said.

The council staff delivered packets of additional information to Palin's Anchorage office on Wednesday, excluding only internal work memos and comments where confidentiality was promised.

Aides to the governor wouldn't answer questions about specific concerns that might have prompted the governor's request. However, both Christen and Smith have been involved in organizations that might give Palin pause.

Christen's application included her membership in several charitable groups, including some from her past, but did not mention that she was on the board of Planned Parenthood in the mid-1990s. The organization, which didn't provide abortions in Alaska until 2003, is now on the opposite side of a Palin-supported bill to require girls under 17 to get parental consent for an abortion.

Back in the 1980s, Smith was executive director of the public interest environmental law firm, Trustees for Alaska. The group currently is on the opposite side of Palin over the listing of Cook Inlet beluga whales as endangered.

Christen, 47, attended colleges in England, Switzerland and China before graduating from the University of Washington with a bachelor's in international studies. Her law degree is from Golden Gate University in San Francisco. She's currently on the board of the Alaska Community Foundation and the Rasmuson Foundation.
You can read Governor Palin's press release here.
Not a ton of reax out there yet, though there are plenty of comments at the ADN article. Some others:
The fact that she selected Christen over Smith, despite being lobbied by conservative Christians to battle the AJC, is significant – especially with the parental consent billpending before the Legislature. I think it sends a pretty clear signal that she is placing the economic well-being of Alaskans over her personal beliefs – but this is nothing new. Her philosophy of strict constructionism is once again demonstrated in her press release about the appointment:

"Alaska's Supreme Court bears the awesome responsibility of ensuring that our court system administers justice in firm accordance with the principles laid down in our state Constitution," said Governor Palin.

There are people on the Right who will not like this – as a matter of fact, it sounds like some social conservatives in Alaska are already unhappy. But, as she has always stated when asked, she feels that the question of abortion should be resolved by the will of the people. And, truth be told, Smith probably would have been no better on the abortion issue than Christen. A fight with the AJC would have been distracting and likely accomplished nothing.

In an ideal world, the fact that she appointed a former Planned Parenthood board member to the high court would stop the criticism of the left-wing feminists who claim she wants to take away the right of women to choose. But I somehow doubt they will give her any credit. These were tough waters for Governor Palin to navigate, but it seems to me she chose the best available option for the economic health of Alaska.
GOPAlaska has a short announcement directly from the ADN article only mentioning that Christen is the 2nd woman named to the state's sup court.
The ADN piece notes that he head of the Alaska Family Council, Jim Minnery, wrote Palin in support of the other candidate, Judge Eric Smith.
The family council plea, from group president Jim Minnery, said Smith was "more conservative" and that Christen would be "another activist on the Court." In an interview, Minnery said that was the "general consensus" but he had no specifics.

"I'll be seeing the governor tomorrow. We'll have a good chat," Minnery said after Christen's appointment was announced. He said that Palin is introducing the speaker Thursday evening at a benefit lecture in Anchorage for the family council.

The group didn't really approve of either finalist and believes the Judicial Council should allow Palin to pick from all qualified applicants, Minnery said. The Judicial Council's bylaws direct them to nominate the "most qualified." Former Gov. Frank Murkowski once rejected all three nominees sent to him, then, when the council wouldn't send him more names, appointed from the list.
Congratulations to Judge Christen.
By Jill Miller Zimon at 12:34 pm March 5th, 2009 in Abortion, Courts, Gender, Law, Politics, Sarah Palin, Women | Comments Off