Print This Post
Jan
4
Well, when it came to talking Browns. Sort of. You'll see. Here's the blurb:
Guest Analyst:  Kevin T. Jacques, Boynton D. Murch Chair in Finance at Baldwin Wallace University—Congress and the President managed to avoid the 'fiscal cliff' but the tax bill for most working Americans is going up.  A deal that raises marginal tax rates on the highest wage earners also allows a payroll tax break to expire, affecting wage earners at all income levels.  Also going up are taxes on business and investors.  Without a deal marginal tax rates would have gone up for most workers. Still looming are new debates over the federal debt ceiling and discretionary spending.

Roundtable:  Michael Heaton, columnist, The Plain Dealer; Jill Miller Zimon, blogger, Writes Like She Talks; Ned Whelan, Whelan Communications.

Fiscal Cliff—the panel continues discussion about the fallout from the fiscal cliff resolution on New Year's Day.

Browns Seek New Field Management—the new ownership team is shopping for a head coach and a general manager after the house-cleaning that followed the end of another losing season.  Team president Joe Banner is busy interviewing head coach candidates, including University of Oregon's successful coach Chip Kelly and Ken Whisenhunt, who once lead the Arizona Cardinals to the Super Bowl.

Armed Teachers? Hundreds of Ohio teachers signed up for firearms training in the wake of the latest deadly school shooting that took 26 lives in Newtown, CT.  The gun owners' advocacy group Buckeye Firearms Association offered free training for teachers and administrators, with the first class expected in the spring. The Association's president says interest has exceeded expectations.

On the Way Out for Good—The Plain Dealer's Minister of Culture, Michael Heaton, writes that many cultural icons are headed for the ash heap of history.  Among utilitarian items on their way out are wristwatches, replaced by a multitude of tools that tell time; alarm clocks, made redundant by cell phones that have built-in alarm functions and the local post office, a business model that's quickly fading in a digital world.
By Jill Miller Zimon at 9:00 pm January 4th, 2013 in Congress, guns, Jill Miller Zimon, Media, Mental health | 4 Comments
Print This Post
Oct
28
Filed Under Campaigning, conservatives, Courts, Crime, democracy, Elections, Ethics, Government, guns, intolerance, Josh Mandel, Law, leadership, Ohio, Politics, Republicans, Voting | 2 Comments
The Ohio Elections Commission has dismissed a complaint made by Former Fox personality and now Republican candidate for Ohio governor, John Kasich, and filed against the campaign of Governor Ted Strickland. The complaint stemmed from the traditionally wretched ratings Kasich has gotten over the years from the NRA. Even the Buckeye Firearms Association, which gives Strickland an A+, chastised Kasich. From Cincinnati.com:
Columbus attorney Donald McTigue argued that Kasich got an F-rating from the NRA in 1994 for his congressional vote in favor of banning assault weapons.

The Republican and Democratic members of the commission panel agreed, and in a 2-1 vote found no probable cause that Strickland's campaign broke state elections law.
And, according to a statement from the Ohio Democratic Party, the Ohio GOP's candidate for Treasurer, Josh Mandel, received even worse news.
The Ohio Elections Commission has unanimously slapped Representative Josh Mandel and the Ohio Republican Party with a probable cause finding for what have been denounced as "scummy," "bigoted," "irresponsible," and "false" political attacks. The unanimous ruling was made by a bipartisan panel of one Independent, one Democrat and one Republican member of the commission.

…

Mandel's ad has been denounced by major newspapers across Ohio. It was listed as one of the top ten most egregious lies in the 2010 election by the San Francisco Chronicle's Politics Blog. Ad checks by Politifact Ohio and ABC 13 in Toledo have previously found the statements to be false.

…

The Commission found probable cause that Representative Mandel and the Ohio Republican Party committed multiple violations of Ohio law with their TV and print attacks. The statements include innuendo and lies from Mandel that Treasurer Boyce, a Christian, is a Muslim, and that he only made a state job available at a mosque.
More here from the Columbus Dispatch.
Definitely the Ohio GOP's version of Alexander and the Terrible, Horrible, No Good, Very Bad Day.
By Jill Miller Zimon at 1:45 pm October 28th, 2010 in Campaigning, conservatives, Courts, Crime, democracy, Elections, Ethics, Government, guns, intolerance, Josh Mandel, Law, leadership, Ohio, Politics, Republicans, Voting | 2 Comments
Print This Post
Jun
10
This man is a hero. May he be of blessed memory.  And thank you, thank you so much.  God bless you and your family.
The U.S. Holocaust Museum has released a statement on the death of security guard Stephen Tyrone Johns, who died this afternoon after being shot at the museum by a suspect who has been identified as James Wenneker von Brunn.

Officer Stephen Tyrone Johns died heroically in the line of duty today. There are no words to express our grief and shock over these events. He served on the Museum's security staff for six years. Our thoughts and prayers go out to Officer Johns' family. 

We have made the decision to close the Museum tomorrow in honor of Officer Johns, and our flags will be flown at half mast in his memory.

FOX 5 reports that Johns was 39 years old. A memorial Facebook grouphas already been created. We'll update as we learn more about Officer Johns and any memorial activities in the city.
The Washington Post has some horrific info on the shooter here.
I've not been able to find much more about Mr. Johns but here's a CBS piece with a little bit and several other details.
For the record, I've only read that the President was "saddened." Not outraged?  Nothing else? At all? President Obama, you are going to have to do better – like the rest of.
UPDATE: A more complete statement from President Obama, time-stamped six hours after the incident:
I am shocked and saddened by today's shooting at the U.S. Holocaust Memorial Museum. This outrageous act reminds us that we must remain vigilant against anti-Semitism and prejudice in all its forms. No American institution is more important to this effort than the Holocaust Museum, and no act of violence will diminish our determination to honor those who were lost by building a more peaceful and tolerant world.

Today, we have lost a courageous security guard who stood watch at this place of solemn remembrance. My thoughts and prayers are with his family and friends in this painful time.
By Jill Miller Zimon at 5:50 pm June 10th, 2009 in anti-semitism, guns, Jewish, Judaism, Race, Religion, Social Issues | 2 Comments
Print This Post
Jun
9
Filed Under Cleveland+, Crime, Culture, democracy, Government, guns, Law, OH17, Ohio, Politics, Social Issues, Statehouse | 7 Comments
I read this morning that State Reps. Danny Bubps (R-88, West Union), and Jarrod Martin (R-70, Beavercreek)  have introduced HB 203:
…to allow a concealed carry licensee who is not consuming liquor and is not under the influence to carry a concealed handgun in a retail food establishment or food service operation with any class liquor permit issued for the location.
This bill would make it legal for conceal carry permit holders to bring their loaded weapons into restaurants, regardless of liquor permits. The bill as proposed would require restaurant owners to enforce that those holders not consume any alcohol and that, when they enter their establishments, they not be under the influence of alcohol.
I don't recognize any of the co-sponsors, all of whom are Republicans, as being from the Cleveland or NE Ohio area, but I have not checked each one:
The bill has been assigned to the House Public Safety and Homeland Security committee, and is co-sponsored by Reps. John Adams (R), Ron Amstutz (R), Terry Blair (R), Courtney Combs (R), Dave Hall (R), Matt Huffman (R), Shannon Jones (R), Kris Jordan (R), Ron Maag (R), Ross McGregor (R), Barbara Sears (R), Todd Snitchler (R), Joe Uecker (R), Lynn Wachtmann (R), Jeff Wagner (R) and James Zehringer (R).>
The members of the Public Safety Committee are listed here (there currently is no Chair due to Eugene Miller's resignation and move to Cleveland City Council to replace Roosevelt Coats).  
If you've got an opinion on this bill (pro or con), there are all the folks you can start with.
This morning, I spoke with the statehouse person in charge of keeping up with committee assignments and, after the conversation, was left with the impression that it's very unlikely that this bill is going to go anywhere anytime soon since the budget is consuming the legislature, there's no chair and the bill is unlikely to be set for a hearing if there's no chair, though the vice-chair apparently could do that.  
Regardless, I emailed my state rep and asked him to please research what reaction restaurant industry people – including the excellent folks with the Cleveland Independents (whom I also wrote, asking for comment on the bill) – as well as patrons from our district, the 17th, have in regard to this proposal.
What's your reaction?
By Jill Miller Zimon at 11:50 am June 9th, 2009 in Cleveland+, Crime, Culture, democracy, Government, guns, Law, OH17, Ohio, Politics, Social Issues, Statehouse | 7 Comments
Print This Post
May
4
Filed Under activism, Civil Rights, Cleveland+, democracy, Education, Government, guns, Law, leadership, Ohio, peace, Politics, Social Issues, war | 2 Comments
Hard to believe then, hard to believe now. From Progress Ohio:
The Kent State shootings, also known as the May 4 massacre or Kent State massacre,occurred at Kent State University in the city of Kent, Ohio, and involved the shooting of students by members of the Ohio National Guard on Monday, May 4, 1970. Four students were killed and nine others were wounded, one of whom suffered permanent paralysis.

Some of the students who were shot had been protesting against the American invasion of Cambodia, which President Richard Nixon announced in a television address on April 30. However, other students who were shot had merely been walking nearby or observing the protest from a distance.

There was a significant national response to the shootings: hundreds of universities, colleges, and high schools closed throughout the United States due to a student strike of eight million students, and the event further divided the country, at this already socially contentious time, along political lines.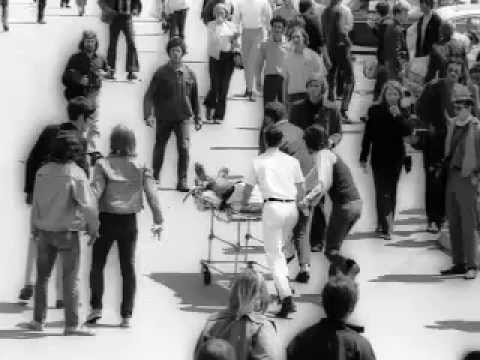 By Jill Miller Zimon at 11:12 am May 4th, 2009 in activism, Civil Rights, Cleveland+, democracy, Education, Government, guns, Law, leadership, Ohio, peace, Politics, Social Issues, war | 2 Comments
Print This Post
Dec
27
A man enraged by a noisy family sitting near him in a movie theater on Christmas night threw popcorn at the son and later shot the father in the arm, police charged.

James Joseph Cialella, 29, of Philadelphia, first told the victim's family to be quiet, then threw popcorn at the man's son, police said. The victim told police that Cialella was walking toward his family when he stood up and was shot.

Detectives called to the United Artists Riverview Stadium theater in South Philadelphia found Cialella in the complex still carrying the weapon — a .380-caliber handgun — in his waistband, a police spokesman said.
The movie playing? The Curious Case of Benjamin Button.
The theater chain? Regal.
Happy New Year indeed.
Hattip to this tweet from Davidinindy.
By Jill Miller Zimon at 6:07 pm December 27th, 2008 in Debates, Government, guns, Law | 16 Comments