Print This Post
For your reading pleasure (or displeasure, I'm afraid), check out my latest Civic Commons blog post on the he said, she said of women, journalism and political coverage. It includes the PowerPoint presentation with embedded video examples of just how egregious the slings have been.
By Jill Miller Zimon at 10:09 am September 22nd, 2012 in Hillary Clinton, Media, Sexism, Women | Comments Off
Print This Post
Just tell me – did ya slam The New Republic when they put this on their cover in April 2008: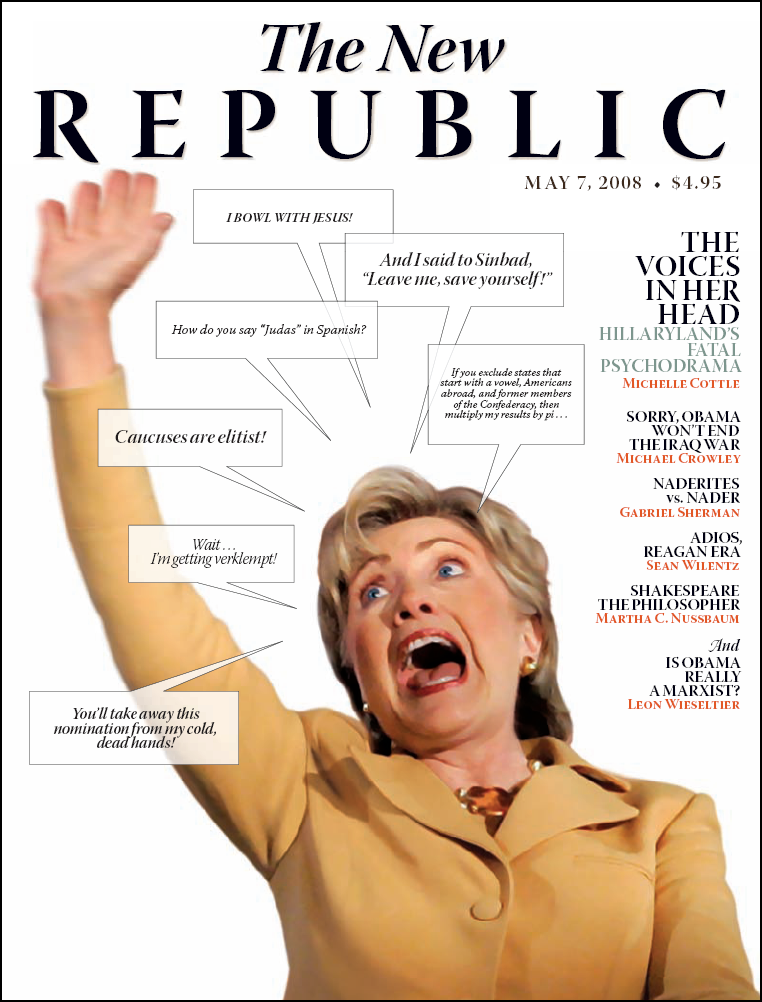 Because if ya didn't, I'm not feeling much empathy for your complaining now about this Newsweek cover of Michelle Bachmann:
Feel sorry for Newsweek that this is what they're doing for traffic. Or they have lousy photogs.  Or they won't pay for decent portraits. Or maybe this is what Bachmann gave them. I don't know – I haven't researched the backstory yet so if you know, feel free to enlighten.  But again, if the hysterical Hillary didn't bother you, you've got nothing to complain about with the Bachmann cover.
By Jill Miller Zimon at 9:22 pm August 8th, 2011 in Gender, Hillary Clinton, Media, michele bachmann, Politics, Sexism | 6 Comments
Print This Post
women-revolution-lama-hasan-uprising-middle-east-libya-egypt-human-rights-politics-13069528While doing Sunday chores, I got to see the cover of the redesigned and Tina Brown-ified Newsweek about to come out, with a very powerful image of U.S. Secretary of State Hillary Clinton on the cover as well as watch with great interest an all-woman roundtable discussing the role of women in the revolutions occurring in N. Africa/the Middle East (Yemen, Bahrain, Egypt, Libya, Tunisia for example).
Here's the cover (I can't find the articles online yet but I'm very eager to see that 150 women list):
And here are the two clips about women of the revolutions.  The first is a news item/reportage and the second is a roundtable conducted by Christiane Amanpour with Tina Brown (Daily Beast/Newsweek), Egyptian Writer/Activist Dr. Nawal El Saadawi, Zainab Salbi (Women for Women International ) and Sussan Tahmadebi (International Civil Society Action Network for Women's Rights, Peace and Security).
You can see the 150 Women Who Shake the World here and the Hillary Clinton article here.
By Jill Miller Zimon at 8:52 pm March 6th, 2011 in activism, democracy, Foreign Affairs, Gender, Hillary Clinton, leadership, middle east, Politics, Religion, Sexism, Social Issues, war, Women | Comments Off
Print This Post
And hey, very few in this Top 50 list even go very far back in time.  Ugh.  Thanks to The Stir for wading through the muck.  A sample:
25. "[During her trip to New York, Sarah Palin] bought makeup from Bloomingdale's to update her 'slutty flight attendant' look." ~ David Letterman (from his Top 20 list)
32. "Hold on one second, sweetie …. We'll do a press (availability), thanks." ~ Barack Obama to a Michigan TV reporter (I wrote about this one extensively)
37. "Another Angry Woman Wins Senate Nomination." ~ Headline in The New York Times during the campaign of 1992
46. "The high-sheen lip gloss, the 'Naughty Monkey' brand red pumps, the black leather outfits, the winking, for heaven's sake. She's the original 'Mean Girl' — the head honcho of Orwell's 'Junior Anti-Sex League' dressed to kill. You want her, but you can't have her. ~ Gene Lyons about Sarah Palin
50. "[Hillary Clinton] is not called a B-word because she's assertive and aggressive; she's called a B-word because she acts like one." ~ Mark Rudov
Res ipsa loquitur.

By Jill Miller Zimon at 11:21 am October 6th, 2010 in Campaigning, Elections, Gender, Hillary Clinton, intolerance, Politics, Sarah Palin, Sexism, Women | Comments Off
Print This Post
As the unusual confluence of the Jewish new year, Ramadan and September 11th has come and gone, I've been thinking a lot about the direct talks being pursued right now by U.S. Secretary of State Hillary Clinton. But this post is not about the talks'  core issues, as they're called, or about the fact that the talks themselves are happening.
I want to focus on Secretary Clinton and the skills and talents she is using, will need and may possess that can help — or hinder — efforts to end violence and gain a permanent peace, whatever that ends up looking like, between the Israelis and Palestinians.
At least one article is calling the current negotiations a "second chance" for Clinton, after her husband Bill's efforts to forge a lasting peace agreement in the 1990s failed. Aaron David Miller, who advised numerous U.S. secretaries of states in the past and worked on peace process policy, seems to indicate that Clinton's skill set is very well-suited to getting the job done. From CNN:
[Miller says that] … Hillary Clinton arguably has at least some of the qualities that America's top diplomat would need to help shepherd successful Israeli-Palestinian negotiations.
To read the rest, please visit the full entry at, "Hillary Clinton May Succeed At Building Mideast Peace."
By Jill Miller Zimon at 3:58 pm September 16th, 2010 in Foreign Affairs, Gender, Hillary Clinton, Israel, Law, leadership, middle east, palestinians, Politics, Women | Comments Off
Print This Post
Gender neutral punches. Gender. Neutral.  If we don't lead and show how it's done, we can never be heard to expect that others stop it too.
Why? Watch this video – again and again – and see how men and women contribute to the sexist treatment of politicians (in this video, Hillary Clinton is the target but the remarks are lobbed by everyone from Michelle Malkin to Chris Matthews):
And here's a collage of how bad it was against Sarah Palin herself:

It has got to stop and we have to stop it – and replace it.  It's not right when Maureen Dowd does it or Chris Matthews does it or Glenn Beck or Donny Deutsch (as shown in that video and you can read more here), and it's not right when Sarah Palin does it either and compares President Obama and Governor Brewer's cojones.
It's just not okay. Period. Ed Schultz – you get a star for getting this one right and calling her comments out as sexist:
ED SCHULTZ, HOST: Sarah Palin is hitting President Obama below the belt on immigration. The same Sarah Palin who claimed to be a victim of sexism during the 2008 campaign has no problem making sexist remarks about the President of the United States. Here she is at home on Fox News Sunday.
And Newsbusters, you get an F- I suppose you think macaca is okay too.
Unbelievable.  And very unpresidential (yeah yeah – don't get bent out of shape – I call out Obama on junk like this too – remember his sweetie comment during the 2008 campaign?).
By Jill Miller Zimon at 9:10 am August 3rd, 2010 in Gender, Hillary Clinton, leadership, Media, Sarah Palin, Sexism, Women | Comments Off
Print This Post
If a male attorney general and former prosecutor were running against a woman who'd posed nude for Cosmopolitan magazine and whose law practice consisted mainly of real estate closings, would he be the one praying for a squeaker victory? Would she have even gotten elected to the state senate?

No and no, are the probable answers. But it is an illustration of the kind of double standard voters apply to women candidates – a double standard that some long-time women's advocates see in the success of Republican Scott Brown, whose college-aged centerfold and lesser professional success hasn't gotten in the way of his chances of capturing Ted Kennedy's old Senate seat from the Democrats.
But it goes beyond that, to the very top – and Ohio is not immune: Read more
By Jill Miller Zimon at 8:00 pm January 19th, 2010 in Campaigning, Culture, Elections, Gender, Government, Hillary Clinton, Jennifer Brunner, leadership, Ohio, Politics, Sexism, Social Issues, Voting, Women | Comments Off
Print This Post
Yes, I would vote for her if I was eligible to vote in Massachusetts.  And yes, I do expect she will win. I could be wrong – wouldn't be the first time (I wanted Joe Biden in the 2008 primary), but that's my prediction.
Regular readers can guess why:
I'm a reliable left of center voter except on a few issues (I vote against casinos and am very independent when Israel is involved, rarely going into the move all Israelis to Siberia territory but also reliably against settlement expansion).
And Scott Brown is an untenable option for me just on the basis of his positions on pretty much every single issue that matters to me: Read more
By Jill Miller Zimon at 8:00 pm January 17th, 2010 in Campaigning, Congress, Democrats, Gender, Government, Hillary Clinton, leadership, Politics, Predictions, senate, Sexism, Social Issues, Voting, Women | 15 Comments
Print This Post
U.S. Secretary of State Hillary Clinton gave a speech yesterday to commemorate the 15th Anniversary of the first International Conference on Population and Development. That gathering included a total of thousands of delegates from 179 countries.
You can watch the entire presentation here on CSPAN-2 (and it includes remarks by the first ever Ambassador-at-Large for Global Women's Issues, Melanne Verveer as well as Secretary Clinton's remarks) or the 22 minute version with just the Secretary's remarks, courtesy of RHRealityCheck's coverage of the event. I've yet to see a transcription or text of the speech, but here is a near live-blog from The Frisky with quotes for those who, like me, really like to see the remarks in writing.
The first ICPD occurred in Cairo in 1994 and set up goals to be reached in 20 years. Clinton reviewed where we stand in regard to the progress the Cairo gathering envisioned and what must be done to accomplish the goals set 15 years ago.
From The Frisky's steno of Clinton's address: Read more
By Jill Miller Zimon at 11:24 am January 9th, 2010 in BlogHer, Civil Rights, Culture, Government, Hillary Clinton, Illness, leadership, Politics, Sexism, Social Issues, war, Women, Youth | Comments Off
Print This Post
Do not miss this week's New York Times Magazine, "Saving the World's Women."
The subject line quote above is from the Q&A Deborah Solomon did with Africa's only female leader, Liberia's Ellen Johnson Sirleaf.
Her advice to the U.S. on having a female president:
Why do you think we've never had a female president in the United States?
I have to ask you that question. You've got to vote for her.
Other excellent reads in the issue:
The Power of the Purse – women using philanthropy to help women and the world economy
A New Gender Agenda – an interview with Hillary Rodham Clinton
The Feminist Hawks – a study of how abuses against women are being used – and abused?
By Jill Miller Zimon at 1:13 pm August 23rd, 2009 in Civil Rights, Foreign Affairs, Gender, Government, Hillary Clinton, leadership, Politics, Social Issues, Voting, Women | Comments Off
Print This Post
U.S. Supreme Court Justice Potter Stewart was famous for many things, but possibly his most famous quote had to do with hardcore pornography in the case, Jacobellis v. Ohio (1964).  The quote underscores the definitional value of imagery when, otherwise, words fail us or people just don't get it:
I shall not today attempt further to define the kinds of material I understand to be embraced within that shorthand description; and perhaps I could never succeed in intelligibly doing so.

But I know it when I see it, and the motion picture involved in this case is not that. [Emphasis added.]
And so the appeal of videos like  "This is what a feminist looks like" should be no surprise.  Mike Huckabee had What A Proud American Looks Like. And of course, even still photos can get tagged for being demonstrative of something we might not otherwise be able to put into words, even if we wouldn't agree that it's the only image that fits the subject title.
Last year's video by the Women's Media Center compiled nearly six minutes of journalists' sexist attacks issued during just the 2008 presidential primary.  Most Americans hadn't even heard of Sarah Palin at that point, but journalists have caught up in treating her in sexist ways. Read more
By Jill Miller Zimon at 6:58 am August 3rd, 2009 in activism, Blogging, Gender, Government, Hillary Clinton, Humor, leadership, Media, Mike Huckabee, Parenting, Politics, Sarah Palin, Sexism, Social Issues, social media, Women, Writing | Comments Off
Print This Post
On Thursday (7/30), I wrote a post called, GOP continues to starve female leadership pipeline: Sessions' Young Guns are 12 men, 1 woman.  I've not been able to find anyone else in the political blogosphere wonk world writing about this, not from the right or from the left and yet I continue to be fascinated by the imagery we now have in the vernacular:  Sarah Palin, Kay Bailey Hutchison, Meg Whitman, Olympia Snowe and Susan Collins, Nikki Haley versus…U.S. Rep. Pete Sessions putting forward a slate of GOP potentials that include 12 men and just one woman.  
What is with that, I keep wondering.  How can the women in the GOP be okay with this, I ask.
So instead of just perseverating on the question, I wrote both SarahPAC and the National Federation of Republican Women.  
I'm a freelance writer and political journalist who would like to get an official statement from the National Federation of Republican Women on the fact that the NRCC's "Young Guns" list of GOP politicians who will be supported to run against incumbent Democrats is comprised of 12 men and just one woman.

Given that your organizations' description on the front page of its website states, "We strengthen the Republican Party by recruiting, training and electing candidates," could you please tell me the NFRW's position on the NRCC strategy and its selection of just one woman?
SarahPAC sent me a form letter telling me how busy they are and they will get to me eventually.  However, I did receive a prompt response from the NFRW and here's what they wrote:
 Hello, Ms. Zimon:

Thank you for asking the NFRW to comment. Here is a statement from Shirley Sadler, president of the National Federation of Republican Women:

"The NFRW fully supports the ongoing efforts of the National Republican Congressional Committee to recruit strong candidates for the upcoming congressional races, and we are confident in their ability to find the best candidates to run for office. We will continue to support the Republican Party by doing our best to recruit, train, and elect candidates in our role as one of the largest and most influential women's political organizations in the nation."

Many thanks,

LISA ZIRIAX
Communications Director
National Federation of Republican Women
124 N. Alfred St .
Alexandria ,  VA   22314
(703) 548-9688
(703) 548-9836 – FAX
lziriax@nfrw.org
I am very appreciative of the NFRW responding, but, as you might imagine, I'm extremely disappointed at how predictable and devoid of attention to the very specific question I asked, especially since the NFRW itself says that its membership is tens of thousands of women who work to recruit, train and elect candidates.  
Oh, I know, I know – they don't say FEMALE candidates.  But you'll have to excuse me while I explain in specific terms: I do not accept armies of women supporting armies of men-only political wannabees.  Not in 2009.  Not after all that Sarah Palin put out there re: cracking more glass in the ceiling etc.  The blinders on their being so blatantly hypocritical drives me nuts.
You know, Corazon Aquino died this week.  She powered a revolution in the Philippines that led to its democratic government.  Others tried to overthrow her seven times, according to the obits. She wasn't even that radical or left-wing in her ideology.  And this issue of women supporting women – it's not scary.  It's not earth-shattering and it's not going to harm our children or our country.
It's okay. Really.  It's really, really, REALLY okay.  
Thinking about how the language of fear has been issuing forth from Michelle Malkin, Glenn Beck, Rush Limbaugh and so many others on the right lately, and some of the left as well – because they aren't getting what they want or didn't get what they wanted – makes me wonder about this final question:
If this is how fear of having a non-white person with a name that doesn't sound like an airplane pilot's manifests itself, can you just imagine what's going to happen when that person is a woman?  
Want a glimpse? Review how Sonia Sotomayor has been treated, review how Nancy Pelosi and Hillary Clinton and Sarah Palin have been treated.  Put all of the worst of all that together and how people in general and the media in particular would be treating a female president, and frankly, it's just plain shameful.
Pete Sessions and the NFRW's support of him are doing women no favor whatsoever.  The PR that they put out and portend to stand behind is even worse.
It does not have to be this way and I look forward to seeing the breakthroughs that get accomplished via the 2010 and 2012 election cycles. I know the women working on those breakthroughs are out there – and they include those of us highlighting these instances like Sessions' selections.
By Jill Miller Zimon at 8:36 am August 1st, 2009 in Campaigning, Civil Rights, democracy, Elections, Gender, Government, Hillary Clinton, leadership, Politics, Sarah Palin, Sexism, Social Issues, Voting, Women | 12 Comments
Print This Post
Thoughts you want noted about any of the topics? Specifically:
Former Alaska Gov. and former GOP VP candidate Sarah Palin resigned as governor yesterday.
U.S. VP Joe Biden's foot in mouth tendencies (see the Wall Street Journal here and here).
U.S. Secretary of State Hillary Clinton – will she run for president again?
By Jill Miller Zimon at 9:34 am July 27th, 2009 in Announcements, Hillary Clinton, Joe Biden, Media, Politics, Sarah Palin | 7 Comments
Print This Post
She didn't name names though, darn!
Great, great clip, from this morning's Meet the Press with David Gregory:
You can read the transcript here.
Hattip The New Agenda.
By Jill Miller Zimon at 9:40 pm July 26th, 2009 in Campaigning, Elections, Gender, Government, Hillary Clinton, leadership, Media, Politics, Sexism, Voting, Women | 5 Comments
Print This Post
You can read the entire speech here and view excerpts and photos here. Many thanks to the blog, Secretary Clinton, for publicizing this information.  It is a superb speech, on many levels.  I would love to know more about how it was put together and who assisted, if anyone, in writing it.
Clinton addressed numerous topics with pithy, straightforward examples. I encourage you to read the entire speech (it's not that long).  But here are two sections in particular:
On how we should use our privilege:
The diplomacy of this age is fueled by personal engagement and interpersonal connections. And that's where all of you come in. With new tools and technologies and with the first-rate education you've received, you now have the capacity to influence events in ways that no previous generation ever has.

But of course with that opportunity does come responsibility, because this new era of diplomacy requires a new commitment to global service – a continuing effort from each of you to help us tackle the most urgent problems we face. Just as we have special envoys for climate change or peace in the Middle East, so too must each of you be a special envoy of your ideals. Use your skill and talent with these new tools to help shape and reshape the future.

I want to talk about a particular area where I think you can, you should, and you must make a difference. It's important to me personally and it's especially important in my new job, and that is the plight of women and girls around the world. As women with strong voices and strong values, you are in a unique position to support women worldwide who don't have the resources you do, but whose lives and dreams are just as worthy as yours and mine. I have concluded after traveling many miles and visiting many places in the last decades that talent is universally distributed, but opportunity is not. The futures of these women and girls will affect yours and mine. And therefore, it is not only the right thing to do, but also the smart thing.
On the value and use of social media to advance these interventions:
And with these social networking tools that you use every day to tell people you've gone to get a latte or you're going to be running late, you can unite your friends through Facebook to fight human trafficking or child marriage, like the two recent college graduates in Colombia – the country – who organized 14 million people into the largest anti-terrorism demonstration in history, doing as much damage to the FARC terrorist network in a few weeks than had been done in years of military action. (Applause.)

And you can organize through Twitter, like the undergraduates at Northwestern who launched a global fast to bring attention to Iran's imprisonment of an American journalist. And we have two young women journalists right now in prison in North Korea, and you can get busy on the internet and let the North Koreans know that we find that absolutely unacceptable. (Applause.)

These new tools are available for everyone. They are democratizing diplomacy. So over the next year, we will be creating Virtual Student Foreign Service Internships to partner American students with our embassies abroad to conduct digital diplomacy. And you can learn more about this initiative on the State Department website.
Lessons in there for everyone.
By Jill Miller Zimon at 8:02 am May 19th, 2009 in Education, Gender, Hillary Clinton, Parenting, Politics, Women, Writing, Youth | Comments Off
Print This Post
Deborah Solomon's Q&A in tomorrow's New York Times Magazine is with Anwar Sadat's widow, Jehan.  Here's an excerpt:
Why can't the Palestinians, your fellow Muslims, be part of your country? 
Because they are not Egyptian. Gaza is their land, and they have the right to have their own state.

I've heard the Palestinians characterized as being very smart and fond of argument, not unlike Israelis. 
Believe me, they are more like the Jews than us. By the way, most of the Palestinians are very well educated. Because they are a minority, they are like the Jews. They are intellectuals.

Any thoughts on Hillary Clinton, who just completed her first mission to the Middle East as secretary of state? 
I'm very proud of her, this lady. I know her, and she is very intelligent. When [her husband] became president, I paid a courtesy visit to her in the White House, and she was taking notes while I was talking. Very practical woman!
She was not yet 16 when she married Sadat, who was 29.  She was present when he was assassinated in 1981 but was pushed down for safety and did not see him shot.  You can read more about her at her own website and him here.
By Jill Miller Zimon at 7:52 pm March 14th, 2009 in Foreign Affairs, Gaza, Hillary Clinton, Israel, leadership, Politics, war, Women | Comments Off
Print This Post
The Obama comic, which will be officially released April 25 and will sell for $3.99, shows the first lady growing up in her middle-class South Shore home, attending Princeton and helping her husband become president. In keeping with the upbeat tone of the "Female Force" series, the Obama edition does not mention any controversial speeches or fist bumps.

Obama does not possess any superpowers in the comic, but the cover depicts her in a sleeveless top that highlights the most famous arms in Washington.

The 22-page comic also avoids any illustrations of Malia or Sasha Obama, a decision the publisher made to steer clear of the controversy surrounding the Ty Girlz dolls created in the sisters' image earlier this year.

"We wanted to be respectful to all the women in the series," [Bluewater Productions President Darren] Davis said. "They've really done amazing things in their lives."
I wasn't aware of the series until I found the Trib article while researching how the relationship between Michelle Obama and Hillary Clinton has been going (well from what we can see and read). You can see the Hillary Clinton and Sarah Palin covers below. Although they're sold out, I saw a reference that said they're in a second printing.  An issue featuring Caroline Kennedy is scheduled for a June release.
Here's the site of Bluewater which is putting out these comics. The company has been in the news quite a bit lately.  They've got a special page about the Obama issue.  A CNN report on them:
See also Michelle Obama Watch's post on the new comic.
Has anyone seen these around? Would you buy/are you buying them for yourself, daughter or other girls/women in your life? Which other women should be profiled?  Who else is a "female force"?
By Jill Miller Zimon at 10:26 am March 14th, 2009 in Culture, Gender, Hillary Clinton, leadership, Michelle Obama, Politics, Sarah Palin, Sexism, Social Issues, Women | 7 Comments
Print This Post
Major hattip to RHReality Check.
US President Barack Obama announced Friday the creation of a new foreign policy position designed to tackle global women's issues.

Obama named Melanne Verveer, an aide in former president Bill Clinton's administration, as ambassador-at-large for international women's issues. She will serve at the State Department under Secretary of State Hillary Clinton.
Verveer will have to be approved by the Senate.
More about her at Wikipedia and from her lengthy bio at Vital Voices (two Republican women are honorary members of the board, listed at the very top: Sen. Kay Baily Hutchison and former Sen. Nancy Kassebaum Baker):
Melanne Verveer is Co-Founder, Chair and Co-CEO of Vital Voices Global Partnership, an international nonprofit that invests in emerging women leaders – pioneers of economic, political and social progress in their countries. Vital Voices builds the capabilities, connections and credibility of emerging social entrepreneurs to unlock their potential as catalysts of global progress. Through its leadership development and local empowerment programs around the world, Vital Voices works to expand women's roles in generating economic opportunity, increasing political participation and protecting human rights. The Vital Voices Global Leadership Network of more than 5000 women in 85 countries represents the vital voices of our time.
The bio there will give you all the background re: her prior role in the Clinton Administration and many other roles she's had over the years.
It appears that this announcement came in a late Friday afternoon batch of appointments, caught, in particular, by Lynn Sweet of the Chicago Sun-Times.
From the announcement Sweet published:
Previously, Verveer served as Executive Vice President of People for the American Way, a civil rights and constitutional liberties organization where she played a key role in the passage of several landmark civil rights bills. She was Coordinator for Civil Rights and Urban Affairs for the U.S. Catholic Conference, Field Manager of Common Cause and worked in the U.S. House and Senate as Legislative Director and Special Assistant respectively. Verveer is a member of the Council on Foreign Relations, Women's Foreign Policy Group, the Washington Institute on Foreign Affairs and Women In International Security.

The President's decision to nominate an Ambassador-at-Large for Global Women's Issues is unprecedented and reflects the elevated importance of global women's issues to the President and his entire Administration.
On paper, she certainly sounds incredibly well-qualified. This post, I assume, will go well with Sen. Boxer's new subcommittee responsibilities for global women's issues.
By Jill Miller Zimon at 5:16 pm March 9th, 2009 in Barack Obama, Foreign Affairs, Government, Hillary Clinton, leadership, Politics, Whitehouse09, Women | Comments Off
Print This Post
From the Columbia Spectator Online:
Dear Seniors,

It is my great pleasure to join Barnard Board Chair Anna Quindlen in announcing that Hillary Rodham Clinton has accepted our invitation to be this year's Commencement speaker and to receive the Barnard Medal of Distinction.

As you all know, Hillary Clinton is now serving as the 67th United States Secretary of State, after having served two terms as Senator from the State of New York and having run an extraordinary and history-making campaign for President. She won more primaries and delegates than any other female candidate in American history and changed the political landscape for generations of women yet to come.

This past September, we were honored to welcome then-Senator Clinton to Barnard to address the persistence of a wage gap between women and men in New York and around the country. It will be a tremendous honor and a true thrill to welcome her back to campus for Commencement 2009 this May.

Debora Spar
By Jill Miller Zimon at 3:52 pm February 12th, 2009 in Announcements, Education, Gender, Hillary Clinton, leadership, Politics, Women | 1 Comment
Print This Post
Paterson To Set Special Date (Finally): After several weeks of hemming and hawing, Gov. David Paterson appears ready to announce the date of the special election to replace appointed Sen. Kirsten Gillibrand (D) in the 20th congressional district. Paterson told a local television station yesterday that he would announce the schedule for the special today; under state law, once Paterson declares the seat vacant the special election must occur within 30 to 40 days. Both parties have already picked their nominees: state Assembly Minority Leader Jim Tedisco will carry the Republican banner and wealthy businessman Scott Murphy will be the Democratic standard-bearer. A poll released recently by Tedisco's campaign showed him leading 50 percent to 29 percent although that survey is almost entirely a test of name identification at this early point in the race. The district is extremely competitive and the special election will receive significant attention from both national parties.
From what I could turn up on the Dem's choice, wealthy isn't all it's cracked up to be – and the chosen has no political experience in NY. From NPR's Political Junkie:
Democrats have come up with Scott Murphy, a venture capitalist who has never run for office before, has been involved in politics in his home state of Missouri — and who, according to Politico's Josh Kraushaar, failed to pay "thousands of dollars in taxes on a start-up computer software company he owned more than a decade ago." In the wake of l'affaires Geithner and Daschle, not to mention allegations about House Ways and Means Chairman Charlie Rangel, Republicans feel they have a winning issue.
More on Murphy and his problems: Read more
By Jill Miller Zimon at 9:47 am February 11th, 2009 in Campaigning, Congress, Elections, Gender, Hillary Clinton, leadership, Politics, Voting, Women | 1 Comment