Print This Post
Riveting BBC Radio program, broadcast just last Thursday, commemorating the 1972 slaughter of Israeli athletes by members of the Palestinian group, Black September, at the Munich Olympics (just click the link to listen):
A widow of the Olympics_ memories of Munich 1972
Another 1972 Olympic widow on her quest for remembrance.
And in tomorrow's Plain Dealer, an op-ed by American Jewish Committee Regional Director, Lee C. Shapiro, "2012 Olympics scandal is its refusal to honor the victims of 1972."
By Jill Miller Zimon at 8:49 pm July 22nd, 2012 in Diversity, intolerance, Israel, Jewish, palestinians, Sports, Terrorism | Comments Off
Print This Post
There's just no other way to slice or dice this, "Israelis Facing a Seismic Rift Over Role of Women."
And there's really no better way to describe it than in the simplest of Hebrew phrases, זה בעיה zeh baaya – it's a problem.
But let's not have a misunderstanding here: the women are not the problem. The way in which supposed teachings are interpreted to require women to be treated are what should be considered to be at issue – not the women in and of themselves just for existing.
The best blog I've read that covers these issues and many others is A Mother in Israel.  She is a wonderful and generous writer – and also happens to have grown up in the USA (she made aliyah a long time ago).
For those who don't know from reading this blog, I lived in Beit Shemesh for a year over twenty years ago and I still cannot believe what is going on there now, although my time in Israel in 2008 showed me how different the Old City was compared to when I was there (far less inviting, IMO). I also have very observant relatives in some of the most observant parts of Jerusalem who were fabulous to me while I was there and I spent a great deal of time in some of the communities discussed in the article.  From my experience and knowledge, a number of the portrayals in the article are accurate, but I'm not living there now so I offer that as a caveat.
What's really kind of sad, for so many societies with portions of their populations acting as though women are "the problem"  – we've been half or more than half your populations for centuries. That people now are making such a stink over us making a stink about how stinky we can be treated at times is, frankly, really stinky.
We've been 50% since Adam and Eve. How did things get so out of balance in the first place?
By Jill Miller Zimon at 6:59 pm January 15th, 2012 in Gender, Government, Israel, Social Issues, Women | 1 Comment
Print This Post
I honestly had not thought of that at all but here's an interesting article about the subject and in fact seems to lean the other way – certainly in the case of former chief of staff, Rahm Emanuel:
Privately, Jewish officials said Emanuel's departure potentially could smooth relations between Obama and the Jewish community for two reasons: Emanuel had earned a reputation in Israel as anti-Israel, and his overall style had alienated core constituencies, among them the Jews.

One Jewish organizational official said Emanuel's brusque "just listen to me" style had severely hampered Obama's agenda, leading not only to tensions with the pro-Israel community but with gays, liberals and groups seeking health care reform.
Interesting undercurrent discussion of what really contributes to having influence that matters.
By Jill Miller Zimon at 10:39 am October 8th, 2010 in Barack Obama, Government, Israel, Jewish, Politics, Social Issues | Comments Off
Print This Post
As the unusual confluence of the Jewish new year, Ramadan and September 11th has come and gone, I've been thinking a lot about the direct talks being pursued right now by U.S. Secretary of State Hillary Clinton. But this post is not about the talks'  core issues, as they're called, or about the fact that the talks themselves are happening.
I want to focus on Secretary Clinton and the skills and talents she is using, will need and may possess that can help — or hinder — efforts to end violence and gain a permanent peace, whatever that ends up looking like, between the Israelis and Palestinians.
At least one article is calling the current negotiations a "second chance" for Clinton, after her husband Bill's efforts to forge a lasting peace agreement in the 1990s failed. Aaron David Miller, who advised numerous U.S. secretaries of states in the past and worked on peace process policy, seems to indicate that Clinton's skill set is very well-suited to getting the job done. From CNN:
[Miller says that] … Hillary Clinton arguably has at least some of the qualities that America's top diplomat would need to help shepherd successful Israeli-Palestinian negotiations.
To read the rest, please visit the full entry at, "Hillary Clinton May Succeed At Building Mideast Peace."
By Jill Miller Zimon at 3:58 pm September 16th, 2010 in Foreign Affairs, Gender, Hillary Clinton, Israel, Law, leadership, middle east, palestinians, Politics, Women | Comments Off
Print This Post
Welcome to this week's edition of Haveil Havalim #275: The "I'm so busy that putting together this blog carnival is actually what substitutes for taking a break" Edition.
Founded by Soccer Dad, Haveil Havalim is a carnival of Jewish blogs — a weekly collection of Jewish and Israeli blog highlights, tidbits and points of interest collected from blogs all around the world. It's hosted by different bloggers each week and coordinated by the formidable Jack.
No enthusiastic experiments this week like last week's edition, but I'll see what I can do to keep it flowing:
Culture
Batya presents If I Were To Wear A Wig… posted at me-ander. Side-note: my daughter is into anime/manga and desperately wanted to wear her character's wig. Did not work out so well, but maybe if I wore one, she'd have been conditioned? FYI, here's a fascinating post on Jews in Anime and Manga.
Kissmeimshomer presents Get With the Program, an entry I read to be about parallel lives, and choices, posted at Kissmeimshomer.
Izgad offers a book review in An Anthropologist Does ArtScroll: A Review of Orthodox by Design posted at Izgad.
Izgad also addresses dress codes, values and what price people are willing to pay in Of Matisse, Skirt Lengths and Teaching Skills posted at Izgad.
Mordechai Torczyner speculates in Why does Cleveland hate LeBron James? posted at The Rebbetzin's Husband. But I can tell you, having just driven past the famous "Witness" wall last night on my way to a friend's 40th birthday party in downtown Cleveland that, as a parent, LeBron's decision just sends a bad message – if it doesn't have to be about money, then it can be about winning.  And that seems to make it not be about life.
Humor
Mrs. S. presents A tale of two graduations (possibly alternatively titled, "Expectations Explained"?) posted at Our Shiputzim: A Work In Progress.
Israel
Shira sounds a theme I've read in other posts regarding Segregation in Israeli Schools Today posted at Table Poetry.  It's posts like this one and Mottel's that make me ache for us to have ever-larger audiences though, so the nuances of such situations can be known and acknowledged.
Joel Katz's weekly podcasts can be listened to here, Religion and State in Israel – July 5, 2010 (Section 1) and here, Religion and State in Israel – July 5, 2010 (Section 2) (both posted at Religion and State in Israel).
Ben-Yehudah's Loyalty To The State? piece reminds me of the "First they came for…" reading many of us have heard or read for decades.  His entry is posted at Esser Agaroth.
Harry gives kudos to good writing in A bissle culture posted at ISRAELITY.
Then, Harry describes how a rocker expresses his love for Israel in A porcupine tree grows in Tel Aviv, also posted at ISRAELITY.
Finally, Harry looks at just how frequently all-things-Israel get mentioned in How Kagan's hearing turned into an Israeli focus, you know where it's posted.
Ilana-David publishes an intriguing Weekly Interview: Baila, accompanied by nice photos, at Ilana-Davita.
The World Cup and a meal led David Levy to write this rather deep entry about Rethinking Germany, posted at Jewish Boston.
Batya highlights PM Binyamin Netanyahu and Larry King "Fencing" Around The Chess Board complete with video and a link to the show's transcript, posted at Shiloh Musings.
Susan Barnes presents a cute, flip take on her, ahem, hatred of  Tel Aviv posted at To Kiss A Mezuzah.
Then, Susan reflects on how easy it is to realize, here in the U.S. how one is No Longer in Israel, also posted at To Kiss A Mezuzah.
In Religion Taken Too Far, posted at The Israel Situation, Eric writes about his impressions of the multi-faceted situation in Immanuel.
Then, Eric offers his opinion on Israel Offers Peace Talks, PA Says No and wonders what we think, again at The Israel Situation.
Judaism
Batya argues, "It's not enough to feel the spirit" in Torah Judaism, Is It Enough to Be Spiritual Without Keeping The Laws? posted at Shiloh Musings. A very provocative topic indeed.
(I love the name of this blog): Homeshuling presents What's Jewish about competitive eating? – Homeshuling posted at Home-shuling.
Mottel's lengthy but absolutely worth the full-read, A Fire Burns in Crown Heights: An Essay on Religion, Modernity and Pizza, has implications, imo, for all kinds of situations, religious and non.  It's posted at Letters of Thought.
Kissmeimshomer examines religion and happiness in Killing Babies and Understanding Brad Pitt's Depression at Kissmeimshomer.
Rabbi Yehoishophot Oliver discusses levels of commitment to our faith in The corrosive impact of half-hearted worship, posted at A Chassidishe farbrengen.
Ben-Yehudah gives some technical advice with illustrative illustrations in Do You Pay Attention To The Google Ads On Your Site? posted at Esser Agaroth.
David Levy's Book Review: Empowered Judaism might add to your summer reading list, posted at Jewish Boston.
I don't know whether or not I'd recommend this to someone consider being a rabbi but Mordechai Torczyner's entry, Why Rabbis Stop Believing, posted at The Rebbetzin's Husband, sure raises a lot of good conversation points.
Minnesota Mamaleh's Minnesota Mamaleh: Tradition!, posted at TC Jewfolk, is an excellent counter-balance to Batya's belief (linked to above) that spirit alone doesn't do it.
Kashrut
The title of Joshua Waxman's entry faked me out so it's a good thing he included what category Anisakis worms and peshat in Kukyanei, according to Rashi and Rabbenu Tam belonged to (posted at parshablog).
Personal
Shira confesses a bit in Material Girl posted at Table Poetry.
Rachel Moore describes the classic chaos we often go through just to get to the rest we need in Chugga Chugga aahhhh, posted at Ima 2 Seven.
Don't read this entry unless you want to be baking today – the photo alone in Miriyummy's Dulce Dog Days of Summer, at Miriyummy is going to seduce you.
Chabad Lubavitch World Headquarters shows us how we can find a lesson pretty much anywhere in Old and Wise, posted at lubavitch.com Chabad-Lubavitch news site.
To the question raised in Hadassah Sabo Milner's WWYD – hair covering, posted at In the Pink? I always always do what you did.
The title of Chaviva's entry, Once Upon a Time, I Was Agnostic. posted at Just call me Chaviva, reminds me of when I was a freshman at Georgetown and we had to pick a second mandatory theology class (the one all frosh have to take is called The Problem of God), and I first encountered the word, "gnosticism."
Politics
Batya presents skepticism in Obama's All Teeth …, posted at Shiloh Musings.
Lady-Light writes about what she sees as A Disturbing Assessment of President Obama, posted at Tikkun Olam.
Independent Patriot's perspectives on the same event can be read in the Oval Office Nonsensical Dance, posted at Liberty's Spirit.
Torah
I can't even pretend I know what he's talking about given my insufficient education in this area, but I bet a lot of you will enjoy Joshua Waxman's Demonic messages between Sura and Pumbedita, posted at parshablog.
That concludes this edition. Submit your blog article to the next edition of Haveil Havalim using the carnival submission form. Past posts and future hosts can be found on the blog carnival index page.
Thank you all for your submissions – they make me sad for all the time I have not had or made to read and keep up on often gripping and always real thoughts on these subjects.
By Jill Miller Zimon at 11:20 am July 11th, 2010 in anti-semitism, Barack Obama, Civil Rights, conservatives, Culture, democracy, Education, Foreign Affairs, Gaza, George Bush, Government, Holidays, intolerance, Israel, Jewish, Judaism, leadership, Military, palestinians, peace, Politics, Recipes, Religion, Sexism, Social Issues, Sports, war, Women, Writing, Youth | 13 Comments
Print This Post
There are few political issues that make me veer over the center and into the right but two of them for sure are casinos and Israel.
Now, on casinos, I'm nearly unmoveable.  But on Israel, although it takes a lot to push me past center, more often than not, I'm way too peace-y for my hardline friends (think AIPAC) and way too empathetic to Israel for people aligned with J Street and left of J Street.
Comments I've received in the last few days from people on the right and left confirmed this for me, and this morning, again I found affirmation: I am in agreement with this point made in Kevin O'Brien's Plain Dealer column today because it zeroes in on what I've thought from hour one and we know, as we wait and watch to see what the next act of provocation will bring:
Provocation was their goal, and they achieved it.
I find his analogy to North and South Korea persuasive, though I'd be interested to hear why others might not have found it to be. In fact, the flotilla's actions resemble closely, for me, the settlement activity Ariel Sharon tried to stop: it too involved a heavy dose of provocation, and the people doing the provoking knew it.  And without resolve to call out the provocateurs – whomever they are – to what good place can any of this lead for the globe? Read more
By Jill Miller Zimon at 8:44 am June 3rd, 2010 in Gaza, intolerance, Israel, leadership, Media, middle east, Ohio, peace, Politics, war | 25 Comments
Print This Post
He did not say that, did he? From Ynet:
One woman, who remains anonymous, sent a letter to Rabbi Levanon asking whether she could run for the position [of community secretary]. "I am a young woman and I think I have the desire and energy to do things. I also believe there is a benefit to making a woman secretary, because it's not right for men to be the only ones deciding how to run the community," she wrote to the rabbi, asking his opinion.

But in his weekly column in the settlement's newspaper Levanon wrote that the position of secretary was not fit for a woman, according to the teachings of the Rav Kook. He said women could participate in various councils, but not as secretaries.

"The first problem is giving women authority, and being a secretary means having authority," he wrote….
And if I thought the stress on unanimity was strong in local politics:
The rabbi added that women who desired to affect public opinion should do so through their husbands. "Within the family certain debates are held and when opinions are united the husband presents the family's opinion," he wrote.

"This is the proper way to prevent a situation in which the woman votes one way and her husband votes another."
Yeah, we won't be seeing any local ordinance proposals that look like that.
Women are objecting and in part on the grounds I often mention as the place where I most disagree with how Israel's government operates:
Nurit Tsur, who heads the Israel Women's Lobby, said the rabbi's decision was anti-democratic and medieval. "Its place is in a halachic state and not a democratic one," she said.

"When things like this are taken out of the sphere of mere talk and made into a clear order for the Jewish female public in Israel, I expect leaders of the religious public to decry them and clarify that women's place in local and national political discussion is necessary and vital," Tsur said.
This 2010, people.  Come on!
By Jill Miller Zimon at 4:33 pm May 26th, 2010 in democracy, Elections, Gender, Government, Israel, Law, middle east, Politics, Sexism, Social Issues, Voting, Women | 1 Comment
Print This Post
I went to college, studying modern foreign governments among other things, in the era of Lech Walesa (so much did it affect my college years and learning that I thought the song, Safety Dance, was actually, Save Gdansk) and the Solidarity Movement. Additionally, I'm a quarter-Polish – my paternal grandfather came over as a stowaway in a pickle barrel during the later part of World War I.  My first boyfriend was Polish Catholic and while the irony was lost on me, it did kind of freak out my parents.
So this incredible loss, also mentioned in Joe's TMV post here, while indescribable to me, must be even more so to the people of Poland, including its Jewish community, of which my ancestry makes me a part and which has grown and experienced a renaissance over the last couple of decades. Additionally, as YNET reports, President Lech Kaczynski and his wife were considered great friends of Israel. Talk about the times they are a-changing.
But there is a nexus I think of when broad losses like the one that Poland's political leadership must now face occur.  It's an incident I learned about when I was going through a two-year leadership training institute and it was mentioned to us as an example of how even the most tragic losses still can give rise to extraordinary re-birth and re-creation.  The incident to which I'm referring is the Orly crash of 1962 (the year I was born, incidentally). Read more
By Jill Miller Zimon at 9:18 am April 10th, 2010 in democracy, Government, Israel, leadership, Politics, RIP | 1 Comment
Print This Post
From this week's Cleveland Jewish News:
To further its grass-roots efforts, J Street [the Washington, D.C.-based organization that calls itself the political arm of the pro-Israel, pro-peace movement] has merged nationally with Brit Tzedek v'Shalom, the Jewish Alliance for Justice and Peace, which has a chapter in Cleveland. Brit Tzedek's mission, posted on its website, is "to educate and mobilize American Jews in support of a negotiated two-state resolution of the Israeli-Palestinian conflict."

Coincidentally, at the same time that J Street is seeking to establish a local presence, AIPAC, the American Israel Public Affairs Committee, no longer has a permanent area director based in Cleveland. However, three full-time staffers in its Chicago office will continue to oversee efforts here, says Josh Block, AIPAC spokesman. Read more
By Jill Miller Zimon at 10:24 am January 23rd, 2010 in Cleveland+, Israel, Jewish, Judaism, leadership, Midwest, Ohio, Politics, Religion, Social Issues, Youth | 1 Comment
Print This Post
Somehow I missed Sarah Palin's proclamation, in an interview with Barbara Walters last week, that Jews are flocking to Israel, right now.  Here's the transcript for the relevant section:
Barbara Walters: Governor, let's talk about some issues. The Middle East. The Obama administration does not want Israel to build any more settlements on what they consider "Palestinian territory." What is your view on this?

Sarah Palin: I disagree with the Obama administration on that. I believe that, um, the Jewish, uh, settlements should be allowed to be expanded upon, because that population of Israel is, is going to grow. More and more Jewish people will be flocking to Israel in the days and weeks and months ahead. And, um, I don't think that the Obama administration has any right to tell, um, Israel that, that, uh, the Jewish settlements cannot expand.

Barbara Walters: Even if it's Palestinian areas?

Sarah Palin:I believe that the Jewish settlement should be allowed to expand.
Why Walters didn't do her journalistic best and follow up on Palin's assertion (in bold above) about the flocking, if only to hear whether theories like this one are behind Palin's ability to ignore the immigration statistics and trends in Israel, including the fact that immigration has hit all-time lows there, including a 3,000 person drop from 2007 to 2008, is beyond me.
In getting advice about serving on city council, I recently was advised that the response, "I don't know," is acceptable at times. Like, when, for example, you don't actually know something.  Palin's response to Walters would have been completely adequate (regardless of whether one agrees with it or not), if she'd left out the section I've bolded.
It is this adding in of assertions that lack any basis in reality that sink Palin's credibility as a person with the potential to lead a major super power. It's one thing to swap Iraq for Iran and Iran for Iraq, like she did with Sean Hannity the other night (a forum topic on Hannity's website on that very mix-up has been deleted).  I recently wrote a column where I asserted something about abortion rights advocates when I meant abortion rights opponents (it's since been corrected).
But in the case of Israel's settlement policy, there was no need for Palin to fabricate, unless she's truly pushing the theological notion of the Second Coming. I'm honestly not sure which upsets me more, as something being promoted by a person being taken this seriously by so many Americans – making stuff up to give a false sense that you know a few things, or believing, as supposedly 50-60 million Americans do, that Jews will indeed flock to Israel and be converted as part of the Second Coming of Jesus.
It's also an indication that she hasn't listened to Charles Krauthammer or anyone else who has said for more than a year that if she wants to be a contender (and maybe this is our answer – she doesn't) for the U.S. presidency, she better bone up on some knowledge.
By Jill Miller Zimon at 5:42 pm November 22nd, 2009 in Foreign Affairs, Israel, Jewish, leadership, Politics, Religion, Sarah Palin, WH2012 | 4 Comments
Print This Post
Mata at BlogHer wrote a nice post at BlogHer about Tisha B'av, which begins this evening, and includes a fast and ends tomorrow at sundown.  I couldn't figure out how to get photos into my comments at her post, so I decided to just post them here with a brief narrative.
The occasion commemorates the destruction of the Temple, twice, and other catastrophic events in the Jewish calendar that have occurred at the same time.  Last year, my family and I were in Jerusalem during the holiday and my husband, son and I went, at midnight, to the Western Wall, with many of our fellow travelers, to observe. Here's what we saw:
This view is from above and west of the Western Wall.  The large wall-looking thing on the right is actually a ramp that goes up to the Temple Mount, which is where Jews theoretically aren't supposed to go because we don't the exact spot that is the holiest spot (where Abraham was going to sacrifice Isaac) and where two well-known mosques reside.  You can see the dome of one of them in the far left corner in the upper part of this photo.  The view straight on are all the people both at the praying sections closest to the wall and then people milling about in the foreground. The women's side is just below the ramp and the men's side is on the left.  It's hard to discern in this photo, but there is a long dividing wall about 1/3 away from the right side of the photo.  That division is extended for this holiday.
This view is a closer look at the ramp leading to the Temple Mount and the other mosque that is on the mount area.  You can see the women's section on the left side of the ramp, below.  It's a long story, but the original ramp collapsed a few years ago and was much further to the right.  The reconstructed ramp really cuts into the women's observance area.
This view is from the ground level of the esplanade in front of the wall.  It is absolutely packed, and we were there until about 1 or 1:30am.  As we were leaving, thousands more were coming in and in fact our rabbi and others saw people they knew, and people they hadn't seen in years, as they came in for the holiday.  All told, they see that somewhere around 250,000 are there at any one time during this evening, peaking around 3 or 4am.
By Jill Miller Zimon at 7:49 am July 29th, 2009 in Holidays, Israel, Jewish, Judaism, Religion | Comments Off
Print This Post
I'm on the board of the local chapter of the American Jewish Committee and a few weeks ago, I had a chance to listen to and speak in person with Jason Isaacson, the AJC Director of Government and International Affairs, who just so happened to have been one of the participants at the Roosevelt Room conference held earlier this week with President Barack Obama.
Here's what AJC has written about the event and, although this blog and this post are 100% my work and my thoughts and are not those of the AJC, local or national, I completely support and trust what Isaacson reflects:
"The President could not have been clearer that his primary motivation in seeking to re-energize an Israeli-Palestinian peace process is Israel's long-term security," said Jason Isaacson, AJC director of government and international affairs, who participated in the Roosevelt Room session. "Nor could he have been clearer in the priority he assigns to building international unity against Iran's drive for nuclear weapons capability."

AJC said Obama focused the bulk of his remarks on Israel's security, emphasizing the right of Israel to defend itself, the close U.S.-Israel relationship, obligations of the Palestinian Authority and the Arab states, and his administration's efforts to offer Iran an opportunity to engage – while at the same time preparing for further international sanctions should engagement prove fruitless. He also spoke of the administration's economic agenda, its efforts to advance energy security, health care policy and the fight against hunger in the U.S. and abroad.

In today's discussion, the President observed that news coverage of his expectations for Israeli action on settlements has overemphasized just one aspect of the messages his administration has been sending to Israeli, Palestinian and Arab state leaders, and may leave the impression that Washington exerts little pressure to combat anti-Israel incitement and urge regional normalization with Israel. He said his calls for action by the Palestinian Authority and Arab states have been firm and under-reported, and will continue.

"President Obama said he understood the difficulty Prime Minister Netanyahu faces on the issue of settlements, as well as on other policy questions that carry profound security and political implications," Isaacson said. "His message today was that, while important action has been taken on checkpoints and on security cooperation, there are hard decisions that have been avoided for too long and must be taken – for what he sees as the future well-being of Israel – and that as the Israeli government takes the difficult steps he asks, the United States will stand beside it.

Isaacson pointed out that President Obama was urged to underline the obligations of Israel's neighbors. "Many states and key institutions throughout the region consistently deny Israel's legitimacy and pose the most fundamental obstacle to peace. That must be urgently addressed," Isaacson said.
Yet there's been lots of moaning about who was there, who wasn't there, bla bla bla.  But even a Zionist website said bla bla bla to that.
Do people really not remember how completely hands-off Bush was during most of his time in office when it came to Israel, let alone inclusive of the full range of American-Jewish groups?
Let's also not conflate "Jews" with "Israel." This is one of the media's favorite games to play – especially with a population that often is too lazy to remember or care about the range of observances, ethnicities and political ideologies embraced by the majority of Americans – of any religion.
So, who actually was at the meeting with Obama? From the Chicago Sun-Times:
The White House put out a list of who attended the meeting on Monday afternoon.

Participants

Alan Solow, Chairman, Conference of Presidents of Major American Jewish Organizations
Lee Rosenberg, President-elect, AIPAC
David Victor, President, AIPAC
Malcolm Honlein, Executive Vice Chairman, Conference of Presidents of Major American Jewish Organizations
Abraham Foxman, National Director, Anti-Defamation League
Jason Isaacson, Director of Government and International Affairs, American Jewish Committee
Nancy Ratzan, President, National Council of Jewish Women
Kathy Manning, Chair, Executive Committee, United Jewish Communities
Andrea Weinstein, Chair, Jewish Council for Public Affairs
Marla Gilson, Washington Director, Hadassah
Stephen Savitsky, President, Orthodox Union
Rabbi Steven Wernick, Executive Vice President and CEO, United Synagogue of Conservative Judaism
Rabbi Eric Yoffie, President, Union for Reform Judaism
Ira Forman, Chief Executive Officer, National Jewish Democratic Council
Debra DeLee, President and CEO, Americans for Peace Now
Jeremy Ben Ami, Executive Director, J Street
Which means that no one else was. No one. Out of all the organizations that could have been. This is not surprising, but so easy to pick apart.
For those who get their kicks creating and deepening divides that don't exist to the extent that it would serve their interests (when there are so many divides that do exist and get exploited already), you might want to familiarize yourself with the new group, Z Street.  It looks to be a great vehicle for channeling a desire to divide people- oh joy – but I will hold my opinion until I learn more about it and they do more.
By Jill Miller Zimon at 12:08 pm July 15th, 2009 in Barack Obama, Foreign Affairs, George Bush, Government, Israel, Jewish, Judaism, leadership, Media, Politics, Religion | Comments Off
Print This Post
I love these stories that totally debunk the propoganda about the path of hate we're supposedly on.  Once you see the peace, humanitarian and civic efforts taking place in Israel that work to build bridges between the Arab and Jewish populations, it's impossible to imagine that the desire for more isn't there.
This New York Times article highlights what that kind of generational craving looks like in the U.S. An excerpt:
None of the students said their parents opposed the decision [to study Arabic in school]. Some parents liked the idea of bridge-building and the intellectual challenge of an uncommon language. Others emphasized the practical advantages in a world of increasingly global commerce and in a country with a growing Arabic population.

That is not to say that the course is shifting students' political views. "I never thought all Muslims or Arabs do terrorist acts," said Tuvia Lerea, an 11th grader. "But this class has solidified my idea. A tremendous majority of the Arab population live their daily lives and do their own things just like in our society."
Another thing I really like about articles like this is the absence of the word "Muslim."  This is an article that talks about Arabic, and though it's not emphasized much, it mentions how one of the teacher's grandparents were Syrian Jews.  There are many Persian Jews who grew up with Arabic Farsi.
I also thought of the NPR Jerusalem Bureau reporter, Linda Gradstein.  We started in the same year at Georgetown but she went on to get a masters in Arabic and has been in the NPR bureau since 1990.  And for those who know about my choice of Georgetown over other schools and my time there, you will really appreciate Gradstein's experience too as described in the link above:
Born in Brooklyn and raised on Long Island, Linda came from a secular Jewish family but was always drawn to faith. Curiously enough, it was her freshman year at Georgetown, a university run by Jesuits, that set her on the path to Orthodox Judaism. She met a small group of religious Jews at a Simchat Torah service there that fall. By the end of the year, she was on her way to becoming a ba'al t'shuva—a born-again religious Jew.
Okay – so it was a small group of Catholics on a trip to do volunteer work in Appalachia that got me a tiny bit more interested in my faith.  But you know, the power of the Jesuits – kinda freaky. A very different kind of evangelism.
By Jill Miller Zimon at 9:44 am June 20th, 2009 in Education, Foreign Affairs, Israel, Jewish, peace, Youth | 3 Comments
Print This Post
Until now, the settlement issue has been far from a pivotal part of the American Jewish calculus. Zionism in contemporary America has been an elastic enough concept to contain ardent supporters of the settlement movement and queasy critics of it; in the end they were separated less by settlements than they were united on Israel's behalf in the wars against Hamas and Hizbullah, the construction of the security barrier and the prosecution of Operation Defensive Shield during the second intifada.

American Zionists were also mollified by the contradictory actions of Israel itself – the continuing expansion of settlements appealing to the Right, and the official willingness to trade territory for peace placating the Left. Everybody could say he or she was at one with Israel.

With Netanyahu in Jerusalem and Obama in Washington, however, these internal fault lines are being stressed. For Obama to retain massive Jewish support while criticizing the Israeli government, he has to provoke American Jewry into an entirely different kind of discussion and alignment.

THIS DEBATE WOULDN'T pit Zionism against anti-Zionism – the easy and conventional argument – but Zionism against Zionism in a way familiar to Israelis but barely comprehended by American Jews. The central question would be whether the settlements are the fulfillment of Zionism's pioneering spirit or the betrayal of Zionism's commitment to a democratic state with a Jewish majority.
And Ohio?
You can feel the ground shifting. Yes, it's predictable that J Street, the well-funded left-wing lobby, would back Obama on the settlement issue. What strikes me as far more revealing is that Ed Koch and Jeffrey Goldberg, a politician and journalist respectively who are centrist or even center-right on the American Jewish spectrum, have become so publicly critical of the settlement movement as an obstacle to peace.

Obama had better hope for hundreds of thousands like them. Jewish support was crucial to his victory in Florida last fall, and more than helpful in Pennsylvania, Michigan and Ohio. Had he not been running during an economic meltdown, which was easily and accurately pinned on the outgoing Republican administration, his victory would have been a squeaker.

His re-election certainly could be.

"The rule of Jewish voting patterns has always been that Jews vote for more liberal candidates who are not believed to be hostile to Israel," Bayme says. "As long as Obama is perceived to be committed to Israel, he won't be in trouble. But if this plays out as a real confrontation, then the previous pattern of Jewish voters recoiling is likely to come into play." 
The interesting element that's been absent from many of the myriad published opinions, however, is the need for the Israelis to make these choices. I've never been a supporter of the settlements, but I don't call Israel my home.  For the people that do – Arab, Druze, Christian, Muslim, Jew, Bedouin – whomever else I might be missing – it's up to them.
By Jill Miller Zimon at 9:46 am June 13th, 2009 in Barack Obama, democracy, Government, Israel, Jewish, leadership, middle east, Ohio, peace, Politics, Religion, Whitehouse09 | 3 Comments
Print This Post
A couple of weeks ago, I went to a small breakfast hosted by the American Jewish Committee (I'm being installed onto their board later this week – isn't that a weird expression – sounds like a stereo into a car) that featured Jason Isaacson, AJC's Director of Government & International Affairs.  There were less than 20 of us I think and we had a chance to talk about many topics and ask questions.  One thing I've been noticing is how Lebanon has been pretty much absent from almost any mainstream Middle East peace conversation, and I was finding that so incredibly sad.  
Lebanon has the potential to be a pilot project, an excellent location and demographic, to show what can be possible in a country with multiple faiths and political ideologies within one set of borders, no matter how gerrymandered we could argue they are.  As the New York Times says in its coverage that will be printed tomorrow:
Lebanon has long been seen as a proxy battlefield for regional and global interests, and so foreign powers from Washington to Tehran have paid close attention. But its politics are also intensely local, with power divided among sect leaders who jealously guard their interests.
I made this point on CNN.com/LIVE just last week.
But as I read stories leading up to today's elections in Lebanon, I was extremely fearful about Hizbollah taking a greater hold on that country's government.  The fact that all reports indicate that that's not what happened and that in fact there was a record voter turnout doesn't mean that Lebanon will see smooth sailing. Far from it. We now must wait and see what Syria says and what Iran says – is there some other endgame? (The BBC has a data-packed article here.)
But hopefully we will hear from strong voices that seek to continue to build a democratic nation with multiple political parties and faiths governing to prosperity that for many years seemed to be Lebanon's destiny.
The next thing to watch for: whether President Obama's speech in Cairo had an impact on voters and their morale that could have persuaded them that they had nothing to lose by voting for non-Hizbollah allies.  Can Lebanon lead the way?
See for example already this Huffington Post entry and tweets about The Obama Effect.
By Jill Miller Zimon at 8:56 pm June 7th, 2009 in Barack Obama, democracy, Government, Israel, leadership, middle east, peace, Politics, Religion, Voting, war | Comments Off
Print This Post
The show will be live and you can watch it here, at  www.cnn.com/live1
A clip of it will be posted later on cnn.com/video and I'll post that link when I get it.
What do you think about President Obama's current Middle East trip?
By Jill Miller Zimon at 10:45 am June 3rd, 2009 in Announcements, Barack Obama, Foreign Affairs, Gaza, Israel, Jewish, Judaism, leadership, Media, peace, Politics, Religion, war | Comments Off
Print This Post
From the Our Bodies, Ourselves blog:
…Founded in Israel in 2005, Women and Their Bodies (WTB) is an Israeli-Palestinian initiative that is adapting "Our Bodies, Ourselves" into Hebrew and Arabic.

"This version will be up-to-date for this decade, making it available to all women in Israel regardless of their native tongue," Walsh told the Haaretz newspaper.

The OBOS global translation/adaptation program was recently featured in On the Issues magazine. The story explains how each international project is specific to the community's health needs and social and political conditions.

We haven't discussed the Israeli-Palestinian project in detail here before, so here's some news about the effort.
How the content is taking shape:
The organization is working with Jewish and Arab groups to localize the material and has collaborated with numerous women's and human rights organizations. WTB has also recruited teams of volunteers, Hebrew and/or Arabic-speaking, between the ages of 21 and 65, to conduct interviews for the personal narratives present in every chapter.

A graphics committee is charged with making sure that the book's images are representative of women's bodies in the Middle East and include women of varied religious and ethnic backgrounds. According to WTB's 2008 annual report, dozens of women have already volunteered images, including those shown here.
I encourage you to go read the rest of the article as well as the On the Issues coverage.
By Jill Miller Zimon at 12:36 pm May 28th, 2009 in Culture, Education, Gender, Israel, middle east, palestinians, Social Issues, Women, Writing | 1 Comment
Print This Post
This not quite three-minute interview conducted by JTA at the AIPAC Annual Policy Conference includes the following exchange between the interviewer and State Rep. Josh Mandel (R-Lyndhurst, 17th) (whom JTA calls its "favorite Jewish Republican/Iraq war veteran"):
JTA: What do you think is the most important issue or two, as a Republican lawmaker at the level you're at, when you kind of take a look at the whole scene-what do you think are sort of the key issues that you think the party needs to be holding onto and building on?

MANDEL: It varies state to state. I think different states have different issues in which they're focusing and also within different constituencies, there are different issues.  So what certain citizens might feel in the Northeastern part of Ohio might be a different feeling in Southeastern Ohio or Northwestern Ohio. Same thing in New York or Chicago or…

JTA: So if I'm a Jewish Republican in Cleveland or in the Cleveland area, what am I thinking, like, what do you think are the issues for that constituency?

MANDEL: Again, I mean, even, you know, among my constituents I hear a lot of different issues, but I think many people I come across are especially concerned with the safety and security of our country. There is a radical Islamic threat facing our country and democracies worldwide and I think people are very concerned about that.
You can see the context of the AIPAC event, and the specific questions asked here: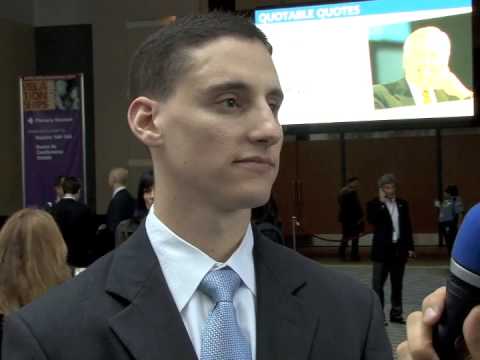 FYI: The Cleveland Jewish News published this interview with Josh just before the elections last fall. In it, he states that the economy is the number one issue he was hearing about when knocking on doors in the 17th.
You can follow the AIPAC conference closely at the JTA blog – they're doing a great job, including a live-blog of Biden right now.
Finally, today is the day when the approximately 5000 AIPAC delegates in D.C. for the conference go to their Congressional legislators and lobby.  This year, they will be asking them to support the creation of a "viable Palestinian state":
While Prime Minister Binyamin Netanyahu is refusing to explicitly endorse a two-state solution to resolve the Palestinian conflict, participants at the American Israel Public Affairs Committee Policy Conference will this week be urging their elected representatives to press President Barack Obama for precisely that.

The pro-Israel advocacy group's annual conference culminates each year with a mass lobbying effort, in which the thousands of participants from across the United States spread out across Capitol Hill for meetings with their respective members of Congress and encourage them to endorse policies and positions that AIPAC believes will advance the American-Israeli interest.

In this year's lobbying effort, to take place on Tuesday, the AIPAC thousands will be asking their congressmen to sign on to a letter addressed to Obama that explicitly posits the need for a "viable Palestinian state."

It is expected that the overwhelming majority of the congressmen will sign it.
Read the Jerusalem Post article for more details and a really curious/fun writerly flourish from a New York Times reporter about AIPAC's relations with J Street:
Many of the Aipac attendees are planning to fan out on Capitol Hill on Tuesday to brace lawmakers with their views. Aipac's spokesman, Josh Block, said there were 508 appointments at Congressional offices.

The conference's literature is filled with suggestions for lobbying as in "don't be late" and "be direct" in making your case.

Aipac officials say the key to their success is linking their supporters across the country with their local elected lawmakers. "Relationships matter" is a slogan plastered around the convention hall. Aipac does not make political donations but encourages its members to do so.

Last year, some prominent American Jews, asserting that Aipac's generally down-the-line support of Israeli policy was neither helpful to Israel nor wise, founded a counter group called J Street. J Street, which is only a tiny percentage of the size of Aipac, is vocal about supporting lawmakers who might disagree with some Israeli policies. Aipac officials have tried to treat J Street as if it were lint.
Whoa! "As it if were lint"!? I've written the reporter for clarification – does he really mean, "as if it's something that's sticking to it but needs to be picked off and flicked away"?  Wow!
By Jill Miller Zimon at 9:49 am May 5th, 2009 in Israel, Jewish, Judaism, OH17, Ohio, Politics, Republicans, Statehouse | Comments Off
Print This Post
I don't buy it.  I just don't buy it. The U.S. is going to end up at Durban II.  I hope I'm wrong, but I've read enough finessed lingo over the years to guess where this is going.
This pre-conference finagling and fussing is the genius and the danger of President Barack Obama, and I've written about it before: to be able to finesse language (in a document as well as in external communications) so that people you need to persuade can be persuaded is an incredibly valuable skill, but the reality is that eventually, as the decider, all that finessed lingo means nothing when it comes down to doing what you want.  You might make us feel a certain way, like a golfer leaning in the direction she wants the ball to go after it's already been hit.  But there's nothing that golfer's leaning can do to make the ball go one way or the other.  Likewise, American Jews, and the NAACP, and all others who oppose the U.S. being at Durban II, are leaning and being asked to lean as the final days before the conference come and go.  But in the end, Obama is that golf ball and only he knows where he is going to land on this.  Well, he and Samantha Power, among others, I'm speculating.  They want those so-called "red lines" to be reconciled, and they will get to Durban and it will be a debacle all over again.
Sigh.
By Jill Miller Zimon at 10:02 pm April 14th, 2009 in Barack Obama, Civil Rights, democracy, Foreign Affairs, Israel, Jewish, leadership, middle east, Politics, Race, Religion, Social Issues, Whitehouse09 | 2 Comments
Print This Post
Most readers of WLST know that I often write about when I see men, men and more men in prominent places – whether it's on the President's stimulus bill conference committee or in a big time photo op when he's signing his first bill.
Well – the ultra-Orthodox Israeli newspaper, Yated Ne'eman, outdoes both those moments. From the blog at Foreign Policy:
The Israeli ultra-Orthodox newspaper Yated Neeman reached new levels of Stalin-esque photoshop audacity by doctoring photos of Israel's new government to remove female ministers Limor Livnat and Sofa Landver and replacing them with male ministers. (Click the photo for a larger version.) If Tzipi Livni had been elected, I would imagine the paper would have been pretty text-heavy on most days. [emphasis mine]

To say the least.  Voz is Neias reports, however:
During the election, campaign posters featuring female candidate Tzipi Livni were defaced near ultra-Orthodox neighborhoods.
Lots of interesting comments there.
Here's the photo:
[Photo from Suomen Kuvalehti]
Here's a description of the paper:
Yated Ne'eman-Bnei Brak is the only English edition of the only paper in the world that is completely controlled by rabbonim.
It's nearly Shabbat and Passover. I'm going to restrain myself from commenting on the boasting about it being "…the only English edition of the only paper in the world that is completely controlled by rabbonim."
The NYT and others have reported on this as well.  No comment so far from Bibi, but I'd say that he needs to grow some and tell the paper to straighten up and publish right.
By Jill Miller Zimon at 3:26 pm April 3rd, 2009 in Civil Rights, Culture, democracy, Ethics, Gender, Government, intolerance, Israel, Jewish, Judaism, leadership, Politics, Sexism, Social Issues, Women | 2 Comments