Print This Post
I still think one of the Mystery Dates should have been in church or synagogue but that really wasn't PC in a Milton Bradley game, circa 1965. Enjoy, apples and honey, sweetness – L'shana tovah to all (and happy anniversary to my husband, who was my mystery date on Kol Nidre in Park Synagogue 22 years ago).
By Jill Miller Zimon at 9:11 am September 14th, 2012 in Holidays, Jewish, Judaism | 1 Comment
Print This Post
Riveting BBC Radio program, broadcast just last Thursday, commemorating the 1972 slaughter of Israeli athletes by members of the Palestinian group, Black September, at the Munich Olympics (just click the link to listen):
A widow of the Olympics_ memories of Munich 1972
Another 1972 Olympic widow on her quest for remembrance.
And in tomorrow's Plain Dealer, an op-ed by American Jewish Committee Regional Director, Lee C. Shapiro, "2012 Olympics scandal is its refusal to honor the victims of 1972."
By Jill Miller Zimon at 8:49 pm July 22nd, 2012 in Diversity, intolerance, Israel, Jewish, palestinians, Sports, Terrorism | Comments Off
Print This Post
I've been writing this series of blog posts since the beginning, in 2005, and am pleased to say that I've progressed (aka gotten OLDER) to the point where my husband is making the meal, we have guests bringing the salad, I only have to make the apple pie and order my kids around to do everything else – and pick up the phone to get help for our afternoon brunch celebration.  I am lucky – very lucky.  And I'm grateful to that husband and those kids who make my luck possible and more plentiful everyday.
I can't even think about how this past year, 5771, has been – full of an incredibly wide variety of activities, highs and lows. But really? I think I am getting that affliction my parents used to say was only for older folks (aka my Nana in particular, my father's mother): you only remember the good – because I just don't remember that much bad. Maybe there really wasn't that much bad – certainly compared to the challenges of many I know, there wasn't.  But could it be that I simply don't remember the bad so much anymore?
I'm choosing to enter 5772 with the belief that there actually is less bad. For all the distrust in government (just read that the public's trust in Washington, DC is down to 15%), just this morning a fellow elected called me with enormous glee at the reality that we are in fact having an impact – that those of us who chose to extricate politics from governing can be heard and agreed with and set a tone, and we're not alone.  There is a place for politics – I love politics.  But I don't like politics when they mess negatively with governing or the public's trust.  And that's a big part of what we're getting year-round, every year, because there is no such thing as an off-year.
And so I'm going to keep working so that there is less bad all around. My kids are in demanding stages – rewarding stages, but demanding stages.  My work in my writing, at Council and now at The Civic Commons continues to be incredibly rewarding. I feel I've earned these opportunities but I never forget that that's what they are and I must treat them that way to keep earning them.
And so I see 5772 as an opportunity – it's a new year, I'll be turning 50, I'll be married 20 years, my oldest will graduate from high school (baruch ha Shem as we say).
Seriously – I can't be heard to complain.  Or, as Connie Schultz' sign says, No Whining.
Totally no whining.
L'shanah Tovah and thank you to everyone who has supported me – you don't even know.
By Jill Miller Zimon at 1:24 pm September 28th, 2011 in Holidays, Jewish, Jill Miller Zimon, Judaism | 4 Comments
Print This Post
For those who've been reading my blog for the last seven years, you may recall my What Do Jews Do series (since then there's been Purim 2009, Tisha B'av 2009, Passover 2010).  I haven't added to it much lately, but then my prolific blogging has become far less prolific overall.
But today, I started to post a Facebook update that was just too long and decided to return to the blog to share the sentiments.
So – Passover cooking. It's in a league of its own.  But Passover baking is yet another category unto itself.  And then, there's the ultimate challenge: Passover baking for someone whose birthday is during Passover. Ah yes.
Here's what happened the last time these events – a birthday in my house and Passover – coincided, in 2005: Read more
By Jill Miller Zimon at 10:35 am April 16th, 2011 in Holidays, Jewish, Judaism, Politics, Recipes, Religion | Comments Off
Print This Post
By Jill Miller Zimon at 10:00 am March 20th, 2011 in Holidays, Jewish, Religion | Comments Off
Print This Post
Last week, I participated in the day-long Appreciative Inquiry Summit for Women's Leadership.  The Jewish Federation of Cleveland convened the event with the following aspirations in mind:
Strengthening our Jewish community, building meaningful connections, and creating valuable experiences through opportunities that utilize the unique strengths and resources of women and maximize our personal growth and leadership potential.
Previously, I wrote about my anticipation of the day and followed up with a morning and afternoon dispatch from the Summit.
Now, I'd like to offer a few thoughts, looking back but also acknowledging that it is way too soon to fully appreciate – no pun intended – the ramifications of this unique and dare I say breakthrough gathering.
From the moment I walked in the room where we were to work from 9am through 4pm, the power was palpable.  The mere numbers of us present provided a baseline buzz, with tables set for six often accommodating more, especially later in the day as we moved through the process. Read more
By Jill Miller Zimon at 11:44 pm February 21st, 2011 in Cleveland+, Jewish, Judaism, leadership, Ohio, Philanthropy, Women | 2 Comments
Print This Post
Since lunch, 170+ women have been working hard at the Jewish Federation of Cleveland's Appreciative Inquiry Summit.  We're imagining the community we want to see and how to get there.  It's not easy to herd so many minds and bodies but we're managing.
Similar themes of a future are emerging with just enough panache to spark laughs and awed silence.  Through mock-ups of Facebook pages, newspaper headlines and other visuals (rainbows, growth, umbrellas), expectations affirm a confidence that we will reach a pinnacle, that we can reach a pinnacle – and stay there. My favorite slogan/headline to foreshadow the future is a future tweet that says, "No more money needed – all needs met."
The effort, however, is not without its challenges. One I see is making sure that in every idea we consider, we consider how to be sure that we neither overshoot and be so ambitious that achievement is illusive, nor underestimate the challenges. For example, some well-known concepts (mentoring, conferences, mission trips) appear repeatedly, but why? Have they not been effective in the past – if not, how can we make them more effective when we implement them?  Or should we be thinking more out of the box? Read more
By Jill Miller Zimon at 4:16 pm February 17th, 2011 in activism, Cleveland+, Jewish, Judaism, leadership, Ohio, Women | 6 Comments
Print This Post
How do you get 180 Jewish women in one room for a full day?  Hmm – I could say – tell them they can talk and there'll be coffee.  But the busy women of NE Ohio can figure out how and when to do that on their own.
Instead, the Jewish Federation of Cleveland's Appreciative Inquiry Summit is about making us feel like there's something bigger than ourselves that we're going to create, contribute to and implement in a way that enriches the community. And not just the Jewish community, but the women's Jewish community, the overall community and the overall women's community.
We are 27 tables with six women at each (some more), being led by Ron Fry, Chair of the CWRU Weatherhead School's Organizational Behavior department in the AI process.  We've introduced each other and been given a chance to both listen to the accomplishments and strengths and personalities of each other but also a chance to hear ourselves work to describe the same in ourselves – for some of us, an unique and new experience. Read more
By Jill Miller Zimon at 12:47 pm February 17th, 2011 in activism, Jewish, Judaism, leadership, Ohio, Philanthropy, Women | 1 Comment
Print This Post
A few weeks ago, I received an email that included the following invitation:
"The Jewish Federation of Cleveland has enlisted CWRU's Weatherhead School of Management to help design the future of women's leadership in our community. We want your voice to be heard during this community-wide conversation."
How could I say no? Women's leadership. Community. Jewish.  Hello?
I couldn't – and didn't.
And so tomorrow, for several hours, I will be in a room with more than 150 women doing this very thing called Appreciative Inquiry.
What is it, really, you wonder? I have to confess, just hearing and seeing the words "appreciative" and "inquiry" next to each other were enough for me to say, yes! Luckily, the Jewish Federation of Cleveland has a page for the Summit and on it, some explanation: Read more
By Jill Miller Zimon at 12:55 pm February 16th, 2011 in Announcements, Jewish, Judaism, leadership, Ohio, Philanthropy, Women | 5 Comments
Print This Post
Can't be much clearer than this, this and this (read up on how Eric Cantor was the target of attack ads also based on him not being the "Christian" candidate in his 2000 primary to run in a VA congressional race).
Also doesn't get much more blatantly anti-Semitic.
Having had my own run-in with people who feared not having Christian elected officials, I have to say that I still cannot believe people still think this way.  But the reality is that way too many people do.
Hattip to Joe Gandelman at The Moderate Voice.
By Jill Miller Zimon at 5:25 pm December 7th, 2010 in anti-semitism, intolerance, Jewish, Politics, Religion | Comments Off
Print This Post
You can read it here – it's an oldie but a goodie and true.
By Jill Miller Zimon at 10:08 am December 4th, 2010 in Holidays, Jewish, Religion | Comments Off
Print This Post
In 2008, people who supported Josh Mandel for re-election to the Ohio Statehouse (in my district, Ohio 17) tried to convince me to comment on fabricated fears that they had stitched together, and I refused.  They were working to fan flames of fear in relation to Mandel's opponent that year and the opponent's wife. Mandel was many points ahead, it was 10 days before the election and there was no reason on earth to suggest that his opponent was an anti-Semite – but they tried it anyway. And it represented the worst that there is in politics.  Mandel did not try to shut it down and the effort was able to be pursued by his supporters to keep people from being able to accuse Josh Mandel of doing it directly.
Now, in 2010, Mandel supporters are doing the exact same thing, except far, far worse – even after having been admonished and condemned repeatedly, and by people within the candidate's own community for having broadcast, on TV and in print, the worst, false anti-Muslim innuendo this state has ever seen come from a political candidate.
Now, just two days before Election Day (though this campaign seems to have started on Shabbat, Friday night, of all times), Mandel supporters again are seeking to manipulate voters' feelings and intellect with textbook fearmongering based on religion; they are trying to feed and feed on anti-Muslim fears. And again, Josh Mandel is keeping a virtual distance from the online smearing but is not shutting it down or condemning it.
I am writing about this because of my absolute belief in the sentiments of this extremely well-known poem, especially among Jews: Read more
By Jill Miller Zimon at 1:08 pm October 31st, 2010 in anti-semitism, Campaigning, Elections, intolerance, Jewish, Josh Mandel, Politics, Religion, Scandal, Social Issues, Statehouse, Transparency, treasurer, Voting | 3 Comments
Print This Post
The article can get you up to speed or you can read my first post on this here which includes video of the exchange in question re: how does Eric Cantor feel about one of his Young Gun recruits' former involvement in Waffen SS Nazi soldier re-enactments. From the Toledo Blade:
Mr. Iott could not be reached for comment.

His spokesman, Matt Parker, downplayed Mr. Cantor's remarks. The House minority whip is "just one member of Congress," Mr. Parker said, adding that "no other member of Congress" has issued a statement regarding Mr. Iott.

Representatives from the Ohio GOP did not return calls for comment.

Jon Stainbrook, chairman of the Lucas County GOP, could not be reached last night.
And:
"We've reached out to congressman Cantor" for clarification of his remarks on Fox News Sunday, Mr. Parker said. "It's probably a miscommunication. … I'm going to assume."

Just read some of the utter disgust – from the right – being aimed at GOP US Rep. and Young Gun co-founder, Eric Cantor.
Going to assume it's a miscommunication? Because why? What if Cantor stands by what he said on television?
Additionally, the Republican Jewish Coalition issued a statement yesterday indicating their position that Rich Iott Doesn't Merit High Office and backed up their position by specifically heralding Cantor's repudiation on Fox News.
By Jill Miller Zimon at 10:43 am October 11th, 2010 in Campaigning, conservatives, Ethics, intolerance, Jewish, leadership, Ohio, Politics, Republicans, Social Issues, Transparency, Voting, war | Comments Off
Print This Post
The video: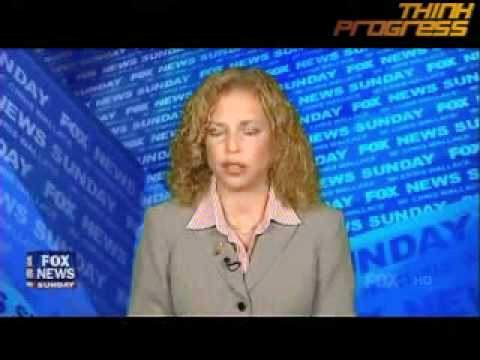 And the full post at Think Progress.
I've maligned the Young Guns program before, but here's what the program says about itself:
America is standing at a critical crossroads, and Young Guns candidates give America the best opportunity to move our country in the right direction.

Founded in the 2007-2008 election cycle by Congressmen Eric Cantor (R-VA), Kevin McCarthy (R-CA) and Paul Ryan (R-WI), the Young Guns Program began as a Member driven organization of House Republicans dedicated to identifying, recruiting, and mobilizing a new generation of conservative leaders. [emphasis added]

We know that the campaign of GOP nominee for president in 2008 John McCain has admitted to little vetting of Sarah Palin. So, first, try to put aside the fact that the GOP's Young Gun model of identifying a new generation of conservative leaders doesn't seem to involve more than 20% women. And then ask, what model is Eric Cantor et al following that leads to recruits like Ohio GOP Congressional candidate Rich Iott (running against Marcy Kaptur, whom I have had the pleasure to meet and listen to and hear from directly – I was very impressed despite a couple of policy differences)?
And by the way, they need to have more than just the Jewish members of the Congressional GOP delegation addressing this.  Let's see the others, hm?
By Jill Miller Zimon at 1:07 pm October 10th, 2010 in anti-semitism, Campaigning, conservatives, Government, intolerance, Jewish, Politics, Religion, Social Issues | 15 Comments
Print This Post
Ohioans, please let Republican candidate for Ohio Treasurer (and my outgoing state rep) Josh Mandel know that you do care and reject when ambitious political candidates like him refer to and use religion and religion-tainted buzz to get an edge in an election through fearmongering.  This Vindy.com (Youngstown Vindicator's online portal) article quotes Josh as follows, in regard to a campaign ad which leaves viewers with the impression that Kevin Boyce, the current Ohio Treasurer, is a Muslim (as if that should be a problem to begin with), when Kevin is not:
"I don't think Ohioans care" about the mosque remark. "The message is about cronyism and corruption," Mandel said.
If the message was about cronyism and corruption, then there was no reason to mention religion or religious institutions in the television ad.  If Ohioans don't care, then why would this candidate who is now running for office for a third time use up the precious, expensive air time with its repeated utterance and imagery?
Furthermore, Josh never mentions being Jewish on his campaign website (or his prior affiliations in connection with his faith, such as previously being on the board of the Cleveland Jewish News).  This shows agreement with the belief that there's no reason to mention religion or religious institutions in a campaign when talking about your opponent, since he doesn't even do it when talking about himself. Read more
By Jill Miller Zimon at 4:19 pm October 9th, 2010 in Campaigning, Ethics, intolerance, Jewish, leadership, Media, Ohio, Politics, treasurer | 2 Comments
Print This Post
I honestly had not thought of that at all but here's an interesting article about the subject and in fact seems to lean the other way – certainly in the case of former chief of staff, Rahm Emanuel:
Privately, Jewish officials said Emanuel's departure potentially could smooth relations between Obama and the Jewish community for two reasons: Emanuel had earned a reputation in Israel as anti-Israel, and his overall style had alienated core constituencies, among them the Jews.

One Jewish organizational official said Emanuel's brusque "just listen to me" style had severely hampered Obama's agenda, leading not only to tensions with the pro-Israel community but with gays, liberals and groups seeking health care reform.
Interesting undercurrent discussion of what really contributes to having influence that matters.
By Jill Miller Zimon at 10:39 am October 8th, 2010 in Barack Obama, Government, Israel, Jewish, Politics, Social Issues | Comments Off
Print This Post
A friend forwarded this commentary to me, The Politics of Anger: Are Jews Becoming Republicans? Before even reading it, I knew what my answer would be but I read it anyway and still had the same answer: no.  Jews are not becoming Republicans.
I could have been made to consider the possibility if the author at least provided some evidence to support what he believes is happening, but he provides none – not a single citation to something – anecdotal or otherwise.
And from what I have witnessed, I see no evidence either.  For example, take the debate around the location of the Islamic community center in New York City: the more conservatives demonize Muslims in an effort to have them choose a different location for their facility, the more I hear Jews I know worry about that kind of singling out and saying, "sure, you can build it – just not there."  My own synagogue had to litigate to build in my city precisely because the City didn't want a synagogue built "there."
In addition, the breaking down of the wall of church and state is not something Jews typically support and the more the Christine O'Donnells and Rand Pauls seek to do that, the more I see Jews going the other way.
I just don't see what he says he thinks is happening – if he can put some data, even anecdotal to it, great, but otherwise, I don't buy it.
By Jill Miller Zimon at 8:16 am September 28th, 2010 in conservatives, Government, Jewish, Politics | 1 Comment
Print This Post
I've written before about my state rep's assertions regarding his electoral success as it relates to his being Jewish.  The Cleveland Jewish News now has a lengthy article with quotes from a well-known Democratic political consultant, among others, that directly contradicts Josh Mandel's previous suggestion that identity politics plays little if any role in his career.
Marilyn Karfeld does a nice job with a subject that many won't even tackle and some pundits want to say doesn't really matter (identity politics). Just one excerpt to indicate otherwise:
Mandel has also raised large amounts of money from out-of-state Jews, particularly ones from heavily Jewish regions of New York and California. "Why? Because he's good looking? No. Because he's Jewish" and a strong potential candidate some day for governor or U.S. senator, says Austin. "Jews, even liberal Jews, see Josh's potential. His positions don't matter. There are no issues in the treasurer's race. It's about (his) being Jewish. They want to see Jews promoted." [emphasis mine]

By Jill Miller Zimon at 5:57 pm July 29th, 2010 in Campaigning, Jewish, Judaism, leadership, Media, OH17, Ohio, Pepper Pike, Religion, Social Issues, Transparency, treasurer, Voting | 1 Comment
Print This Post
Welcome to this week's edition of Haveil Havalim #275: The "I'm so busy that putting together this blog carnival is actually what substitutes for taking a break" Edition.
Founded by Soccer Dad, Haveil Havalim is a carnival of Jewish blogs — a weekly collection of Jewish and Israeli blog highlights, tidbits and points of interest collected from blogs all around the world. It's hosted by different bloggers each week and coordinated by the formidable Jack.
No enthusiastic experiments this week like last week's edition, but I'll see what I can do to keep it flowing:
Culture
Batya presents If I Were To Wear A Wig… posted at me-ander. Side-note: my daughter is into anime/manga and desperately wanted to wear her character's wig. Did not work out so well, but maybe if I wore one, she'd have been conditioned? FYI, here's a fascinating post on Jews in Anime and Manga.
Kissmeimshomer presents Get With the Program, an entry I read to be about parallel lives, and choices, posted at Kissmeimshomer.
Izgad offers a book review in An Anthropologist Does ArtScroll: A Review of Orthodox by Design posted at Izgad.
Izgad also addresses dress codes, values and what price people are willing to pay in Of Matisse, Skirt Lengths and Teaching Skills posted at Izgad.
Mordechai Torczyner speculates in Why does Cleveland hate LeBron James? posted at The Rebbetzin's Husband. But I can tell you, having just driven past the famous "Witness" wall last night on my way to a friend's 40th birthday party in downtown Cleveland that, as a parent, LeBron's decision just sends a bad message – if it doesn't have to be about money, then it can be about winning.  And that seems to make it not be about life.
Humor
Mrs. S. presents A tale of two graduations (possibly alternatively titled, "Expectations Explained"?) posted at Our Shiputzim: A Work In Progress.
Israel
Shira sounds a theme I've read in other posts regarding Segregation in Israeli Schools Today posted at Table Poetry.  It's posts like this one and Mottel's that make me ache for us to have ever-larger audiences though, so the nuances of such situations can be known and acknowledged.
Joel Katz's weekly podcasts can be listened to here, Religion and State in Israel – July 5, 2010 (Section 1) and here, Religion and State in Israel – July 5, 2010 (Section 2) (both posted at Religion and State in Israel).
Ben-Yehudah's Loyalty To The State? piece reminds me of the "First they came for…" reading many of us have heard or read for decades.  His entry is posted at Esser Agaroth.
Harry gives kudos to good writing in A bissle culture posted at ISRAELITY.
Then, Harry describes how a rocker expresses his love for Israel in A porcupine tree grows in Tel Aviv, also posted at ISRAELITY.
Finally, Harry looks at just how frequently all-things-Israel get mentioned in How Kagan's hearing turned into an Israeli focus, you know where it's posted.
Ilana-David publishes an intriguing Weekly Interview: Baila, accompanied by nice photos, at Ilana-Davita.
The World Cup and a meal led David Levy to write this rather deep entry about Rethinking Germany, posted at Jewish Boston.
Batya highlights PM Binyamin Netanyahu and Larry King "Fencing" Around The Chess Board complete with video and a link to the show's transcript, posted at Shiloh Musings.
Susan Barnes presents a cute, flip take on her, ahem, hatred of  Tel Aviv posted at To Kiss A Mezuzah.
Then, Susan reflects on how easy it is to realize, here in the U.S. how one is No Longer in Israel, also posted at To Kiss A Mezuzah.
In Religion Taken Too Far, posted at The Israel Situation, Eric writes about his impressions of the multi-faceted situation in Immanuel.
Then, Eric offers his opinion on Israel Offers Peace Talks, PA Says No and wonders what we think, again at The Israel Situation.
Judaism
Batya argues, "It's not enough to feel the spirit" in Torah Judaism, Is It Enough to Be Spiritual Without Keeping The Laws? posted at Shiloh Musings. A very provocative topic indeed.
(I love the name of this blog): Homeshuling presents What's Jewish about competitive eating? – Homeshuling posted at Home-shuling.
Mottel's lengthy but absolutely worth the full-read, A Fire Burns in Crown Heights: An Essay on Religion, Modernity and Pizza, has implications, imo, for all kinds of situations, religious and non.  It's posted at Letters of Thought.
Kissmeimshomer examines religion and happiness in Killing Babies and Understanding Brad Pitt's Depression at Kissmeimshomer.
Rabbi Yehoishophot Oliver discusses levels of commitment to our faith in The corrosive impact of half-hearted worship, posted at A Chassidishe farbrengen.
Ben-Yehudah gives some technical advice with illustrative illustrations in Do You Pay Attention To The Google Ads On Your Site? posted at Esser Agaroth.
David Levy's Book Review: Empowered Judaism might add to your summer reading list, posted at Jewish Boston.
I don't know whether or not I'd recommend this to someone consider being a rabbi but Mordechai Torczyner's entry, Why Rabbis Stop Believing, posted at The Rebbetzin's Husband, sure raises a lot of good conversation points.
Minnesota Mamaleh's Minnesota Mamaleh: Tradition!, posted at TC Jewfolk, is an excellent counter-balance to Batya's belief (linked to above) that spirit alone doesn't do it.
Kashrut
The title of Joshua Waxman's entry faked me out so it's a good thing he included what category Anisakis worms and peshat in Kukyanei, according to Rashi and Rabbenu Tam belonged to (posted at parshablog).
Personal
Shira confesses a bit in Material Girl posted at Table Poetry.
Rachel Moore describes the classic chaos we often go through just to get to the rest we need in Chugga Chugga aahhhh, posted at Ima 2 Seven.
Don't read this entry unless you want to be baking today – the photo alone in Miriyummy's Dulce Dog Days of Summer, at Miriyummy is going to seduce you.
Chabad Lubavitch World Headquarters shows us how we can find a lesson pretty much anywhere in Old and Wise, posted at lubavitch.com Chabad-Lubavitch news site.
To the question raised in Hadassah Sabo Milner's WWYD – hair covering, posted at In the Pink? I always always do what you did.
The title of Chaviva's entry, Once Upon a Time, I Was Agnostic. posted at Just call me Chaviva, reminds me of when I was a freshman at Georgetown and we had to pick a second mandatory theology class (the one all frosh have to take is called The Problem of God), and I first encountered the word, "gnosticism."
Politics
Batya presents skepticism in Obama's All Teeth …, posted at Shiloh Musings.
Lady-Light writes about what she sees as A Disturbing Assessment of President Obama, posted at Tikkun Olam.
Independent Patriot's perspectives on the same event can be read in the Oval Office Nonsensical Dance, posted at Liberty's Spirit.
Torah
I can't even pretend I know what he's talking about given my insufficient education in this area, but I bet a lot of you will enjoy Joshua Waxman's Demonic messages between Sura and Pumbedita, posted at parshablog.
That concludes this edition. Submit your blog article to the next edition of Haveil Havalim using the carnival submission form. Past posts and future hosts can be found on the blog carnival index page.
Thank you all for your submissions – they make me sad for all the time I have not had or made to read and keep up on often gripping and always real thoughts on these subjects.
By Jill Miller Zimon at 11:20 am July 11th, 2010 in anti-semitism, Barack Obama, Civil Rights, conservatives, Culture, democracy, Education, Foreign Affairs, Gaza, George Bush, Government, Holidays, intolerance, Israel, Jewish, Judaism, leadership, Military, palestinians, peace, Politics, Recipes, Religion, Sexism, Social Issues, Sports, war, Women, Writing, Youth | 13 Comments
Print This Post
First things first – this Plain Dealer article about State Rep. Josh Mandel, who was at an annual Republican Jewish Coalition event in Beverly Hills on June 6, 2010, links to Plunderbund. I love it when MSM links to political blogs – thank you.
Plunderbund (and Politico, among other outlets) noted that the RJC was hosting an event and that leading "birther movement" figure, Orly Taitz (who also ran for but lost her primary bid to run as the GOP candidate for California's Secretary of State) and Mandel were both listed as attending. Taitz wrote that she was a "special guest of the Republican Jewish Coalition."
The PD followed up yesterday with an after-report to clarify the relationships between RJC and Taitz, and between Taitz and Mandel:
On Wednesday, Mandel said although he and Taitz were at the same event, he has never met Taitz. "I'm not part of the birther movement," he added.

Matt Brooks, executive director of the Republican Jewish Coalition, said Taitz and her husband bought tickets for the event. Taitz was listed as a special guest on the event's program simply because she was a candidate, Brooks said.

"She had no role, she was not acknowledged, she was not asked to speak," Brooks said. "She was one of 700 people in the room and that's the extent of it."
If you'd like to follow up w/Mandel in person, the local RJC will be hosting an event with him on Sunday, Father's Day.
By Jill Miller Zimon at 9:36 am June 17th, 2010 in Barack Obama, Blogging, Campaigning, conservatives, Elections, Government, intolerance, Jewish, leadership, Ohio, Politics, Republicans | 2 Comments