Print This Post
There's a classic Saturday Night Live skit in which Steve Martin and then Bill Murray are staring at something. And we don't know what they're looking at, and they don't know what they're looking at. And they just keep asking, "What the hell is that thing?" How much of social media and journalism might be viewed that way right now when not so long ago no one would even be asking the question?
This question is not one that has any implicit value statement. Rather, it reflects the extent to which we no longer see "Journalism" with a capital "J" looking like it did ten years ago (I still remember when I first noticed reporter-written narratives in the New York Times magazine using the first-person and thinking, "But I thought you're never supposed to put yourself, the writer, in the story you are telling!") and, likewise, the extent to which we no longer see "social media" as solely navel-gazing tools of procrastination and distraction.
Concrete examples?
Check them out at the full post here.
By Jill Miller Zimon at 8:02 pm March 13th, 2013 in Media, social media | Comments Off
Print This Post
By Jill Miller Zimon at 6:19 pm February 21st, 2013 in Media, social media | 2 Comments
Print This Post
The video's up for the most recent Feagler & Friends appearance:
I swish my hair too much, but I also never get seated in the last spot – see, Michael Heaton's hair doesn't have to swish at all – well, you know, Michael – the hair that's there?
By Jill Miller Zimon at 11:04 pm January 7th, 2013 in Cleveland+, Jill Miller Zimon, Media, Politics | 1 Comment
Print This Post
Well, when it came to talking Browns. Sort of. You'll see. Here's the blurb:
Guest Analyst:  Kevin T. Jacques, Boynton D. Murch Chair in Finance at Baldwin Wallace University—Congress and the President managed to avoid the 'fiscal cliff' but the tax bill for most working Americans is going up.  A deal that raises marginal tax rates on the highest wage earners also allows a payroll tax break to expire, affecting wage earners at all income levels.  Also going up are taxes on business and investors.  Without a deal marginal tax rates would have gone up for most workers. Still looming are new debates over the federal debt ceiling and discretionary spending.

Roundtable:  Michael Heaton, columnist, The Plain Dealer; Jill Miller Zimon, blogger, Writes Like She Talks; Ned Whelan, Whelan Communications.

Fiscal Cliff—the panel continues discussion about the fallout from the fiscal cliff resolution on New Year's Day.

Browns Seek New Field Management—the new ownership team is shopping for a head coach and a general manager after the house-cleaning that followed the end of another losing season.  Team president Joe Banner is busy interviewing head coach candidates, including University of Oregon's successful coach Chip Kelly and Ken Whisenhunt, who once lead the Arizona Cardinals to the Super Bowl.

Armed Teachers? Hundreds of Ohio teachers signed up for firearms training in the wake of the latest deadly school shooting that took 26 lives in Newtown, CT.  The gun owners' advocacy group Buckeye Firearms Association offered free training for teachers and administrators, with the first class expected in the spring. The Association's president says interest has exceeded expectations.

On the Way Out for Good—The Plain Dealer's Minister of Culture, Michael Heaton, writes that many cultural icons are headed for the ash heap of history.  Among utilitarian items on their way out are wristwatches, replaced by a multitude of tools that tell time; alarm clocks, made redundant by cell phones that have built-in alarm functions and the local post office, a business model that's quickly fading in a digital world.
By Jill Miller Zimon at 9:00 pm January 4th, 2013 in Congress, guns, Jill Miller Zimon, Media, Mental health | 4 Comments
Print This Post
Please join me, Plain Dealer reporter Rachel Dissell, my Civic Commons colleague Dan Moulthrop, Thor Wasbotten, director of Kent State's School of Journalism, Angie Schmitt, former daily reporter and current blogger at RustWire.com, and Afi-Odelia Scruggs, former PD columnist and current multimedia journalist who writes at PDNowWhat.com Tuesday evening, December 11, 2012 at 7:30pm for a discussion about the our metro paper, its future and more, no doubt. From the event's Facebook page:
The Plain Dealer's owner has slashed staff and publication frequency at other daily papers, and some at the PD are speaking out in advance of possible cuts here. Dan Moulthrop of The Civic Commons moderates this panel discussion, which so far includes Rachel Dissell of the PD; Thor Wasbotten, director of Kent State's School of Journalism; Jill Miller Zimon, Pepper Pike council member and political blogger at WritesLikeSheTalks.com; Angie Schmitt, former daily reporter and current blogger at RustWire.com; and Afi-Odelia Scruggs, former PD columnist and current multimedia journalist who is covering the PD at PDNowWhat.com.

This event is part of the Write to Assemble series, hosted by Happy Dog and organized by Ohio City Writers. Admission is free.
Hope to see you there.
By Jill Miller Zimon at 11:37 pm December 10th, 2012 in Cleveland+, Media | Comments Off
Print This Post
For your reading pleasure (or displeasure, I'm afraid), check out my latest Civic Commons blog post on the he said, she said of women, journalism and political coverage. It includes the PowerPoint presentation with embedded video examples of just how egregious the slings have been.
By Jill Miller Zimon at 10:09 am September 22nd, 2012 in Hillary Clinton, Media, Sexism, Women | Comments Off
Print This Post
Where do you get your fix? I visit Real Clear Politics, Political Wire, Five Thirty Eight and the Huffington Post. I also check a list on twitter that aggregates multiple Ohio news sources and I read Chris Cillizza's emailed newsletters that come from the Washington Post's The Fix portal. I receive, in print, the Plain Dealer, the New York Times and the Wall Street Journal and get alerts from the first two regularly (I'm not a fan of the WSJ but I like to see what they cover and how they cover it).  For my women's political perspective needs, I access BlogHer.com,  MsRepresentation, Women's eNews, the Broad Side, Women's Media Center and a few others.
Who and what are you trusting, liking, panning this election cycle?
By Jill Miller Zimon at 7:57 am September 13th, 2012 in Media, Politics | Comments Off
Print This Post
It went FAST. It will broadcast again tomorrow (Sunday) at 11:30 on WVIZ, then Monday and Tuesday on the Ohio Channel and then the video is posted at this link where you can also find this blurb:
Newsmaker:  Wade Steen, Cuyahoga County Fiscal Officer—local property owners are finding out this week what their new real estate valuations are.  County officials say values are down about nine per cent overall.  But it will mean little, if any, tax relief.  State laws that suppress millage when property values rise, bring up millage when values drop.  Mr. Steen will explain how it all works.
Roundtable:  Elizabeth Sullivan, editorial page editor, The Plain Dealer; Stan Bullard, senior reporter, Crain's Cleveland Business; Jill Miller Zimon, blogger, Writes Like She Talks.
More Support for the Port—Cleveland-Cuyahoga County Port Authority's board this week voted to take a new port levy to the ballot this fall. Money would be used to shore up the banks along the Cuyahoga River, repair bulkheads and pay for provisions to dispose of dredging material.  The levy is a countywide issue, but in Cleveland will compete for attention with the Cleveland school levy.
Dimora Sentencing—former Cuyahoga County Commissioner Jimmy Dimora learns Monday how long he'll spend in prison for his spring conviction on racketeering and bribery charges. Federal prosecutors want Judge Sara Lioi to impose a harsh sentence befitting a former official who betrayed the public trust for personal gain.  Dimora's lawyers argued for a lighter sentence given the non-violent nature of his offenses.

Aftermath in Aurora—a Monday court appearance gave the public its first glimpse of James Holmes, the accused killer of 12 people in a Colorado movie theater.  While Holmes's bizarre outer appearance—including orange-dyed hair—was on display, his inner self remains a closed book.  He's not cooperating with police and has not indicated why he started shooting.  The incident has, for now, reignited the national debate over gun control and ramped up gun sales in Colorado.
By Jill Miller Zimon at 4:28 pm July 28th, 2012 in Media, Ohio, Politics | 1 Comment
Print This Post
A blogger wrote to Pulitzer Prize-winning columnist Connie Schultz to say he was doing an "expose" on "journalists in the elite media who socialize with elected officials they are assigned to cover." A photo showed Schultz hugging Sen. Sherrod Brown. Schultz replied, "I am surprised you did not find a photo of me kissing" the senator — adding, he's my husband.
More on Connie's Facebook (yes, FB – for those who haven't heard about or experienced how she's embraced social networking).  Other coverage: Washington Post, Slate, Patch.com. There are many others – even the Plain Dealer and U.S. News and World Report.
By Jill Miller Zimon at 9:25 am July 19th, 2012 in Blogging, Media, Politics | 1 Comment
Print This Post
The most recent avalanche of earned media for the concept of civility derives from multiple rants enunciated by Rush Limbaugh - who would have thunk, eh? This particular set of rants targeted a 30 year old female law student who wanted to testify on Capitol Hill about why contraception should be covered by health care insurance. Suffice it to say that Limbaugh's behavior in this instance has been deemed so uncivil by so broad a swath of Americans that nearly 50 advertisers (and I've seen some counts as high as 80 or more) including AOL, LegalZoom, ProFlowers and Cleveland's own Quicken Loans no longer support the show. And of course, coverage of people with the money, standing up to say that they don't want their money supporting someone who expresses thoughts the way Limbaugh does, is another boost to the idea that we do value civility.
But wait! There's more. Read it at my Civic Commons blog post.
By Jill Miller Zimon at 6:05 pm March 11th, 2012 in democracy, Media | Comments Off
Print This Post
(More about Bernadine Healy here – she mandated that women be included in health trials – about women's health. Hello.)
There's a lot of excellent commentary on that photo around the web but here's US Senator Kirsten Gillibrand (D-NY) speaking up about it – with the image full blown behind her:
And we can't ignore that here are the menz pundits this morning on MSNBC (read more about the optic debacle here) talking about what else – women's health and contraception. Nary a woman.  Unbelievable in 2012.
By Jill Miller Zimon at 7:39 pm February 17th, 2012 in Gender, Health Care, Media, Politics, Sexism, Social Issues, Women | 3 Comments
Print This Post
You may go see the Non Sequitur cartoon from today (1/13/12) which the Plain Dealer did not run. I used it as a teaching moment with my 6th grader and he got why it could be objectionable right away. Whether or not it should have been published is of course a different matter.
Very interesting – what do others think?
Well, there are comments at my thread and many times more at Connie Schultz's. Multiple folks in the news biz indicate that no other papers appear to have pulled it but I have not corroborated that. The PD's Ted Diadiun, the reader rep, says he was receiving a lot of comments but mostly people thinking the paper should have let it run (that was from earlier today).
So – go look and then come back and tell – what did you think? Should the PD have let it run?
By Jill Miller Zimon at 12:02 am January 14th, 2012 in Media, Politics | Comments Off
Print This Post
Originally posted on my Facebook page:
Just to show, again, how integrated consuming & producing news & information is with the use of social media:
1. I read about Inside Business's Power 100 in the Sat. PD
2. I looked online to see that only one woman made the top 10 under 40
3. I blogged about that, then tweeted it, FB'd it & emailed one of the mag's writers to learn more
4. This morning, I got followed on Twitter (happily so) by the editor of that mag, Steve Gleydura, who edits other prominent NE Ohio publications.
5. Viewing his twitter timeline, I clicked on a link to a video clip of him talking about the Cleveland mag's most interesting people.
6. While watching & listening to that, I searched on my iPad for that issue to see who else was on the list. First thing: a good array of folks re: age, gender, race, occupation etc. Very nice. But really nice? Two women I know and think a lot of: Hallie Bram and Stefanie Penn Spear.
SO – kudos to all, esp. to Hallie and Stefanie
By Jill Miller Zimon at 10:24 am January 9th, 2012 in Cleveland+, Diversity, Media, social media | Comments Off
Print This Post
We taped this morning so my day of atonement (tonight is Kol Nidre and tomorrow is Yom Kippur) will be well underway when this broadcasts. I'll have to wait until Sunday to see what magic the camera has in store this week. You can find details about its broadcast here (WVIZ at 8:30 tonight and 11:30am Sunday for starters; the video is usually up by the end of the week). NOTE: We did talk about #OccupyCleveland, which is not listed here.

Dimora Team Wants Trial Moved Out of Northeast Ohio
Posted Friday, October 7, 2011
Newsmaker—Jill Rizika, executive director, Towards Employment—Cleveland has joined a growing list of cities that will no longer force ex-felons to disclose their criminal past when applying for work with city government.  Mayor Jackson says it's wrong to punish people for prior wrongs.  But the city could still bar ex-felons from holding some jobs.  It's a significant change in Cleveland which is home to more ex-convicts than any other Ohio county.  Towards Employment is an organization that helps former convicts re-enter the workforce and was among the groups urging the Mayor to change the city's hiring policy.
Roundtable:  Ned Whelan, Whelan Communications; Jill Miller Zimon, blogger, Writes Like She Talks; Johnathan Holifield, Co-founder, The America21 Project. Read more
By Jill Miller Zimon at 4:21 pm October 7th, 2011 in Announcements, Jill Miller Zimon, Media | Comments Off
Print This Post
Now, I haven't double checked to be sure that it is in fact ALL the competitive mayoral races in the county (as opposed to ones in other counties that might get the PD and ones where there is no challenger), but it looks that way.
And I must say, thank you.
I can't dredge up the post or email that I know I wrote last year, during the County Council campaigns, in which I expressed extreme distress over how the PD was rolling out it's endorsements one at a time, and not in what seemed to be in any order, and sometimes before the mail-in start day, and sometimes well past that, but I know that I did communicate to someone there just how unhappy it made me and how easy it seemed to be to remedy.
And remedy it they did: today, in the FORUM section of the Sunday PD, the entire left-hand side page was full of the endorsements, text, photos, conclusion. Again, you can read them all online here.
Now, whether those endorsements have other issues you may find, I'm not addressing that in this post. But I think it is SUPREMELY superior to have these endorsements all come out at the same time so as not to benefit or be to the detriment of any one candidate or community.
Thank you – I noticed. And I bet a few others did too.  Hmm, maybe I will even go leave this comment on the cleveland.com comment page.
By Jill Miller Zimon at 7:18 pm October 2nd, 2011 in Campaigning, Cleveland+, democracy, Elections, Media, Ohio | 1 Comment
Print This Post
I ask this question because when you continue to receive invitations that state someone is a candidate for U.S. Senate, and you read quotes by the candidate himself like this:
In the last fundraising quarter, Mandel raised 40 percent more than Brown and spent hundreds of thousands less to do it. "Forget fundraising," Mandel says to the crowd. "What's important to me is that we're going to go next year and beat Sherrod Brown. And by beating Sherrod Brown and running strong, we're also going to help the eventual nominee at the top of the ticket beat Barack Obama."
you really have to hope that the candidate's perpetuated charade of not yet being announced will not lead the media to give earned media when the candidate finally does whatever he thinks it is he is supposed to do to make it official.
The quote is from this Weekly Standard article written by a college senior who is serving a journalism internship through this program.
Frankly, the longer Mandel keeps up the manipulative approach he is using now to string along the wonky curious, the more likely it is that the media coverage of whatever it is that he does to make his run official is likely to be anticlimactic and less than flattering.
- Posted using BlogPress from my iPad

By Jill Miller Zimon at 9:24 am August 20th, 2011 in Campaigning, Elections, Josh Mandel, Media, Politics, senate | Comments Off
Print This Post
You can find the video here later next week but can also see viewing info for tonight, Sunday and on the Ohio Channel. Here's the blurb:
Kasich: Let's Deal on SB 5
Posted Friday, August 19, 2011
Newsmaker: Mark Moran, President and Chief Executive Officer, MetroHealth System—the hospital has drawn criticism recently for severance packages offered to high ranking employees who've left the hospital since 2008. Most lost their jobs as the hospital restructured its management. Moran has said the severance packages were necessary to avoid potential litigation and that executive pay at MetroHealth matches the industry standard. The hospital system recently reversed a trend of annual losses and is now running in the black.
Roundtable: Kevin O'Brien, editorial writer, The Plain Dealer; Jill Miller Zimon, blogger, Writes Like She Talks; Ned Whelan, Whelan Communications.
Kasich: Let's Make a Deal—Governor Kasich and Republican leaders say they want to negotiate a compromise with labor leaders that would end the referendum drive to repeal Senate Bill 5. Kasich says what's sure to be a noisy campaign would do more harm than good. A representative of We Are Ohio, the referendum backers, said compromise is only possible after SB 5 is repealed.
Turnpike Lease—the Governor wants to find out if the Ohio Turnpike could be the road to riches for state government. He's moving ahead with plans to hire a consultant to assess the value of leasing the Turnpike and then soliciting bids by 2013. Some estimates have said the deal could be worth billions.
Not-So-Naked Truth at the Airport—Cleveland's Hopkins airport is among dozens of airports in the nation employing the next generation of body scanning passenger screening devices. Instead of an image that some passengers condemned as too revealing, the new device displays what resembles a crime scene chalk drawing with trouble spots showing up as a patch of yellow.
Buffett: Stop Coddling the Super-rich—billionaire financier Warren Buffett says it's time the government raised taxes on people like himself. Buffett complained in a New York Times op-ed that he and his mega-rich friends are protected like spotted owls while the poor and middle class struggle to make ends meet. Said Buffett, he and his rich friends are prepared to pay higher taxes and it's time Congress got serious about the concept of shared sacrifice.
- Posted using BlogPress from my iPad
By Jill Miller Zimon at 2:01 pm August 19th, 2011 in Announcements, Jill Miller Zimon, Media, Politics | Comments Off
Print This Post
Follow the action with me and Emily Zanotti (aka American Princess and avowed conservative) here starting at 9pm!
By Jill Miller Zimon at 2:35 pm August 11th, 2011 in Campaigning, conservatives, Debates, Elections, live-blog, Media, Republicans, WH2012, White House 2012 | Comments Off
Print This Post
Just tell me – did ya slam The New Republic when they put this on their cover in April 2008: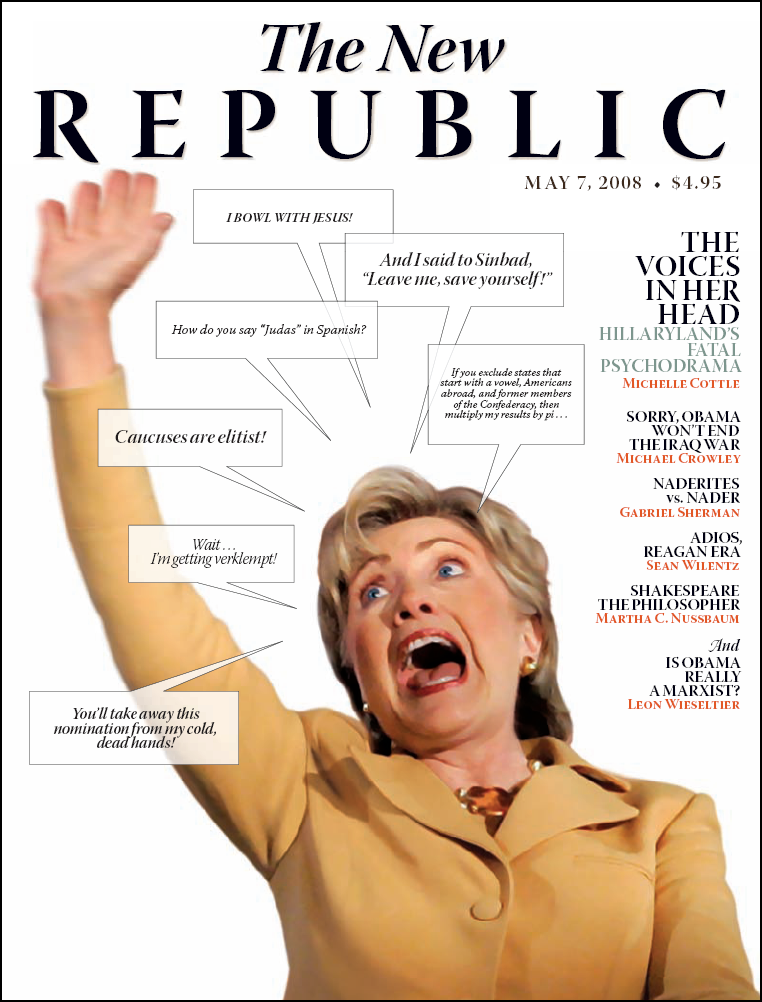 Because if ya didn't, I'm not feeling much empathy for your complaining now about this Newsweek cover of Michelle Bachmann:
Feel sorry for Newsweek that this is what they're doing for traffic. Or they have lousy photogs.  Or they won't pay for decent portraits. Or maybe this is what Bachmann gave them. I don't know – I haven't researched the backstory yet so if you know, feel free to enlighten.  But again, if the hysterical Hillary didn't bother you, you've got nothing to complain about with the Bachmann cover.
By Jill Miller Zimon at 9:22 pm August 8th, 2011 in Gender, Hillary Clinton, Media, michele bachmann, Politics, Sexism | 6 Comments
Print This Post
I don't usually crosspost but I wrote this originally for my Pepper Pike City Council blog, In The Arena. Seems worth posting here as well.
The efforts described in today's Plain Dealer (read here) by the Cuyahoga County Council to be transparent and open were announced last week on WCPN's The Sound of Ideas. You can hear the entire podcast here. I listened to it live (and actually called in and spoke for a couple of minutes) and tweeted about the new social media efforts as C. Ellen Connally, the Council President, mentioned them.
From the PD article:
Live meetings of the council and its committees are available online. Click on "streaming video." The full council meets today at 6 p.m.

Legislators adopted the tools to improve transparency, which had been a pledge of members when they campaigned last year.

The council several months ago heard from a company whose technology allows citizens to watch meetings online, search video archives and link to related legislation and other public information. The system in place was done in house, and does not include features such as searchable video.

Residents can also watch archives of council meetings, but not committee meetings. Eventually, audio archives of committee meetings will be posted, said chief of staff Joe Nanni.

Internet users can also find Council on Twitter, twitter.com/cuyahogacouncil, and on Facebook at facebook.com/cuyahogacouncil.

"These new social media tools will help us to more easily interact with citizens," Council President C. Ellen Connally said in a news release.
Pepper Pike as a city does not have a Facebook page, a Twitter account nor does it stream its meetings. However, just last week, the mayor told me that he would be sending out letters to residents whom we've identified as individuals we'd love to have be part of the City's Communications/Tech/Web Committee which I chair.  I've not yet seen that go out but hopefully it either has or will shortly.
By Jill Miller Zimon at 9:16 am July 26th, 2011 in Cleveland+, Council, CuyahogaCounty, Government, Media, Ohio, Politics, Tech, Transparency | Comments Off