Print This Post
I'd say I'm at a loss for words for how to express my extreme discontent over Ohio House Bill 200 but I'm going to save it for a steady and increasingly louder drumbeat of arguments against it starting tonight. Make no mistake, to defeat this absolute and absolutely invasive set of provisions that completely contradict the charades of conservatives who say they want to keep government out of our lives, we will need to be as adamant, sharp, specific, relentless and vocal as ever, if not more so.
Your education on HB 200 can start with these links but I have no doubt this is just the beginning of the battle:
The bill itself – it has no fiscal notes or bill analysis yet
The Plain Dealer story on it including the laundry list of restrictions:
Among other things, the bill would:
• Require doctors to give women a verbal description of the ultrasound, including an audible heartbeat, if available. (The bill notes, however, that a woman can refuse to view ultrasound images or listen to the sounds detected by a fetal heart monitor.)
• Compel abortion providers to tell patients that fetuses and embryos can feel pain, and that a woman who has an abortion increases her risk of breast cancer.
• Extend the waiting period for abortions to 48 hours instead of 24.
• Require doctors to tell patients seeking abortions in writing how much money they earn and how much income they would lose by not performing abortions.
• Eliminate "medical necessity" as a reason to waive the waiting period. Medical necessity had been defined as a medical condition that complicates the pregnancy so that it warrants an immediate abortion.
• Allow a waiver for a "medical emergency," which is redefined in the bill as a condition that would result in the woman's death without an abortion, as opposed to one that presents a serious risk to her life or physical health.
Doctors who do not follow the rules could be charged with a first-degree felony and fined up to $1 million.
Look at all those job-creation proposals, eh? Exactly what Ohio needs – you smart drafters, you.
By Jill Miller Zimon at 10:02 pm June 13th, 2013 in activism, conservatives, Courage, democracy, Gender, Health Care, Ohio, OhioHD12, Reproductive Health, Reproductive Rights, Republicans, Sexism, Women | 1 Comment
Print This Post
U.S. Senator Kirsten Gillibrand and several other women in the United States Senate don't give up and won't be giving up, and no one should ever expect that they will, or should, when it comes to making sure that pursuit of sexual assault complaints in the military get handled with the utmost respect and efficacy as any other allegation, perhaps with more given the nature of the behavior involved. And so her statement, and the way in which she and other members of the Senate continue to press for what they believe is needed, while still acknowledging the challenges without delegitimizing the underlying concerns of those challenges, shows us how leadership in the political universe is and should be done.
Today we've taken several important steps forward to reform how the military handles sexual assault cases. But I'm disappointed that with respect to the provisions within the Military Justice Improvement Act that would remove sexual assault cases from the military chain of command, the voices of sexual assault victims have been drowned out by military leaders who've failed to combat the pervasive sexual assault crisis. I will continue fighting to strengthen the NDAA by offering the Military Justice Improvement Act as an amendment once we take it up on the Senate floor. I promise, our advocacy on this issue has only just begun.
By Jill Miller Zimon at 10:43 pm June 12th, 2013 in activism, democracy, Gender, Military, Sexism, Women | Comments Off
Print This Post
For your reading pleasure (or displeasure, I'm afraid), check out my latest Civic Commons blog post on the he said, she said of women, journalism and political coverage. It includes the PowerPoint presentation with embedded video examples of just how egregious the slings have been.
By Jill Miller Zimon at 10:09 am September 22nd, 2012 in Hillary Clinton, Media, Sexism, Women | Comments Off
Print This Post
When will we see that headline? Because I saw the one I describe at the end of this sentence over an AP story in the Plain Dealer today and countless variations are all over the place regarding Marissa Mayer's ascension at Yahoo. This is what we call pure unadultered linkbait: "All eyes on Yahoo's mom-to-be chief exec."
Really? Really? As if we will ever see, "All eyes on Yahoo's dad-to-be chief exec." Please.
MarketWatch had it right: Wall Street to Yahoo's Mayer: Why Bother? or some other variation of the mammoth challenge related to her…JOB. Even an article discussing what should be disclosed is acceptable.  But seriously. From now on, media? When a guy ascends to the top of a Fortune 500 company, you better run several graphs if not entire articles about the man's obligations and circumstances outside of the C-suite.  This is just ridiculous.
By Jill Miller Zimon at 2:48 pm July 18th, 2012 in Business, Culture, Gender, Sexism, Social Issues, Women | 1 Comment
Print This Post
Because I have not seen enough or many women-oriented sites covering this. I'm not sure what's up with that, and it's absent from all along the political spectrum.
From the Service Women's Action Network (SWAN – looks like a really excellent site): SWAN on the Lackland AFB Scandal
From NPR: Military under pressure to crack down on sex abuse
From Minnesota Public Radio which seems to be covering it well: Sexual Assault in the US Military
HuffPo: Tailhook whistleblower demands Congress investigate Lackland Sexual Assaults
The Daily Beast: Lackland Rape Scandal Shines Spotlight On Military Failure
By Jill Miller Zimon at 3:04 pm July 17th, 2012 in Courage, Ethics, Gender, Law, leadership, Military, Scandal, Sexism, Women | Comments Off
Print This Post
On the heels of recognizing the Women of Note, I learned that my friend Melissa Fisher's book, Wall Street Women, is now out. From Publisher's Weekly:
In the wake of the 2008 financial crisis, even as the media celebrated women as potential saviors of the economy, the financial world had removed women from senior Wall Street jobs. Most of the women who broke through glass ceilings to become leaders in finance were gone by the time of the crisis, not necessarily of their own volition, including the subjects of this lively and provocative historical ethnography. Georgetown University anthropologist Fisher, co-editor of Frontiers of Capital: Ethnographic Reflections on the New Economy, combines the detached curiosity of an anthropologist studying the folkways of a tribal village with a sure grasp of history, politics, and economics, as well as an affectionate regard for her subjects, a small group of highly successful women who entered Wall Street in the '60s…. Fisher's argument about the emergence of "market feminism," a synthesis of liberal feminist values with neo-liberalist ideology that could provide new opportunities for women on Wall Street, is worthy of readers' attention.
What's particularly exciting and weird is that now have two books I'm reading both written by women I know who though separated by a generation both come out of or will come out of Barnard. Probably says more about me than anything else, including us all being privileged, but look at what they're writing about (the other woman's book). I look forward to reading them both (almost done with the latter).
By Jill Miller Zimon at 7:04 am June 29th, 2012 in Business, Politics, Sexism, Women | Comments Off
Print This Post
You don't have to have seen any of the media coverage of Anne-Marie Slaughter's The Atlantic cover story to know about her story – because her story is just one of hundreds of millions.  Don't let the privilege in her life fool you either about the real underlying issue: women and men want fulfillment and to feel fulfilled in their lives. What must change to achieve any of that, for any of us, anywhere along the socio-economic spectrum? Fulfillment should not be reserved for those who can buy it.
Some reading to get you up to speed on this evergreen but maybe ever more pressing issue as younger generations demand answers:
For an historical perspective and in honor of Nora Ephron, her 1996 Wellesley commencement speech in which she absolutely addresses these issues
The Atlantic: 1% Wives Are Helping Kill Feminism and Make the War on Women Possible (this is the piece that got the recent round started)
The Atlantic: Why Women Still Can't Have It All (the Anne-Marie Slaughter piece)
The New York Times on the AMS piece: Elite Women Put a New Spin on an Old Debate
Lisa Belkin with two pieces: Why One Woman Reached the Top, Then Left and Why the Workplace Doesn't Work for Parents
Rebecca Traister at Salon.com on Slaughter: Can modern women "have it all"?
Diane Rehm spent an hour on this on Monday (June 25, 2012) (there's a transcript and a podcast)
And on Sound of Ideas, also on Monday (6/25/12) at the 9:45 mark, the Women of Note panel gets into the subject too
Women's Media Center: Having it all? The Wrong Question for Most Women
By Jill Miller Zimon at 7:00 am June 28th, 2012 in Culture, intolerance, leadership, Politics, Sexism, Women | Comments Off
Print This Post
From the Detroit News and pretty much all around the www:
State Rep. Lisa Brown's now infamous June 13 "vagina" remark on the House floor and Rep. Barb Byrum's disruptive yelling at Speaker Pro Tem John Walsh for not being allowed to speak on her abortion bill amendment to ban most male sterilization has gained national attention. House Republican leaders barred Brown and Byrum from speaking on June 14 in response to their alleged violations of the decorum of the House a day before.

…

Now their blood is really boiling after state Rep. Wayne Schmidt, R-Traverse City, told syndicated radio host Michael Patrick Shiels earlier this week that Brown and Byrum's one-day silencing was "like giving a kid a timeout for a day."
So many questions, so little time. Read more
By Jill Miller Zimon at 11:15 pm June 21st, 2012 in Sexism | Comments Off
Print This Post
Read my thoughts on that question in my post, "Why Women Voters Will Dictate Ohio's Super Tuesday Results," at iVillage and let them know what you think!
By Jill Miller Zimon at 5:10 pm March 5th, 2012 in Elections, Gender, Mitt Romney, Politics, Republicans, Rick Santorum, Sexism, Social Issues, Voting, WH2012, Women | Comments Off
Print This Post
Nothing like first-person accounts such as this one at Plunderbund to tell the stories Rick Santorum wants to ignore that form the basis of most people's reality.  I just watched the Santorum campaign's newly hired national press secretary, Alice Stewart, completely dance around the questions asked by Andrea Mitchell related to this topic. If she or anyone who is directing her work thinks that her dancing will make this issue go away, when women voters outnumber men, then she and those advising her should be fired. Watch here (relevant segment starts at the 5:14 mark):
Visit msnbc.com for breaking news, world news, and news about the economy
By Jill Miller Zimon at 2:56 pm February 20th, 2012 in conservatives, Gender, Politics, Republicans, Sexism, Social Issues | Comments Off
Print This Post
(More about Bernadine Healy here – she mandated that women be included in health trials – about women's health. Hello.)
There's a lot of excellent commentary on that photo around the web but here's US Senator Kirsten Gillibrand (D-NY) speaking up about it – with the image full blown behind her:
And we can't ignore that here are the menz pundits this morning on MSNBC (read more about the optic debacle here) talking about what else – women's health and contraception. Nary a woman.  Unbelievable in 2012.
By Jill Miller Zimon at 7:39 pm February 17th, 2012 in Gender, Health Care, Media, Politics, Sexism, Social Issues, Women | 3 Comments
Print This Post
I think, and I've heard from multiple others who also think that Rachel Dissell's front page article today in the Plain Dealer, "Jimmy Dimora trial reveals former Cuyahoga County commissioner's coarse talk about women," does a very good job of putting the information revealed through Jimmy Dimora's trials about how he and those around him treated women in both a local and a broader context.
Definitely check out the cleveland.com comment thread – be sure you're sitting down, even if you're used to the tone they sometimes take on.  And also browse this comment thread on Connie Schultz's Facebook page.
Folks, we have a long, long way to go.  If this cause inspires you, please check out Name It Change It, an effort to catalogue and call out, on a non-partisan basis as you will see from the examples, just how rampant the sexism is, especially when politics is involved.
By Jill Miller Zimon at 2:10 pm February 2nd, 2012 in Cleveland+, CuyahogaCounty, Ethics, Gender, Government, intolerance, leadership, Ohio, Politics, Scandal, Sexism, Social Issues, Women | Comments Off
Print This Post
It was a very fun taping – airs tonight at 8:30pm on WVIZ and again on Sunday at 11:30am. Ohio Channel broadcast info is on the WVIZ page in the sidebar to the right of the blurb:
Prosecutors Lay Out Dimora Indiscretions
Posted Friday, January 27, 2012
Prosecutors Roll up Sleaze at Dimora Trial—week two of the corruption trial of former Cuyahoga County Commissioner Jimmy Dimora brought the most titillating testimony to date. Witnesses told of arranging gambling trips and the services of prostitutes for Dimora.  An FBI agent told of a female public employee trading sex for a job.  A former county employee said Dimora accepted a cash bribe from another job seeker.
By Jill Miller Zimon at 6:17 pm January 27th, 2012 in CuyahogaCounty, Economy, Government, Politics, Scandal, Sexism, Social Issues | Comments Off
Print This Post
GQ's Top 25 Power People in DC? One and a half women.  One and a half. And a whole lotta white guys.
Here's the full list of 50 from Mike Allen's Politico Playbook:
FIRST LOOK – GQ's "The 50 Most Powerful People in Washington (People with the last names Obama and Biden not included," by Reid Cherlin, Rob Fischer, Jason Horowitz and Jason Zengerle: 1) Eric Cantor 2) Mitch McConnell 3) David Plouffe 4) Leon Panetta 5) Hillary Clinton 6) Ben Bernanke 7) David Petraeus 8) Kevin McCarthy 9) Pete Rouse 10) U.S. Chamber's Tom Donohue 11) Tim Geithner 12) John Boehner 13) Karl Rove, Ed Gillespie, Steven Law (American Crossroads) 14) Tommy Boggs, chairman, Patton Boggs 15) Dan Pfeiffer 16) Gene Sperling and Jack Lew 17) Chuck Schumer 18) Grover Norquist 19) Chuck Todd 20) Ben Rhodes, deputy national security adviser and speechwriter, and brother David Rhodes, president of CBS News 21) Paul Ryan 22) Deputy National Security Adviser Denis McDonough 23) Heather and Tony Podesta 24) Chris Van Hollen 25) Paul Clement, partner, Bancroft

26) Jim DeMint 27) White House Counsel Kathy Ruemmler 28) Joe Pounder, RNC research director 29) Rep. Tim Scott 30) White House Personnel Director Nancy Hogan 31) Brian Deese, deputy director, White House National Economic Council 32) Education Secretary Arne Duncan 33) Jake Sullivan, State Department director of policy planning 34) Ezra Klein 35) White House Director of Legislative Affairs Rob Nabors 36) Bill Daley 37) Patty Murray 38) Capital Weather Gang bloggers 39) Liz Cheney 40) Mike Allen 41) restaurateur José Andrés 42) party planners Jayne Sandman, Barbara Martin, Svetlana Legetic 43) Marco Rubio 44) White House Social Secretary Jeremy Bernard 45) Charles Krauthammer 46) MPAA Chairman Chris Dodd 47) Washington Nationals pitcher Stephen Strasburg 48) Jack Quinn 49) restaurateur James Alefantis, owner of Comet Ping Pong, Buck's Fishing & Camping 50) Bradley Graham and Lissa Muscatine, owners, Politics & Prose.
Pathetic.  Not even necessarily on GQ although I'd levy that claim without much sweat. But pathetic re: those who can appoint, who can make power and influence reside in whomever they choose.
And the number of women in the second half doubles primarily because three women party plan together.
Sigh.
I may have to put the Ginsberg video in the sidebar permanently, until we get better numbers on these things.
By Jill Miller Zimon at 8:02 am January 18th, 2012 in Gender, Politics, Sexism, Women | Comments Off
Print This Post
Major hattip for the heads up on this report goes to Nordette of  Whose Shoes Are These Anyway?

"Men Rule: The Continued Under-Representation of Women in U.S. Politics" is printing out while I type this so I haven't read it yet. It's authored by two academics, including Jennifer Lawless, who has also run for office, who are very familiar with this question of women's under-representation in elected office.
Take a look and say what you're thinking – after you read it, please. I'll do the same.
By Jill Miller Zimon at 3:41 pm January 12th, 2012 in Elections, Gender, Politics, Sexism, Social Issues, Women | Comments Off
Print This Post
That's of course assuming that they ever were in the Michele Bachmann for president or Sarah Palin for president columns in the first place. From the CNN poll (click on the image to enlarge):
What's most curious about this reality is how often those affiliated with the tea party have tried to suggest that women have a big place and a big role in that party.  But if your women aren't supporting the women candidates, what's that all about? When asked directly to describe the difference between Bachmann and Perry, conservative media personality Dana Loesch suggests it's an electability issue related to the odds of governors versus representatives in this clip. She implies that Perry is a better bet than Bachmann.
I'll be interested to see how conservative female pundits break this down and organizations like The New Agenda review and analyze the data.
Hattip to today's The Fix digest because it was the absence of this kind of look at the female conservative vote that made me wonder, what's going on with the female conservative vote, and then compelled me to look deeper into the poll (which you can do for yourself here).
Paging American Princess, Emily Zanotti.
And FYI: When CNN asks the question without Palin in the mix? Bachmann gains just 4% in the women, but Perry gains 7% (taking his advantage from 13% ahead of Bachmann to 16% ahead of her with women voters).  It's on page 7 of the pdf.  The CNN companion article makes slight reference to the gender vote issue.
By Jill Miller Zimon at 9:30 am August 30th, 2011 in conservatives, Elections, Gender, michele bachmann, Politics, Poll, Republicans, Rick Perry, Sarah Palin, Sexism, WH2012, White House 2012, Women | 8 Comments
Print This Post
Just tell me – did ya slam The New Republic when they put this on their cover in April 2008: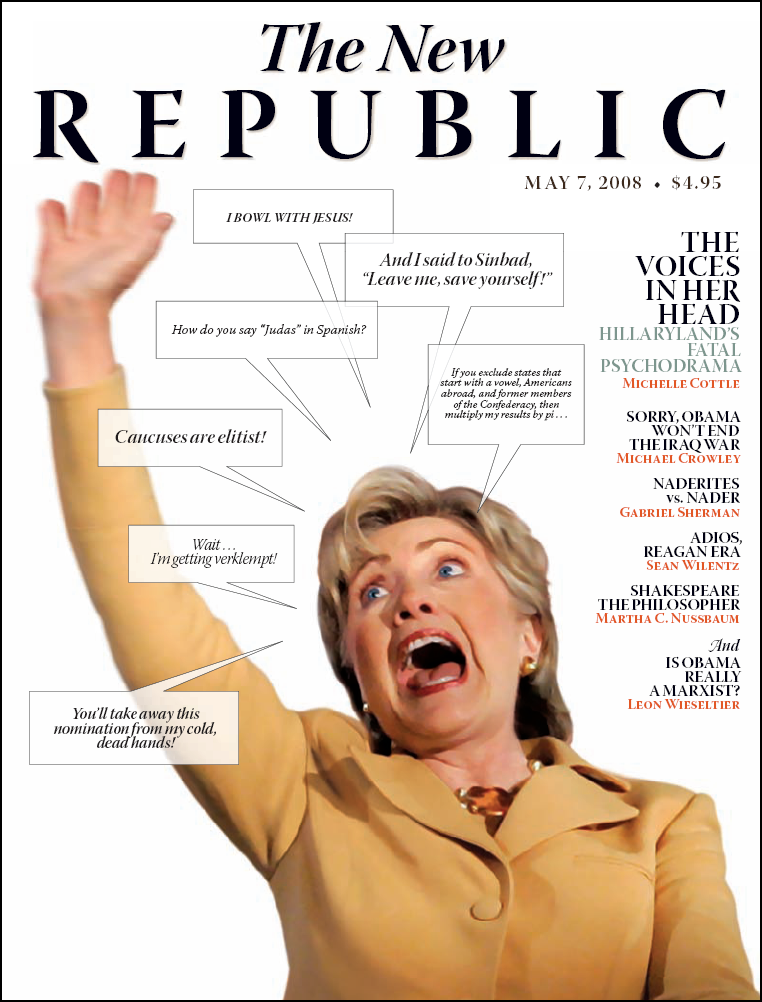 Because if ya didn't, I'm not feeling much empathy for your complaining now about this Newsweek cover of Michelle Bachmann:
Feel sorry for Newsweek that this is what they're doing for traffic. Or they have lousy photogs.  Or they won't pay for decent portraits. Or maybe this is what Bachmann gave them. I don't know – I haven't researched the backstory yet so if you know, feel free to enlighten.  But again, if the hysterical Hillary didn't bother you, you've got nothing to complain about with the Bachmann cover.
By Jill Miller Zimon at 9:22 pm August 8th, 2011 in Gender, Hillary Clinton, Media, michele bachmann, Politics, Sexism | 6 Comments
Print This Post
I was laughing and cheering at the same time Sunday morning when I saw this unfold on This Week. I could not agree more, but I also couldn't say it as fantabulously as Arianna Huffington, not always one of my favorites but she did a great job here and even George Will says the migraine stuff is pointless.
Hattip to Mediaite for the clip.
By Jill Miller Zimon at 8:01 am July 26th, 2011 in Campaigning, Gender, Health Care, Media, michele bachmann, Politics, Sexism, Social Issues, Voting, White House 2012, Women | Comments Off
Print This Post
What is it with women like Sheila Bair, former head of the FDIC, who is just soooo difficult, and Elizabeth Warren, creator and designer of the Consumer Finance Protection Bureau, who is just soooo controversial and now U.S. Rep. Debbie Wasserman Schultz (D, FL-20) who is just soooo not acting like a lady?
I mean, really. Who do we think we are when we use our voice – a voice that was selected and in many cases, elected, from among many others to be heard and to give voice to people and issues that matter? To actually be heard, only to then fall below the expectations of acting like a lady! of always being non-controversial! of being…EASY (as opposed to difficult)! Come on – aren't elected women supposed to be easy?!
Gawd.
Sigh – As so many tweets that are hashtagged with #actlikealady demonstrate (thank you to EMILY's List), it is positively absurd to suggest that because a woman stands her ground on an issue, she is therefore in violation of a gender-based stereotyped expectation, placed on her by men who are similarly situated but who are expected to act similarly. Anyone remember U.S. Rep. Joe "You lie!" Wilson (R, TX) being told that he's not acting like a lady?  No – because the standard isn't whether, once you are an elected official or a public servant, you must behave according to a gender stereotype at all times – or any time.  The standard for an elected or public official's behavior is that you behave like the public servant you are: advocating for, you know – the public.  Are there behavioral expectations? You bet. Should they be based on gender – in such a way as to suggest that women are otherwise hysterical or out of order because they are not conforming to that gender stereotype? Read more
By Jill Miller Zimon at 5:23 pm July 20th, 2011 in Gender, intolerance, leadership, Politics, Sexism, Women | Comments Off
Print This Post
I wrote about this on announcement day.  From the inbox, a press release and letter to Ohio Gov. John Kasich that demands an increase in female representation in his administration and specifically in JobsOhio:
Letter to Governor Kasich Regarding One Woman Appointment to Jobs Ohio Board
The letter also notes something of which I as not aware and am livid about: the dismantling of the Governor's Office of Women Initiatives and Outreach.  You have got to be kidding me.
Grrr. Need.more.information.
By Jill Miller Zimon at 1:41 pm July 19th, 2011 in Government, Ohio, Republicans, Sexism, Transparency, Women | Comments Off